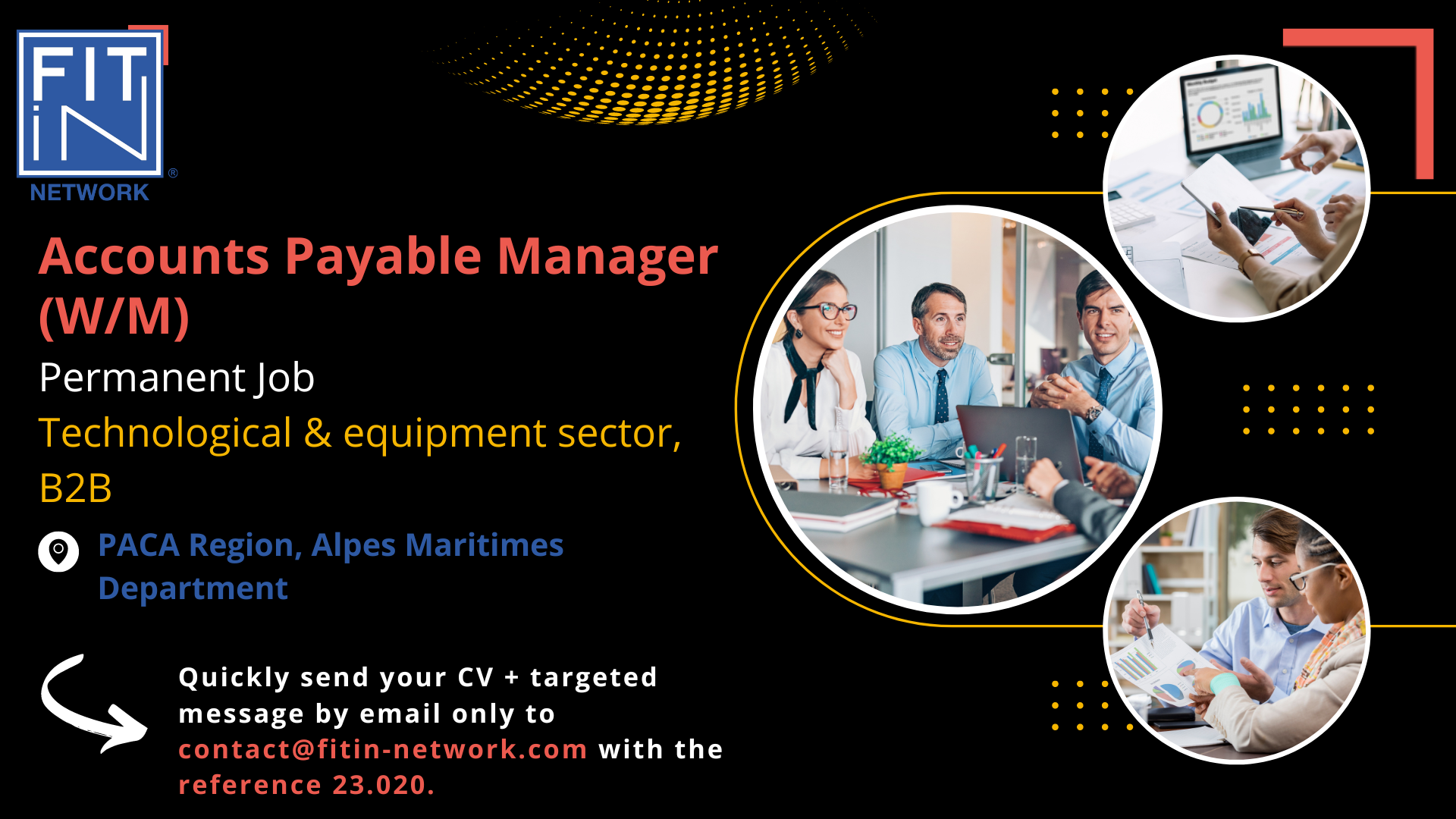 Accounts Payable Manager (W/M)
We are delighted to introduce you this new and interesting recruitment opportunity, on an exclusive & confidential base for one of our European client, based in France.
Our client is currently strengthening its financial teams and is creating this new position as Accounts Payable Manager (W/M) position based in the very attractive Alpes Maritime Department.
As a key manager within the Finance & Accounting teams, you will be leading various challenges, such as ensuring the day-to-day team management and developing key Purchase-To-Pay (P2P) processes.
In addition, you will have the opportunity to be part of a transformation and growth project within a dynamic and enthusiastic management team.
🎯 Are you ready to take part of this journey & available to carry on this opportunity ? Then, there is no time to loose in rapidly sending us your CV and motivation message in English by e-mail to contact@fitin-network.com with ref. 23.020.
☑️ The Company for this opportunity
Head of mid-size Group with a large European presence.
Selling mainly on BtoB.
Premium international brand in its sector.
ETI size with a turnover of around €100m.
Member of a key Private Equity Group.
Currently developing and structuring its European activities.
☑️ The permanent position 
Accounts Payable Manager – European wide Scope
Directly reporting to the Group Chief Accountant.
Main mission : supervising and developing the European Accounts Payable teams based on various countries. Developing the key processes and sharing the best practices within the whole Group.
Main activities :
Develop the AP team : define roles & responsibilities, integrate new entities ;
Implement : a new ERP project a key user for the AP activities ;
Manage and coach your direct reports : 6 to 8 employees ;
Improve processes, share best practices within all countries ;
Support the AP team : in their day to day activities ;
Supervise vendor payments, in compliance with the internal controls ;
Analyze ageing balance and accruals ;
Manage relationships

 : with the key suppliers and with inter-company. 
🚀 Express Executive recruitment : for a permanent contract
📍 PACA region : Alpes Maritimes department
✈️ Professional mobility : upon necessary within the EU countries
🚩 Starting date : ASAP, end February or latest early march 2023
☑️ Your key skills & profile
Profile 
Strong Accounting background.
Relevant experience in AP management : at least 5 years in the function.
Ability to work in a fast-moving & dynamic environment.
Knowledge of international environment.
Experience with Shared Service Center (SSC).
English mandatory, another European EU language such as Italian, Spanish, German, Dutch is a plus.
Skills
Positive mindset and communication.
Ability to motivate and manage multi-cultural teams.
Well organized, team player, precise and results focused.
ERP knowledge of JDE or SAP is a plus, not essential.
🎯 You are rapidly available
This is a Express & Exclusive search for our client.
🦸‍♀️🦸‍♂️ Your profile "FIT" with this opportunity?
If so, then send in English your CV + targeted message by email only to contact@fitin-network.com with reference 23.020.
Not yet a member of FIT in NETWORK®?
THE European network of available skills
👉 Create or update your profile on FIT in NETWORK® https://bit.ly/2ABuiFu
👉 Follow our professional page on LinkedIn: https://bit.ly/2XRcAWs
👉 Become a Premium Expert and get priority on all our opportunities with many other services https://bit.ly/2XYvOt0
Do you know a professional who "FITS" the profile you are looking for?
Do not hesitate to pass on this professional opportunity 🚀🚀
Find out why empathy has become an important skill to have in the professional world.
👉 https://www.fitin-network.com/fr/actualites/lempathie-la-competence-de-leadership-la-plus-importante/