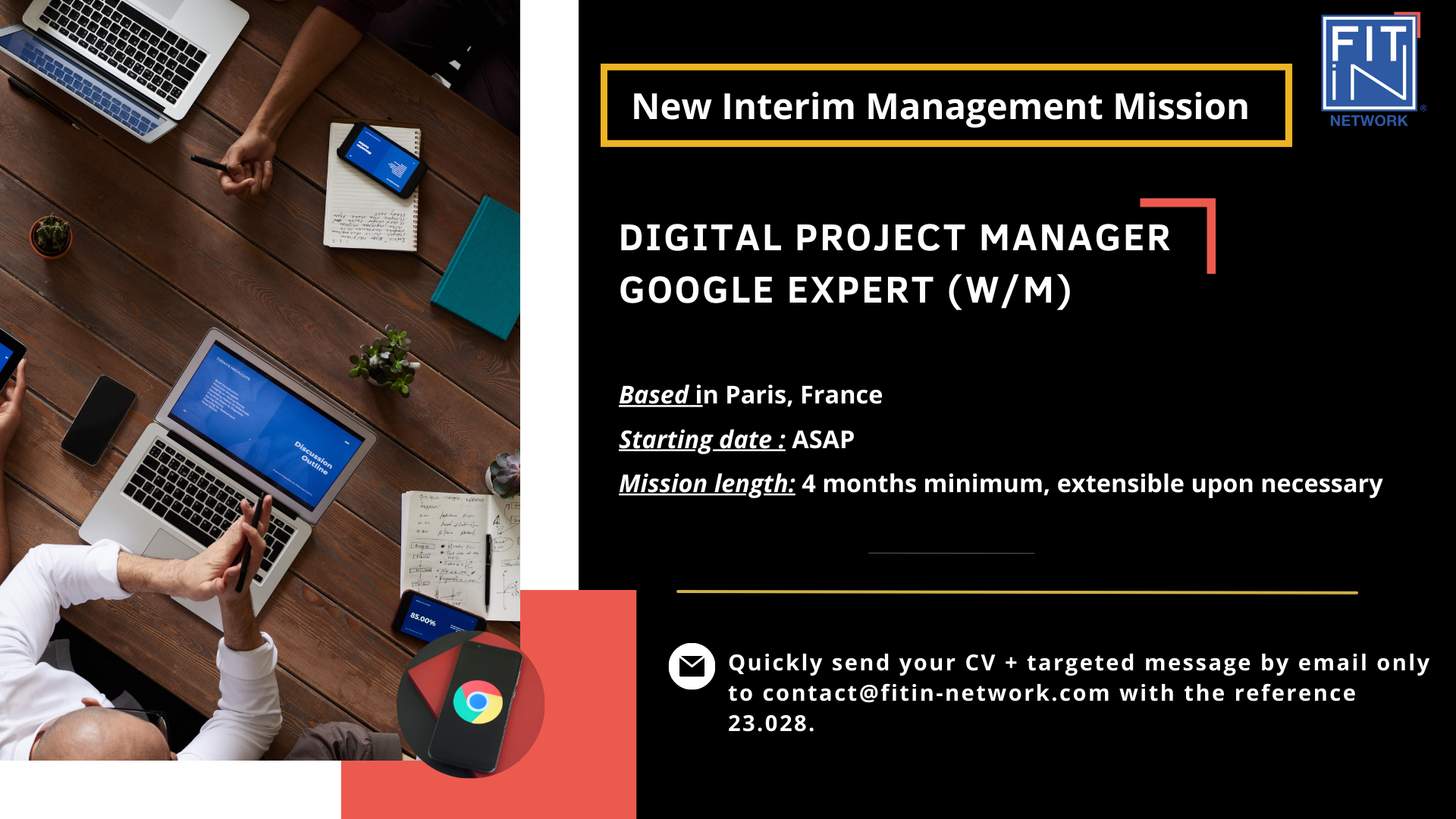 Digital Project Manager – Google Expert
Our client is currently migrating its existing Google environment into a new architecture and needs to strengthen his team to manager this on-going project.
We therefore propose, for an immediately available professional, an interim management mission as Digital Project Manager (W/M) for a large Google migration project (Google to Google).
If you are immediately available and able to be take over this challenge 👉 then rapidly send us in English, your CV and motivation message to contact@fitin-network.com with ref. 23.028.
☑️ The company for this opportunity

Head office in Paris.
Subsidiaries in various EU countries.
Around 1000 end-users impacted by this project.
☑️ The Interim Management Mission
Digital Project Manager – Google Expert (W/M)
Direct report to the company IT Director.
Your main objectives are :
Define the migration strategy : analyse and propose the various migration solution, evaluate the impacts and risks of each possible solution ;
Prepare and supervise the migration solution : once decided with the client, coordinate the various technical and service providers implementing the solution ;
Supervise the Go-live and ensure the end-user support : prioritize the end-user tickec and ensure the service providers bring the appropriate solutions.
In summary for this mission, you act a Project manager to coordinate appropriate migration, from the strategic solutions to the end-user support once the Go-live is implemented.
🏢 Interim Management Mission : based in Paris
✈️ Business mobility : limited, home office partially possible
🚩 Starting date : ASAP, once our client decides on the final candidate
⚽ Mission length : 4 months minimum, extensible upon necessary
☑️ Your key skills & profile
Profile
Master or Engineering degree in Computer Science, Technology, IT related fields.
Min 10 years of digital project management practice.
Experience collaborating with channel partners, systems integrators, and third-party developers to deliver solutions.
🚩 Previous successful experience with Google tools & cloud infrastructure.
Track record in enterprise technology implementation.
Key skills
Fully fluent in English.
Project management expertise.
Excellent communication, problem solving and team management skills.
Experience translating business requirements into technological solutions.
Experience collaborating across business units internally and at large enterprises.
🎯 You are IMMEDIATELY available
This in an Express & Confidential executive search for our client.
🦸‍♂️🦸‍♀️ Your profile "FITs" with this opportunity?
If so, then send your CV + targeted message by email only to contact@fitin-network.com with reference 23.028.
You are not yet a member of FIT in NETWORK®?
THE European network of available skills
👉 Create or update your profile on FIT in NETWORK® https://bit.ly/2ABuiFu
👉 Follow our professional page on LinkedIn: https://bit.ly/2XRcAWs
👉 Become a Premium Expert and get priority on all our opportunities as well as many other services https://bit.ly/2XYvOt0
You know a professional who matches the profile you are looking for?
Don't hesitate to pass on this professional opportunity to him/her 🚀🚀.
Find out why empathy has become an important skill to have in the professional world.
👉 https://www.fitin-network.com/fr/actualites/lempathie-la-competence-de-leadership-la-plus-importante/