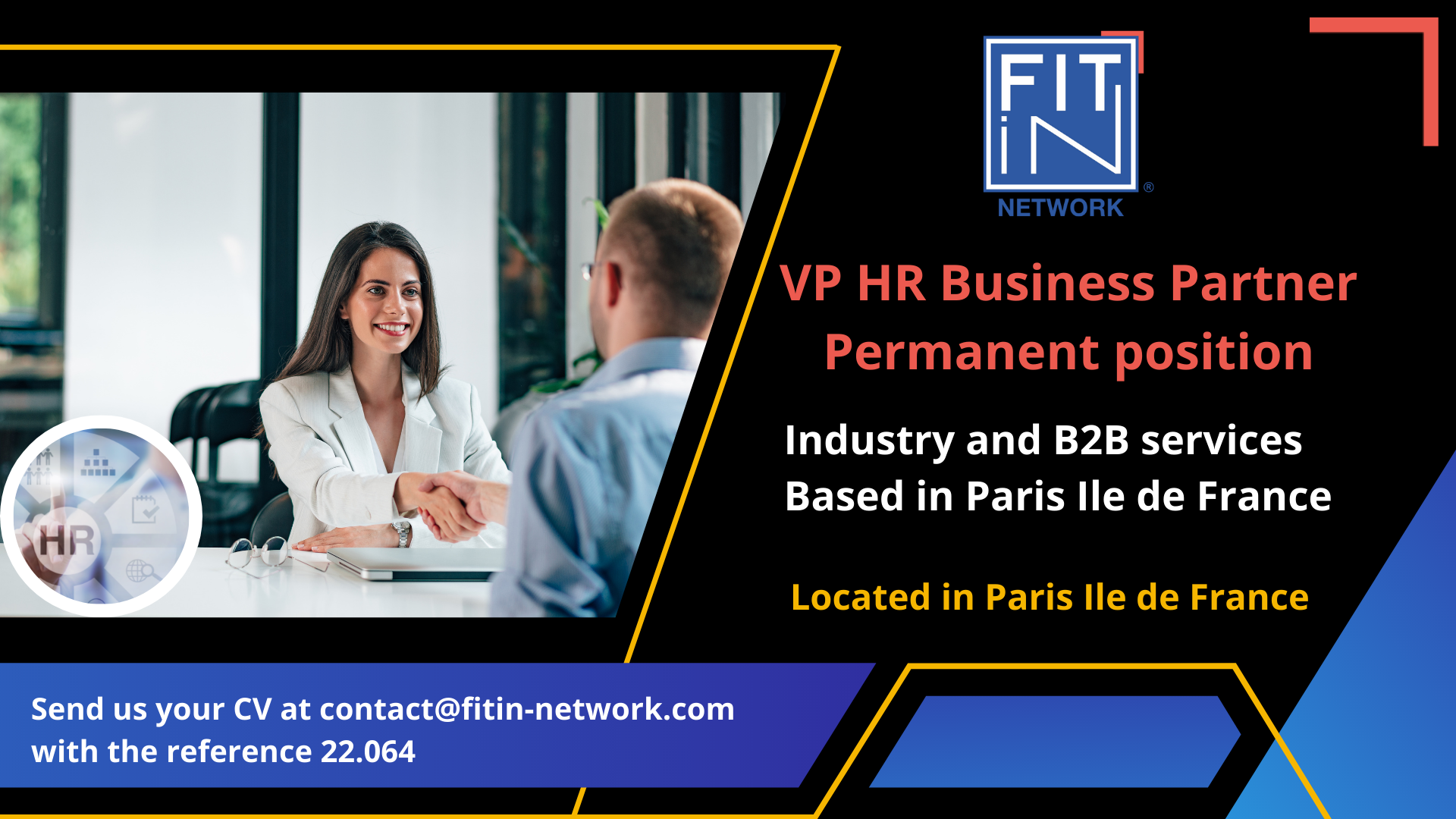 VP HR BUSINESS PARTNER (W/M)
Dear Member,
During the summertime and the holiday season for some, many career opportunities are ongoing as this superb and new permanent position.
Within an international Group, our client has mandated us, on an exclusive base, to find its future VP HR Business Partner for Europe.
Currently, in a fast-growing dynamic, both through organic and M&A activities, our client has decided to strengthen its organization by creating this VP HRBP position to energize its current HR European team.
Based around Paris Ile de France with a European multi-country and multi-company scope, this key position will develop strategic HR activities as a key COMEX member.
🎯 Are you rapidly available and willing to be part of this journey?
Then, there is no time to lose in rapidly sending in English your CV and motivation message to contact@fitin-network.com with ref. 22.064.
☑️ The company for this opportunity
Member of a listed Group with a real culture of business growth 
Scope of permanent & interim positions of around 2000 employees 
Recurrent activities of € 300 million turnover
Around 15 companies & legal entities within the European scope
Multi-activities company: industry, logistic management, B2B and B2B2C
Recognized as a dynamic & key player in its business sectors
☑️ The permanent position
Position in the organisation
Member of the European Group COMEX
Reporting directly to the European CEO
Managing a corporate team and on dotted line the HR Directors / Managers of the legal entities
Main objectives of this key position : 
Impulse, Define & Organize the European HR activities
Analyze and redesign the existing organizations : functions & competences

Redefine and implement new organizational charts to meet the business goals

Define, adjust and unify HR processes within the Group
Develop human potential & motivation
Enhance the talent and career management activities

Strengthen the internal culture and built a strong employer's brand

Boost the recruitment processes and employee's performances
Manage & supervise the HR teams
Ensure payroll & legal activities are properly organized by each Group's entities

Develop internal dialogue and trustful relations with social partners

Supervise the HRD / HRM teams and provide support for challenging situations
Within this position, you will lead the transformation of the corporate culture from a multi-SME organization towards a unified Group culture. 
🏢 Permanent position
Based in Paris Ile de France with a European wide scope
✈️ Business mobility
Upon necessary within the various countries included in the scope
🚩 Starting date 
On short notice from September 2022, once a decision has been reached
⚽  Member of the Comex
Reporting to the European CEO & managing the whole Group HR Team

☑️ Your key skills & profile
 
Profile
Experienced professional with a real HR Business Partner mindset
Recognized leader strongly committed to the company's projects
Comex level within fast-growing companies
Ability to manage complex situations and drive the cultural transformation 
Key skills
Fully fluent in English
Mastering labour and social laws 
Having deployed IT tools and HR software 
Good economic and financial culture, able to manage dashboards
🎯 You are rapidly available
This express executive search is Confidential & Exclusive for our client.
 
🦸‍♂️🦸‍♀️ Your profile "FITs" with this opportunity?
If so, then send your CV + targeted message by email only to contact@fitin-network.com with reference 22.064
Vous n'êtes pas encore membre de FIT in NETWORK® ?
LE réseau européen des compétences disponibles
👉 Créez ou mettez à jour votre profil sur FIT in NETWORK®. https://bit.ly/2ABuiFu
👉 Suivez notre page professionnelle sur LinkedIn
👉 Devenez un Expert Premium et bénéficiez d'une priorité sur toutes nos opportunités avec de nombreux autres services. https://bit.ly/2XYvOt0
Vous connaissez un professionnel qui correspond au profil que vous recherchez ?
Alors n'hésitez pas à lui transmettre cette opportunité professionnelle 🚀🚀.