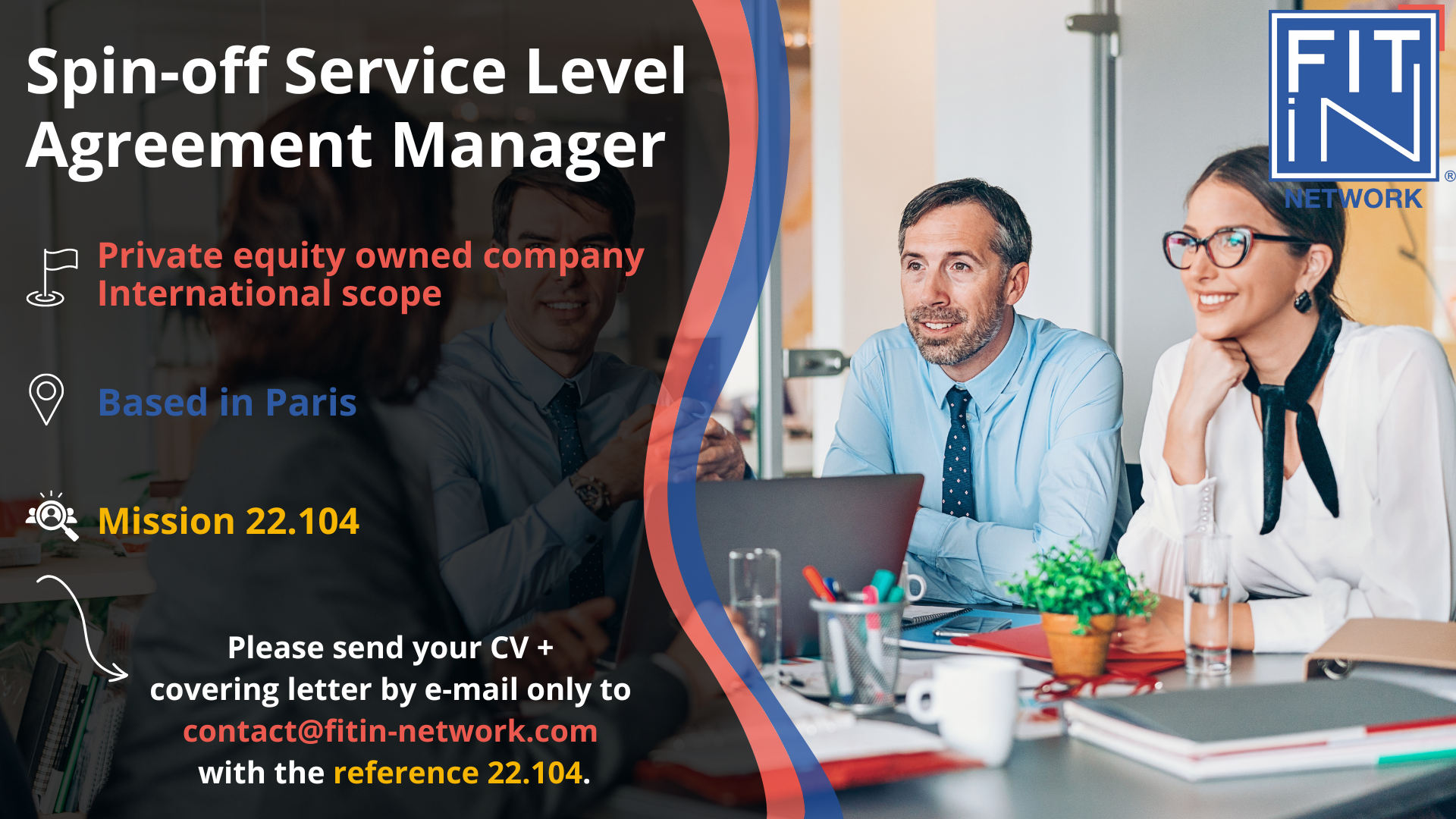 Spin-off Service Level Agreement (SLA) Manager (W/M)
Our client being currently in a corporate transformation phase, we are looking on an Express & Confidential base his future Spin-off Service Level Agreement (SLA) Manager for an Interim Management Mission.
The company being in a global spin-off process, changing shareholder's and joining a large and international Private Equity organization, we need to ensure that the agreed SLA's will be effective for a 9 to 12 months period.
In this context, we propose a challenging and dynamic Interim Management opportunity :
🎯 for an immediately available candidate ;
🎯 with a project management profile ;
🎯 and a successful track record in spin-off SLA Management.
Are you available and able to be take over this challenge for our client?
👉 Then, send us rapidly in English your CV and motivation message to contact@fitin-network.com with ref. 22.104.
☑️ The company for this opportunity
Group in transformation, changing of ownership.
Industrial BtoB activities.
Presence worldwide, in around 40 countries.
☑️ The Interim Management Mission
Spin-off Service Level Agreement (SLA) Manager
Member of Corporate management team.
Reporting to the VP Information & Technology & to the VP Finance.
Implementing the already negotiated and agreed SLA at Group Level.
Your main objectives are :
To ensure that all service level agreements (SLAs) are delivered according to the agreed specifications ;
To endorse the overall responsibility and accountability for the success of the Service Level Management (SLM) processes.
To ensure the success of this mission, you will be accountable for the following tasks & responsibilities such as :
Organize and maintain regular SLAs reviews processes with both IT Customers and Service Providers ;
Review performances and outstanding actions ;
Reviews Operational Level Agreements (OLAs) upon necessary ;
Agree any appropriate actions to maintain & improve SLAs and OLA's ;
Conduct regular reviews of the Service Level Management Processes ;
Act as coordination point for any temporary changes to the Service Levels required ;
Ensure that appropriate changes are assessed for their impact on service levels.
In summary, you act as a real Project manager to ensure the SLA's and OLA's successes within this international wide spin-off process.
🏢 Interim Management mission
📍   Based in Paris
✈️ Business mobility : upon necessary, partial home office possible
🚩 Starting date : immediate, once decision is reached
⚽ Mission length : 9 months, extensible up to 12 / 18 months upon necessary
☑️ Your key skills & profile
Profile
Experienced project manager.
You have already participated into a large Spin-off project.
You practice project management tools, such as One2Team or other.
Sensitive towards IT tools, Operational needs, Financial KPI's.
Key skills
Fully fluent in English.
Communication skills in matrix organization.
Capacity to coordinate various activities and in time management.
Takes initiatives and able to propose solutions.
🎯 You are IMMEDIATELY available
This in an Express & Confidential executive search for our client.
🦸‍♀️ Your profile "FITs" with this opportunity?
If so, then send your CV + targeted message by email only to contact@fitin-network.com with reference 22.104.
Not yet a member of FIT in NETWORK®?
👉 Create or update your profile on FIT in NETWORK® https://bit.ly/2ABuiFu
👉 Follow our professional page on LinkedIn https://bit.ly/2XRcAWs
👉 Become a Premium Expert and get priority on all our opportunities with many other services https://bit.ly/2XYvOt0
Do you know a professional who matches the profile you are looking for?
Don't hesitate to pass on this professional opportunity to him/her 🚀.
Discover why empathy has become an important skill to have in the professional world
👉 https://www.fitin-network.com/fr/actualites/lempathie-la-competence-de-leadership-la-plus-importante/