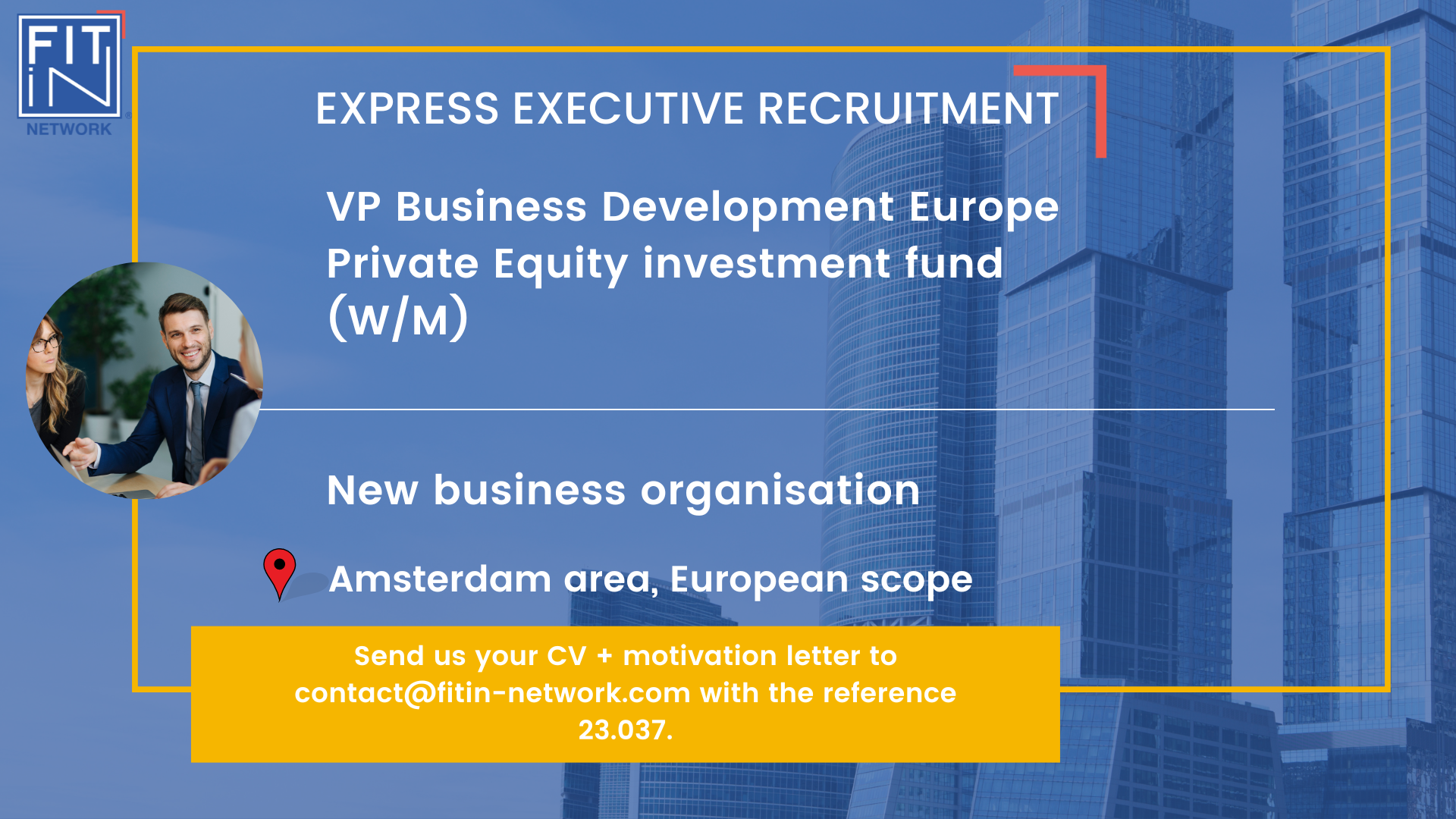 Vice President Business Development (W/M)
Our client is rapidly developing its European footprint and has opened this new position as Vice President Business Development (W/M) located in The Netherlands,in the Amsterdam area.
We are currently offering this fantastic new permanent position for one of our International clients, a Private Equity fund.
As a key member of this position, you will be responsible for actively developing new deal origination strategies and optimising the deal flow for future equity investments. Working within a dynamic and highly professional team, you will extend your network and build a growing deal of new investment opportunities.
In this context, we have been appointed with presenting the most qualified candidate on a Confidential & Express basis. 
🎯 Are you rapidly available and able to be take over this challenge for our client?
👉 If so, then send us rapidly in English your CV and motivation pitch to contact@fitin-network.com with ref. 23.037.
☑️ The company for this opportunity
International Private Equity fund.
Presence in the United States and in Europe.
Developing its footprint in various EU countries: The Netherlands, United Kingdom, Germany, Spain, Italy, and the Nordics.
Investing in medium size companies with a controlling stake.
Sectoral approach: BtoB, Industry, Manufacturing, Technology.
Portfolio management developing ESG principles into value creation.
☑️ The Permanent position
Vice President Business Development (W/M)
New business Origination
You will be reporting to the European Managing Director, in charge of Business Development and you will be an integral part of the Head Office team.
You will work in coordination with the business development, investment and operations teams to optimise the deal flow pipeline.
Your primary objective is to collaborate closely with the management team to develop and execute origination and deal-sourcing initiatives.
Within your key initiatives, you will:
Build trustful business relationships with existing and future intermediaries.
Develop in-person meetings with strategic and attend key sectors conferences.
Cultivate relationships with brokers, intermediaries and buy-sides representatives.
Expand the private equity sources of deal flows.
Strengthen the existing network of industry professionals.
Identify potential industry advisors and board members for the portfolio companies.
Establish & manage the marketing efforts to boost the deal flow pipeline.
In summary, within this position, you will expand the private equity fund network to become a "top of mind partner" in the future key investment opportunities.
🏢 Permanent position : based in The Netherlands, Amsterdam
✈️ Business mobility : within Europe according to the future projects
🚩 Starting date : ASAP, the position created & opened for the expected talent
⚽ Working conditions : a fair balance between office presence, home office & travelling.
🏆 Attractive package : with a 6 digit fix & a variable bonus component.
☑️ Your key skills & profile
Profile
Around 10 to 15 years of experience.
At least 5 years of Private Equity experience within a Fund or at least within a M&A service provider : consulting, transaction services.
Experienced in deal flow management.
Capacity to understand, extract and analyse business & financial data.
Soft skills
English at least proficiency or native.
Another EU language is a strong plus such as German, Italian, or Spanish.
A network mindset with strong communication skills.
A teammate willing to join a dynamic & highly professional team.
Multicultural with an already international experience.
🎯 You are RAPIDLY available
This is an Express & Confidential executive search for our client, time is of essence and your rapid availability to take over this position will be a clear advantage.
🦸‍♂️🦸‍♀️ Your profile "FITs" with this great opportunity?
If so, then send your CV + targeted message by email only to contact@fitin-network.com with reference 23.037.
Not yet a member of FIT in NETWORK®?
THE European network of available skills
👉 Create or update your profile on FIT in NETWORK® https://bit.ly/2ABuiFu
👉 Follow our professional page on LinkedIn https://bit.ly/2XRcAWs
👉 Become a Premium Expert and get priority on all our opportunities with many other services https://bit.ly/2XYvOt0
You know a professional who "FIT" with the profile you are looking for?
Don't hesitate to pass on this professional opportunity 🚀🚀
Find out why empathy has become an important skill to have in the professional world.
👉 https://www.fitin-network.com/fr/actualites/lempathie-la-competence-de-leadership-la-plus-importante/