DISCOVER THE EXPRESS EXECUTIVE RECRUITMENT
FIT in NETWORK® has developed a solution for customers who wish to recruit new skills quickly within their organisation.
This solution is called "Express Executive Recruitment".
What is Executive Express Recruitment?
Express Executive Recruitment is a solution to recruit very quickly the highly qualified experts a company needs. It is a professional process that combines the benefits of Executive Search while taking into account time issues for clients who wish to achieve a successful quality recruitment done in a hurry.
Over a period of , from the expression of your need, we are able to propose a shortlist of candidates meeting your criteria, both sectoral and functional, enabling you to recruit the best "FIT" in relation to your expectations.
When a company is faced with a managerial emergency, a crisis situation, a need for rapid transformation and decides to strengthen its organisation, Executive Express Recruitment is THE solution.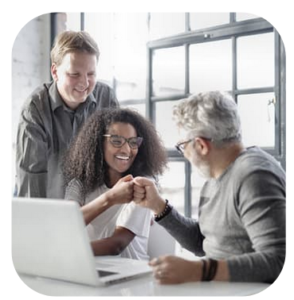 Which profiles to recruit in Executive Express Recruitment ?
We offer this service to industrial and service companies, subsidiaries of groups, family offices and investment funds in France and Europe. We are able to find for you :
Highly operational profiles:
Managers of companies, industrial sites, subsidiaries or others in Supply-Chain, logistics and Purchasing as examples;
Functional profiles:
In financial management, management control, human resources management or others in Marketing & Sales in particular;
Expert profiles in certain professions:
ERP specialists, SAP experts, digital project managers and data managers or others as required.
The advantage of this solution is its speed of implementation and its reliability, which we have proven through our experience over many years. It avoids the need for companies to wait for many months using a traditional "executive hunt" solution, which is often incompatible with the express needs of managers.
Are you looking for new skills in Management, in Finance or in Human Resources functions to strengthen your organization ? Then, do not hesitate to contact us, we will find the skills you are looking for !
A presentation of candidates who meet your expectations,
Support throughout the project.
AN INTERNATIONAL PRESENCE
FIT in NETWORK® is headquartered in Paris and today benefits from a vast international network. We have direct access to more than 30,000 professionals in over 30 different countries.
We are present throughout France through regional offices in the main cities. And our presence is gradually being strengthened through a growing number of missions.
Beyond France, our activities are managed from four main locations: two in Europe, specifically in Amsterdam and Paris; one in North America based in Houston, Texas; and one in the Middle East based in Dubai.
This international network is growing thanks to your qualified profiles, and thanks to the assignments that companies entrust to us.
Are you also looking to attract the best international talent for your organisation ? If so, contact us quickly so we can take on these challenges for you !
How does Express Executive Recruitment work ?
Our professional approach is based on our experience of the executive market, senior executives and board members, with whom we have worked for many years. Our Executive Express Recruitment methodology is summarised in the diagram above.
First step: briefing our client.
In an exchange between professionals and in complete confidentiality, we identify with precision the need for expertise and skills of our clients.
The need is expressed on several criteria which we will take into account for our search for profiles:
the knowledge of the sector
the specialised function
the know-how
the leadership ability
seniority
the ability to train teams
Next, we validate with our client our understanding of their skill need before launching our search.
Second step: targeted search.
Our professional teams engage in a targeted search using the full quality of our network of experts.
Our Express Executive search by direct approach will be able to use :
All the resources of our FIT in NETWORK® platform, i.e. over 3000 pre-qualified experts throughout Europe,
All the resources of our partner networks specialising in human resources, transition, coaching and executive support,
All our professional contacts which today exceed 30 000 executives, functional experts and highly qualified managers.
Third step: pre-qualification of candidates.
We conduct at least two pre-qualification interviews with our candidates to assess their know-how, experience and profile and ensure a good "FIT" with our clients.
We then take care to check and validate our candidates' professional references before presenting them to companies.
Fourth step: presentation and selection of clients.
In our Express Executive Recruitment process, we introduce our clients to managers, experts, rare profiles, specialised executives and board members who are all available immediately.
To ensure a comfortable exchange and confidentiality, all our candidates will have signed a confidentiality agreement and a Non-Disclosure-Agreement (NDA) with FIT in NETWORK® beforehand.
After the meeting with our candidates, the client can make his choice and retain the expert with whom he will have had the best "FIT".
Fifth step: Integration and client follow-up.
Once the professional has been recruited by the company, our support includes the start-up and integration phase within the company.
During this phase, we accompany our expert during his or her induction phase and provide regular updates to the client company.
WHY CHOOSE FIT IN NETWORK® ?
A network of over 30 000 searchable members Here,
An operational solution delivered quickly,
Support throughout your project.
Download our corporate brochure