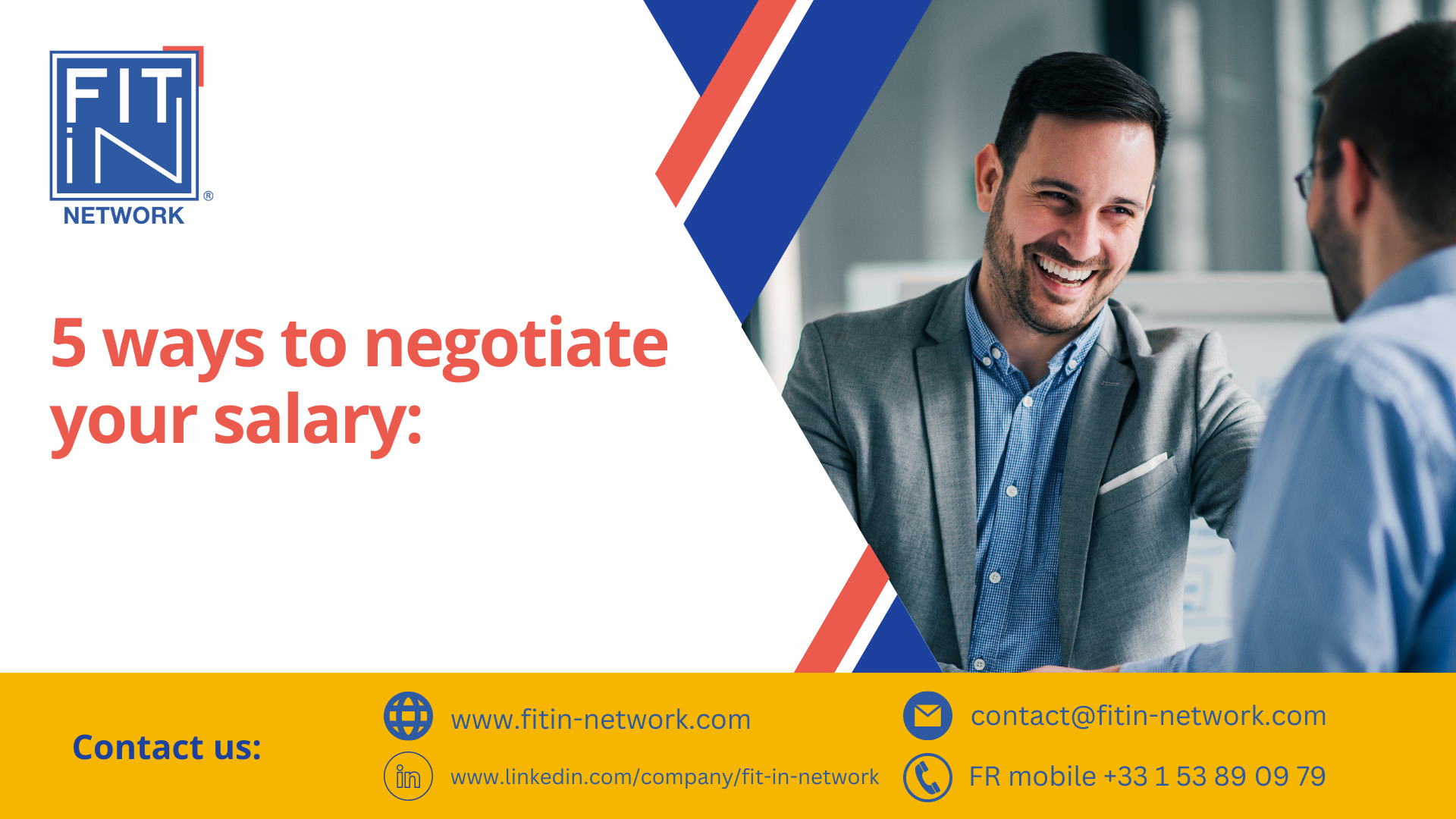 5 ways to negotiate your salary during an interview
It's always a taboo subject, and one that can make you feel uncomfortable.  Whether it's your first salary or not, here are a few tips to help you negotiate your salary and address the issue of salary expectations as calmly as possible during a first job interview:
Find the right time to negotiate:
If you're going through a recruitment agency, there's a good chance that the question of your annual salary will come up during your first contact with the recruiter, who will ask you to tell him or her your salary expectations. This information will enable the recruiter to assess whether your salary expectations are compatible with the client's salary scale. In the case of a company, your first contact may not be responsible for this aspect and may not raise the issue. You'll have to wait until later in the recruitment process to negotiate your salary. Finally, although some job offers mention the salary directly, it's still possible to try to negotiate it upwards during the interview.
Wait for the 2nd interview:
If you're meeting directly with the recruiting company, it's not uncommon for the first interview to provide you with information about the company, the job description and the associated tasks and responsibilities. This is the time for the recruiter or manager to determine, on the basis of your experience, skills and interpersonal skills, whether your profile is a good match for the position on offer. The discussion will focus on your career path, your professional aspirations and your personality. If your interviewer doesn't mention your salary expectations, don't raise this particular point. This will be discussed at the next stage.
To negotiate, you need to be prepared:
Uriel Megnassan, job coach at Carrière Punch, recommends that, in addition to finding out about salary scales, you should also find out in advance about the remuneration policy of the company you're applying to: "Specialized sites also provide information on average salaries according to your profession and your level of diploma and experience." Depending on your day-to-day needs (rent, loans, transport, etc.), you should also set a minimum salary below which you will be forced to refuse, so as not to risk putting yourself in the red because of a failed negotiation.
Determine your salary expectations:
Before any recruitment interview, it's important to anticipate the question of remuneration. You've responded to an offer because you think you have the skills required for the job. You therefore have an idea of the level of net increase you would like to obtain compared to your last salary. Rather than a precise figure, set yourself a clear salary range: estimate the minimum salary for which you would accept the assignment, and the maximum amount for which you think you could qualify.
To be sure you're proposing a coherent amount, find out what salaries are on the market by consulting salary surveys published by recruitment agencies, or by canvassing executives in your network.
Negotiating after the interview:
The job interview is not your only chance to negotiate your salary. Once you've got the job, you can ask for a pay rise. To do this, you need to seize the right opportunity. This could be :
During your annual performance review;
When you are promoted to a permanent contract;
If you are given new tasks;
If you gain in responsibility;
During an interview you request.
On the other hand, be careful to analyze the company's health before asking for a salary increase. Your employer must be in a position to respond to your request. Similarly, be sure to ask for an increase after successfully completing a project, negotiating a major contract or achieving excellent sales figures. It's by playing up your value that you'll succeed in winning your case.
So don't be afraid to ask the question about remuneration! Demonstrate your maturity in tackling important subjects.
Don't forget to take into account bonuses and the hidden parts of salary: bonuses, telephone and laptop, company car, luncheon vouchers, transport... which are also part of remuneration in the broadest sense.