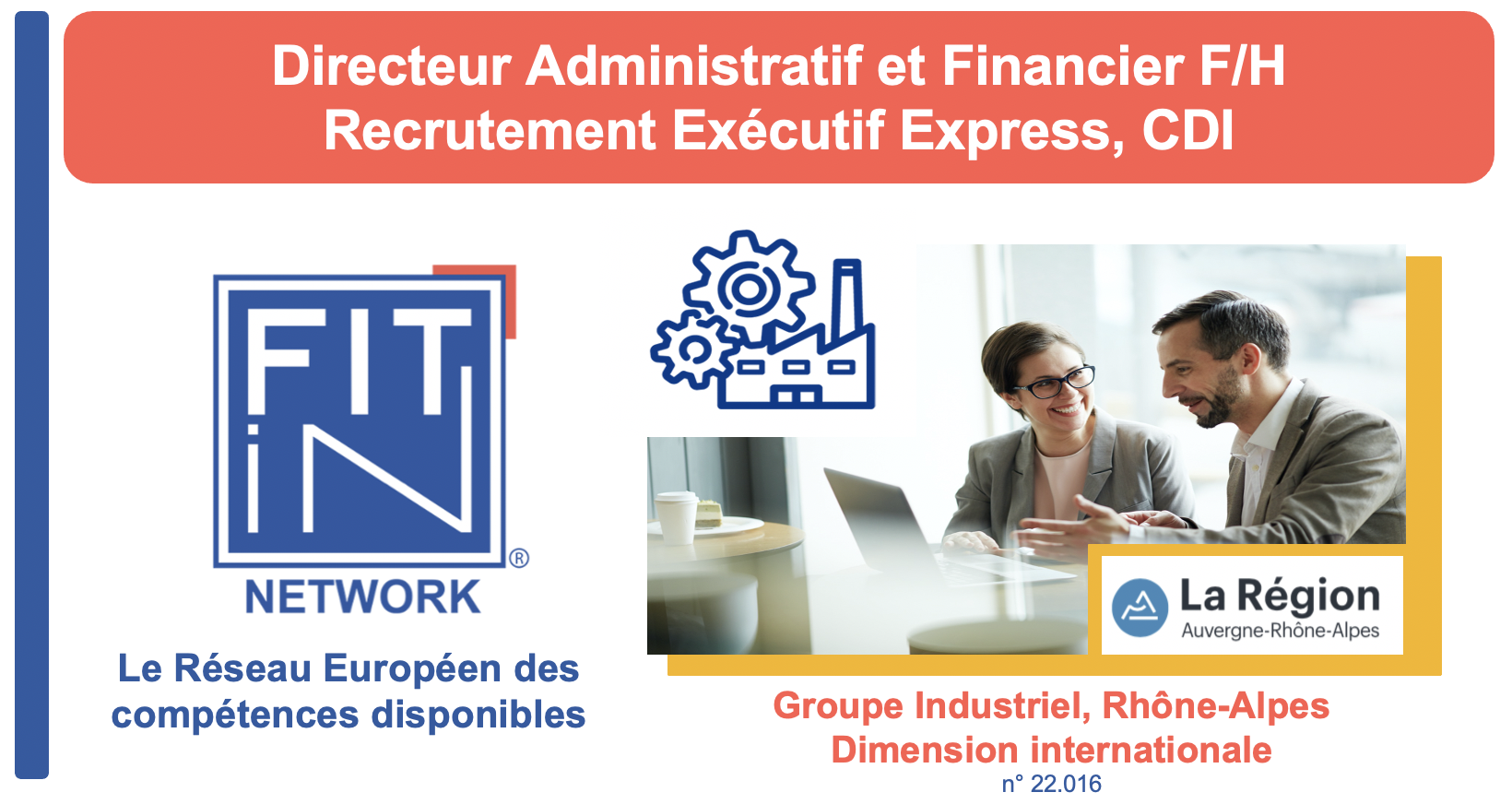 Administrative & Financial Director, Grenoble
We are working jointly for an investment fund and for a Group in order to carry out a Spin-Off of an industrial entity.
In this context, we are looking for the future Administrative & Financial Director of the new company that will be created soon.
Based in the Rhône-Alpes region in Grenoble, this international mission (Europe) will start in the 2nd half of April 2022 for a long period of 9 to 12 months.
Are you available immediately and motivated to take up these challenges? You have already done a Spin-Off and worked in industrial SMEs? If so, there is no time to lose to seize this opportunity.
On your CV, get ready, apply!
☑️ The Company
R&D, production and marketing activities of
industrial products.
Distribution in B to B on a European scale.
Presence in several countries including France, Germany and Italy.
Turnover of about € 100 million, profitable activity.
Employees: about 400 people.
Business sector: electronics & connectivity.
☑️ The assignment to be filled
Transitional CFO-CFO
Two phases in the mission
- The realization of Due Diligences until the end of summer 2022, until the closing of the project ;
- The implementation of all the financial, accounting & administrative management of the new company that will result from the Spin-Off.
You are a member of the Management Committee of the new company:
- You report to the CEO;
- You are in contact with the investment fund, the original Group, the banks and the various advisors.
You create the CFO function within the new company:
- You will work in project mode, without direct teams at the start;
- Relationship with all the support functions of the original Group;
Recruiting teams as you go along:
- Implementation of accounting and financial processes;
- Creation of dashboards;
- Reporting to the new shareholders;
- Optimization of working capital, operational cash management.
Implementation of new Information Systems:
- Analysis of the needs, choice of an ERP management system;
- Implementation of IT tools adapted to the new entity.
📍 Mission based in Grenoble.
💻 Full time, some travel in Europe, occasional telecommuting.
📅 Starting 2nd fortnight of April 2022.
⏰ Initial duration of 12 months, transformable.
🤝 Possible transformation of the mission into a permanent contract depending on the evolution of the project.
☑️ Your Profile
Higher degree in Finance, Business School option Finance, Chartered Accountant with background in business.
Knowledge of investment funds.
Experience of at least 10 years in a full CFO - DAF function, in a SMI with industrial activities.
Participation in a Spin-Off: will be a plus for the successful candidate.
Fluent in English.
☑️ Soft Skills
Autonomous, initiative taking, agile on IT tools.
Able to communicate easily and federate energies.
Position as a true "Business Partner" of the operational staff.
You will be available immediately
This search is Express & Confidential for our client.
💡 You will be available

immediately
This search is Express & Confidential For our client.

🚀 Your profile "FIT" with this opportunity?
Quickly send your resume + targeted message by email only to contact@fitin-network.com with the reference 22.032