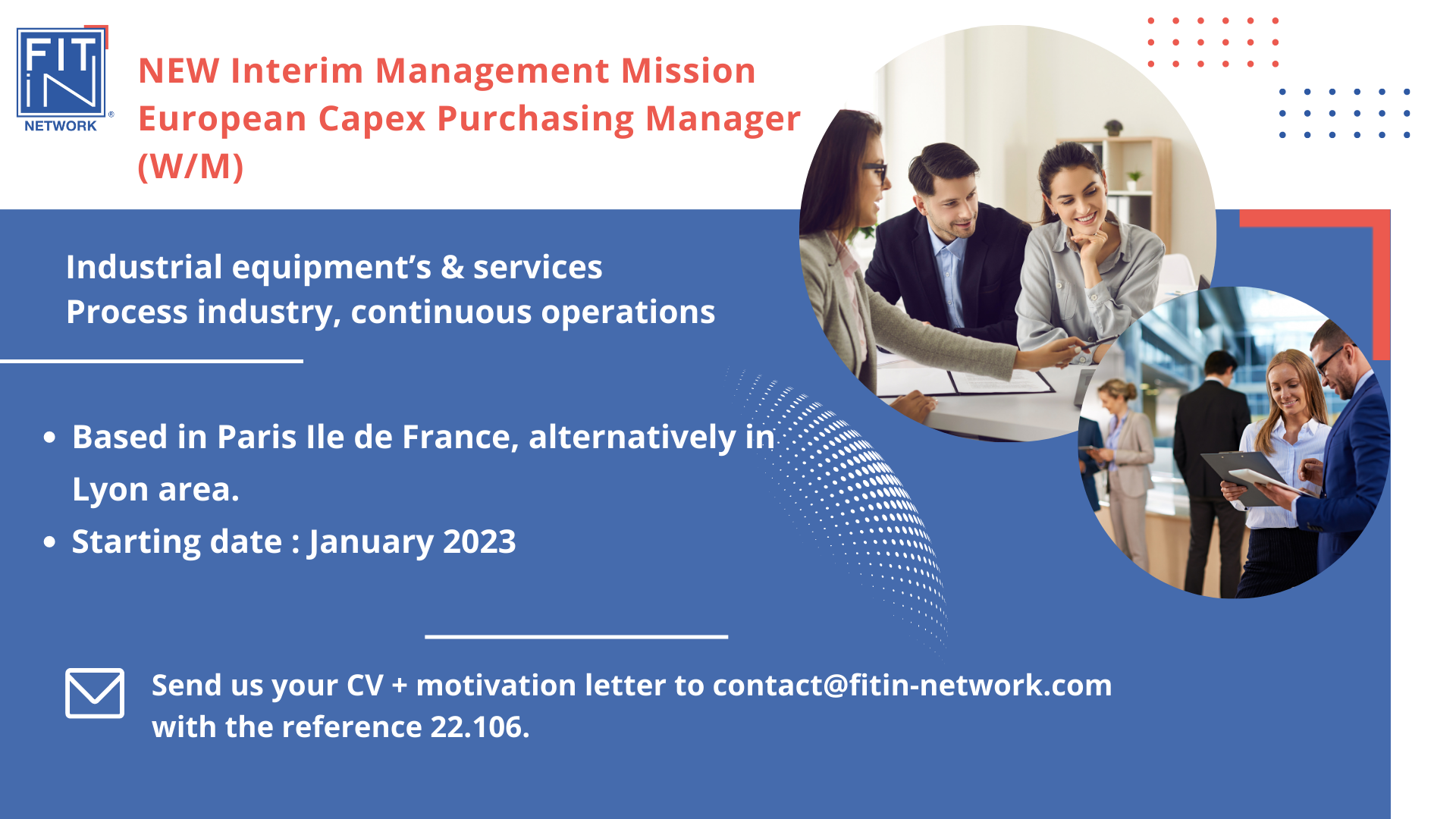 European Capex Purchasing Manager (W/M)
Our client is currently expanding its team to meet the new operational challenges of its growing industrial activities in Europe.
We have therefore been mandated, on a confidential and express basis, to find their future European Capex Purchasing Manager (W/M ) to reinforce their current EMEA sourcing team.
As part of this 6 month minimum interim management assignment, you will have an active and very operational role. You will negotiate and purchase critical industrial equipment and associated O&M services for various industrial projects.
Based in the Paris area, or alternatively in the Lyon area, you will have a real European scope with 25 to 30% travel time expected. A partial home office will also be possible in this flexible time assignment.
🎯 A re you able to take on this challenge & immediately available?
Then send us your CV and motivation message in English quickly to contact@fitin-network.com with reference 22.106.
☑️ The company for this opportunity.
Industrial group.
Process industry with engineering, procurement, construction and management (EPCM) contracts.
Active in long-term projects, both stand-alone and in joint ventures.
Round-the-clock operations organized into multiple teams.
☑️ Interim management assignment.
European Capex Purchasing Manager (W/M).
Member of the sourcing team for the EMEA region.
In charge of Capex purchasing management.
In charge of the sourcing of operation and maintenance (O&M) services.
Act as the key account manager for procurement.
Reports to the EMEA procurement organization.
Primary Objectives
- Implement the group purchasing plan;
- Collaborate with the various project managers;
- Manage sourcing in collaboration with the technical teams;
- Qualify key suppliers;
- Launch tenders and ensure that commitments are met;
- Coordinate with stakeholders and internal functions such as legal and finance;
- Negotiate, negotiate, negotiate the best possible terms and conditions on behalf of the company;
- Communicate, communicate, communicate internally to obtain necessary information and align with project goals.
🏢 Interim management mission : Based in Paris Ile de France, alternatively in Lyon area.
✈️ Professional mobility: necessary to meet stakeholders, 25-30% of the time.
🚩 S tart date: January 2023.
⚽ Length of assignment: initial 6 month period, extendable and/or transformable.
☑️ Your key skills and profile
Profile
Engineering background, mechanical and/or electrical
With experience in maintenance and/or a project management role.
At least 10 years of experience in purchasing within heavy industries.
Good knowledge of Capex and EPCM contracts.
Knowledge of non-stop process industries such as glass, steel, petrochemical, cement or foundry.
Key skills
Fluent in English and French
Excellent negotiator, result oriented
Communication expert, multicultural with EU experience
Autonomous and able to take initiatives
Operational approach acting as a true facilitator.
🎯 You are quickly available
This express executive search is express & confidential for our client.
You are not yet a member of FIT in NETWORK®?
THE European network of available skills
👉 Create or update your profile on FIT in NETWORK® https://bit.ly/2ABuiFu
👉 Follow our professional page on LinkedIn: https://bit.ly/2XRcAWs
👉 Become a Premium Expert and get priority on all our opportunities with many other services https://bit.ly/2XYvOt0
You know a professional who "fits" the profile you are looking for?
Don't hesitate to pass on this professional opportunity to him/her 🚀🚀
Discover why empathy has become an important skill to have in the professional world.
👉 https://www.fitin-network.com/fr/actualites/lempathie-la-competence-de-leadership-la-plus-importante/