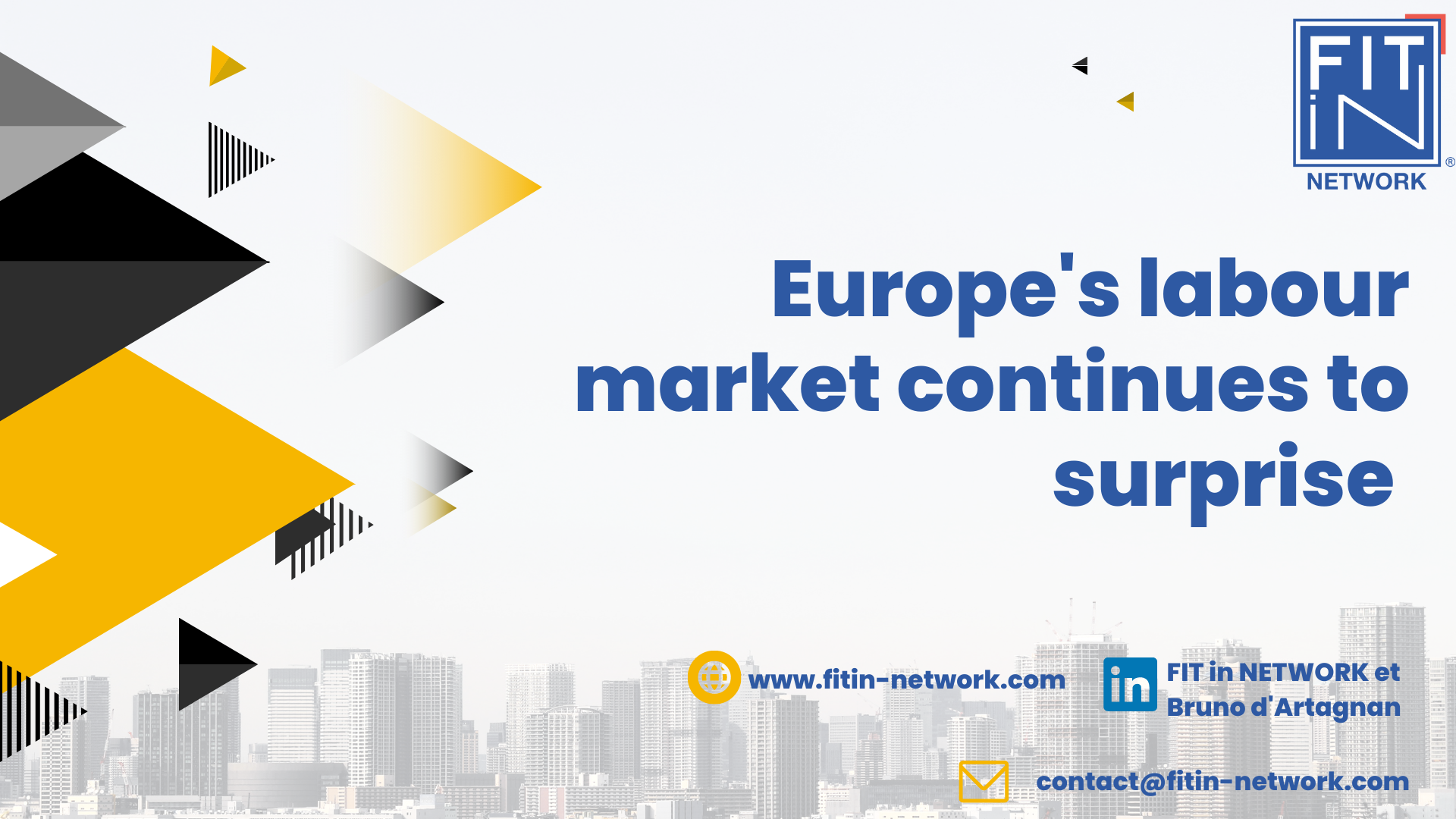 Europe's labor market continues to surprise
In the last 3 months of 2022 almost 600,000 jobs were created. In the Eurozone, at the end of 2022, the number of jobs was over 3.7 million, i.e. at the same level as in 2019, before the Covid. All these figures point to a slowdown ahead.
In the Eurozone, businesses continue to create jobs and the unemployment rate remains at record lows. The labor market is holding up. The unemployment rate is only 6.5% with the employment rate increasing since the pandemic. Employment reached 3.7 million by the end of 2022 and over 600,000 jobs were created. On the other hand, salaries are not moving.
This is not only happening in Europe. The United Kingdom also has a very low number of job seekers. Moreover, in the United States, the unemployment rate has never been so low since 1969. In the last 12 months, 5 million jobs have been created in the US.
Behaviors are changing
To summarize, the European economy is slowing down due to soaring energy prices, but the job market remains dynamic. Production is limited, in particular due to the lack of qualified labor for European companies. This is why companies prefer to keep their employees rather than lay them off. It is more financially advantageous for them and they will not need to spend several months re-hiring and training other people. Companies are retaining labor.
There are other more structural reasons for this phenomenon. For example, the baby boomers are retiring and this is an important event.
All good things must come to an end
Unfortunately, this phenomenon may not last. A relapse is expected next fall. Indeed, construction companies are reporting 9 months of sales while manufacturers say they still have 5 months of orders to fill. Orders have generally fallen in recent months.
Another reason for the slowdown in job creation is that the peak in job vacancies in Europe seems to have passed. Job creation has been very strong in recent years and it is possible that growth will be less job-rich to allow companies to regain lost productivity gains.
Finally, the brakes seem to be on as interest rate hikes begin to have an effect on the volume of loans granted by European banks and as household consumption declines due to inflation. The current dynamism of the labor market may therefore not last much longer.
Sources:
Not yet a member of FIT in NETWORK®?
THE European network of available skills
👉 Create or update your profile on FIT in NETWORK® https://bit.ly/2ABuiFu
👉 Follow our professional page on LinkedIn: https://bit.ly/2XRcAWs
👉 Become a Premium Expert and get priority on all our opportunities with many other services https://bit.ly/2XYvOt0
Learn why empathy has become an important skill to have in the professional world.
👉 https://www.fitin-network.com/fr/actualites/lempathie-la-competence-de-leadership-la-plus-importante/