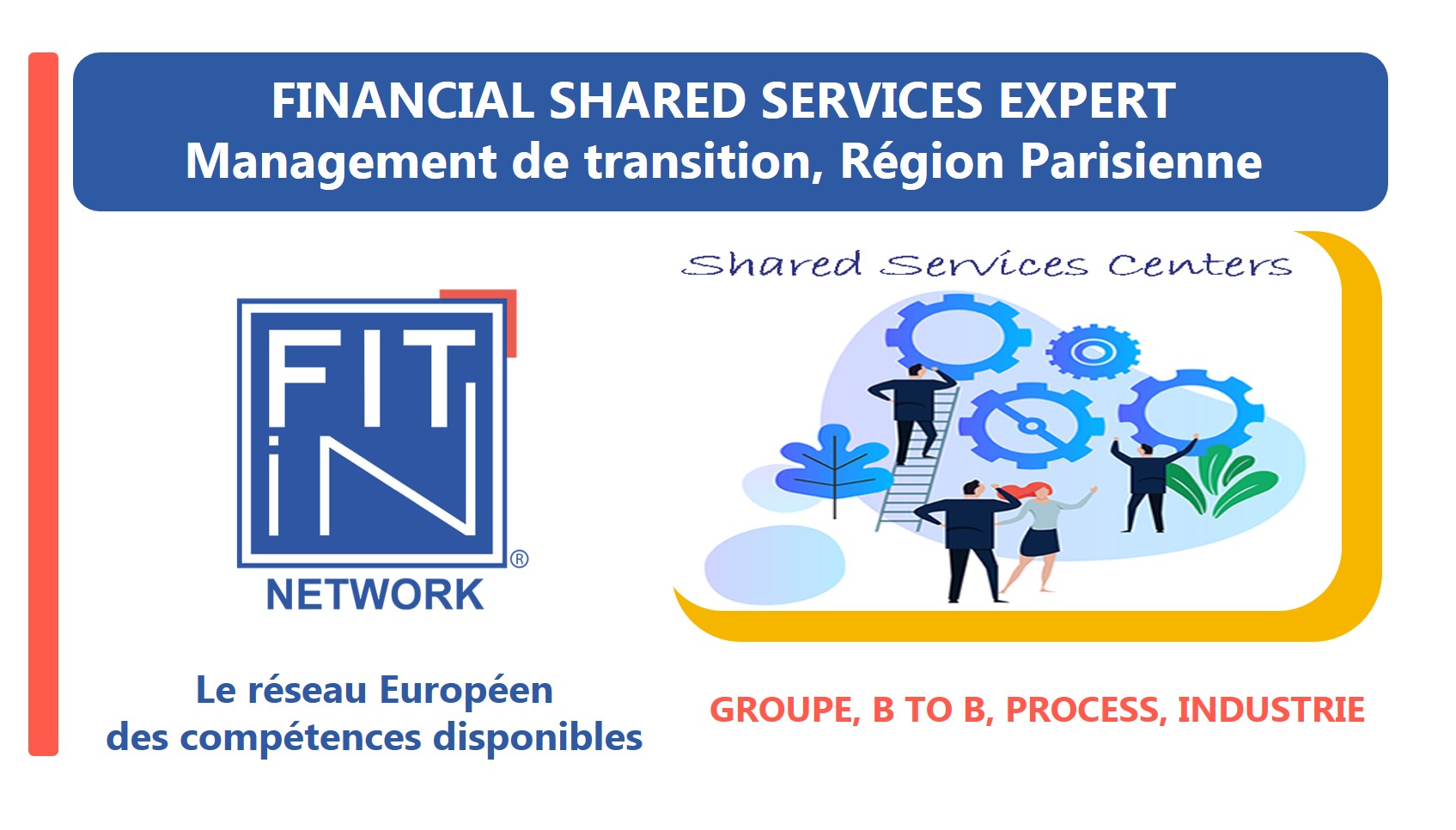 FINANCIAL SHARED SERVICES PROCESS EXPERT – MISSION DE MANAGEMENT DE TRANSITION
Are you a FINANCIAL SHARED SERVICES PROCESS EXPERT? Do you want to join an international group, to participate in a vast transformation project?
For this new and very beautiful mission of Interim Management, we propose to an available and motivated professional to join our client, an international group, to participate in a vast transformation project.
This could be you, so no time to lose!
☑️ Société
Group with a worldwide presence and European headquarters based in the Paris region.
Company with a B to B industrial activity and several production sites throughout Europe.
In continuous growth and in a transformation phase with a simplification of its operational and financial organization.
In the process of deploying a Financial Shared Services Center with optimization of accounting, controlling & cash management processes.
☑️ Mission
Reporting to the Group Finance Department and on a European perimeter
Actively participate in the optimization of all interfaces between the Financial Shared Services Center (SSP) and other business processes:
Sales & customer management,
Purchasing & supplier management,
Operations & Supply Chain organization,
Treasury & tax management,
Controlling & performance reporting.
Develop and implement new processes, in an environment dominated by SAP R3 & S4/Hana.
Make information exchanges between the SSP and its main internal customers within the Group and its subsidiaries more reliable.
Identify the friction points and implement the areas for improvement.
Arbitrate residual discrepancies and organize the implementation of internal solutions.
Develop best practices and deploy them throughout the organization.
Ensure the continuous improvement of processes to optimize the operational efficiency of the SSP for all its internal customers.
Minimum duration of 4, extendable to 6 months or more depending on the evolution of the mission.
Location: Paris region.
Mobility: little travel is expected, as most of the exchanges can be organized from the head office. If necessary, occasional missions in one of the countries served at the European level.
Start: as soon as possible, at the latest at the beginning of May 2021 once the selection & validation with our client of the selected candidate.
☑️ Profil recherché
Above all, interpersonal skills are required:
Very good written and oral communication
Proactive, constructive and results-oriented attitude
Ability to quickly understand and solve problems
Organized and able to manage time;
Autonomous with a good command of computer tools
Technical skills will also be helpful to succeed in this assignment:
A minimum of Master's level in Accounting, Finance or Business Administration;
A fluent practice of SAP and a mastery of operational English;
Experience in international groups;
Experience in international groups; Experience in an audit or operational consulting firm is a plus.
A maximum of 10 to 15 years experience will be suitable for this assignment.
Immediate availability is required.
🦸‍♀️ 🦸‍♂️Your profile "FIT" with this assignment? 
Please send your application by email to contact@fitin-network.com with the reference 21.042
👉 Create and/or update your expert profile on FIT in NETWORK® https://bit.ly/2ABuiFu
👉 Consider our Premium package and get priority on our assignments with many other services https://bit.ly/3hexDvb 
👉 Follow our activities & assignment opportunities on LinkedIn https://bit.ly/2XRcAWs 
If you know an available professional who "FIT" with this profile, do not hesitate to pass on this assignment opportunity 🚀🚀