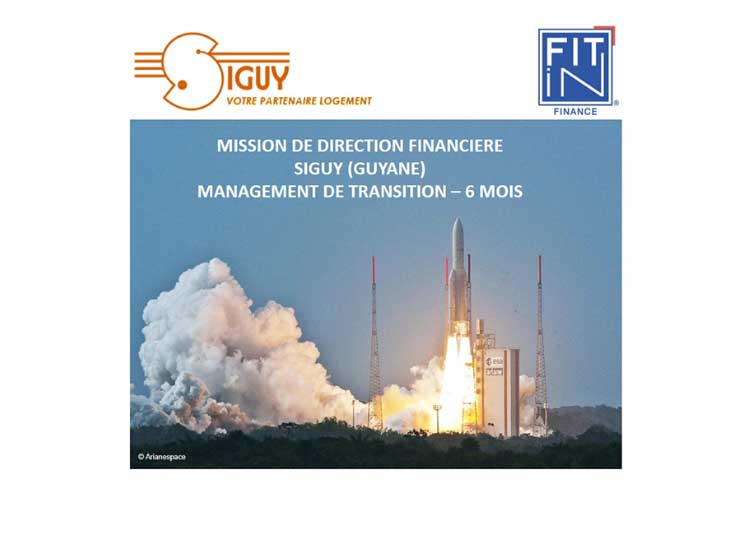 FIT in FINANCE® on mission in the French overseas departments to manage the SIGUY company's CFO.
Based in Cayenne, the Société Immobilière de la Guyane (SIGUY) is a Local Public Enterprise (EPL) that manages a stock of more than 8,000 social housing units in French Guiana. In a difficult economic and social context, SIGUY is undergoing a recovery plan and has had to cope with the departure of its Administrative and Financial Director. SIGUY therefore asked FIT in FINANCE®, a member of FIT in GROUP® , at short notice, for a six-month interim management mission to take over the management of the entire Finance Department.
Eric DIETSCH, our Manager sent on site, defined with the customer the roadmap of the mission:
In addition to the daily management of the teams, he manages the reorganization of the management, the debt restructuring, the production of cash flow forecasts and the 2018 budget, the support of the General Management in the financial strategy and its implementation, all in close synergy with the General Secretary.
Catherine SANNIER, Secretary General of the SIGUY said :
"Eric DIETSCH has made himself available at very short notice to accompany us in the context of the departure of our Administrative & Financial Director. The contribution of Eric's professional experience was felt on several levels:
Restoring confidence within the accounting-finance team
Contribute to the implementation of a new organization of the accounting and financial functions after a quick and relevant analysis of the situation
Reduce the cost of accounting and financial missions
Accompanying employees in the implementation of new procedures
"In addition to the CFO's mission in interim management, FIT in FINANCE® , through its Chairman Bruno d'ARTAGNAN, has positioned itself as a true partner of the company and has supported us in the recruitment of our future finance and treasury manager. »
Bruno d'ARTAGNAN, President of FIT in GROUP ® , declared :
"This mission is another example of our ability to quickly find the best available skills, within our network of professionals, to meet our clients' needs.
Thanks to his experience, Eric has demonstrated his reactivity and commitment to meet the objectives set with our client and we would also like to thank the Management of SIGUY for their confidence".