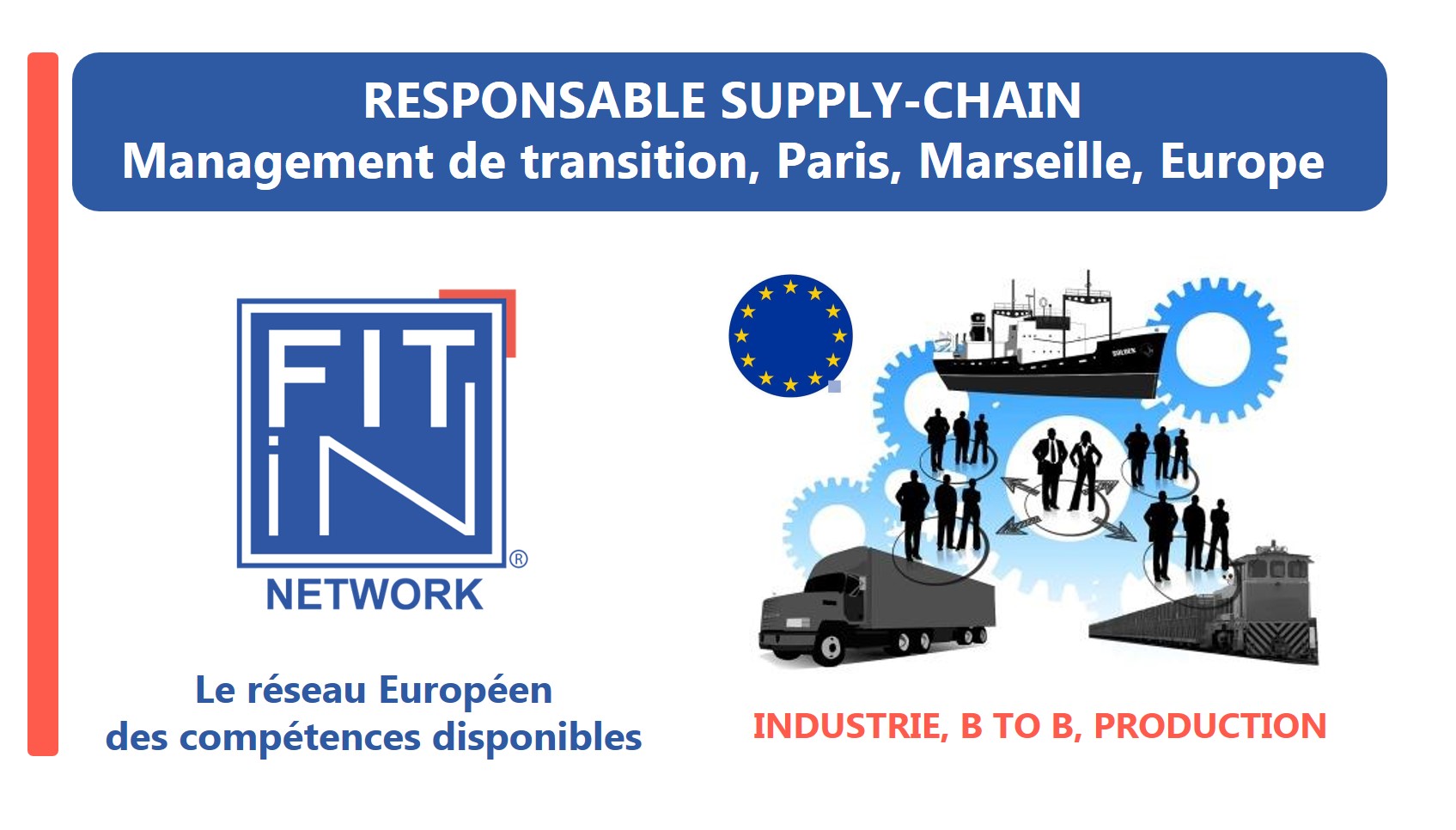 FIT in NETWORK® – Interim management assignment – SUPPLY-CHAIN MANAGER
🚀 Interim management mission 🚀
SUPPLY-CHAIN MANAGER – France & Europe
Come and put your experience and skills in Supply-Chain Management to work in this superb interim management mission for an industrial group in full international development!
☑️ Company
Member of an international industrial Group with many production plants in France and Europe.

B to B activity with long cycles, requiring great planning and optimized management of the entire supply chain: procurement, storage, production, shipping of finished products.

Just-in-time activity to meet high demand and to optimise performance: product availability, supply times, quality of service, compliance with customer deadlines.

Context of transformation of digital tools and a new ERP (SAP)

☑️Mission
As part of an internal rotation of the existing organization and skill building.

On a France + Europe scope, supervision of several production sites.

In relation with the Supply, Logistics, Production, Customer Service departments

Manage a team of about 20 people spread over all sites ;

Be responsive to the context of each site with a very operational approach ;

Participate in decision making to optimize flows;

Supervise all transport activities: rail, road and sea;

Ensure quality of service to customers and respect of deadlines;
Initial mission of 4 to 6 months, extendable or transformable according to the future context of the company and the profile of the candidate.
Several possible locations: Paris or around Marseille

Mobility in France and Europe to be expected in the respect of the health context
Part of the work will be done from home, once the integration is completed

Immediate start, once the final choice has been made by the client
☑️ Profile sought
Experience in industry, with production plant constraints, essential.

Knowledge of SAP, TMS and WMS of the trade essential.

French speaking with good command of English.

Expert in Supply-Chain with 10, 15 or 20 years maximum of experience.

Easy and natural communication.

Sensitive to social dimensions and dialogue with all stakeholders.

Engineering background, Master in Supply-Chain.

CTL or APICS certifications are a plus for the ideal profile.

Available immediately

👷👷 Your "FIT" profile with this assignment?
Quickly send your application CV + motivation message by mail to contact@fitin-network.com with the reference 21.038

👉 Create or update your profile on FIT in NETWORK® https://bit.ly/2ABuiFu

👉 Become a Premium Expert and get priority on our missions with many other services https://bit.ly/2XYvOt0

👉 Discover our video https://youtu.be/-IfE5L_gmxM