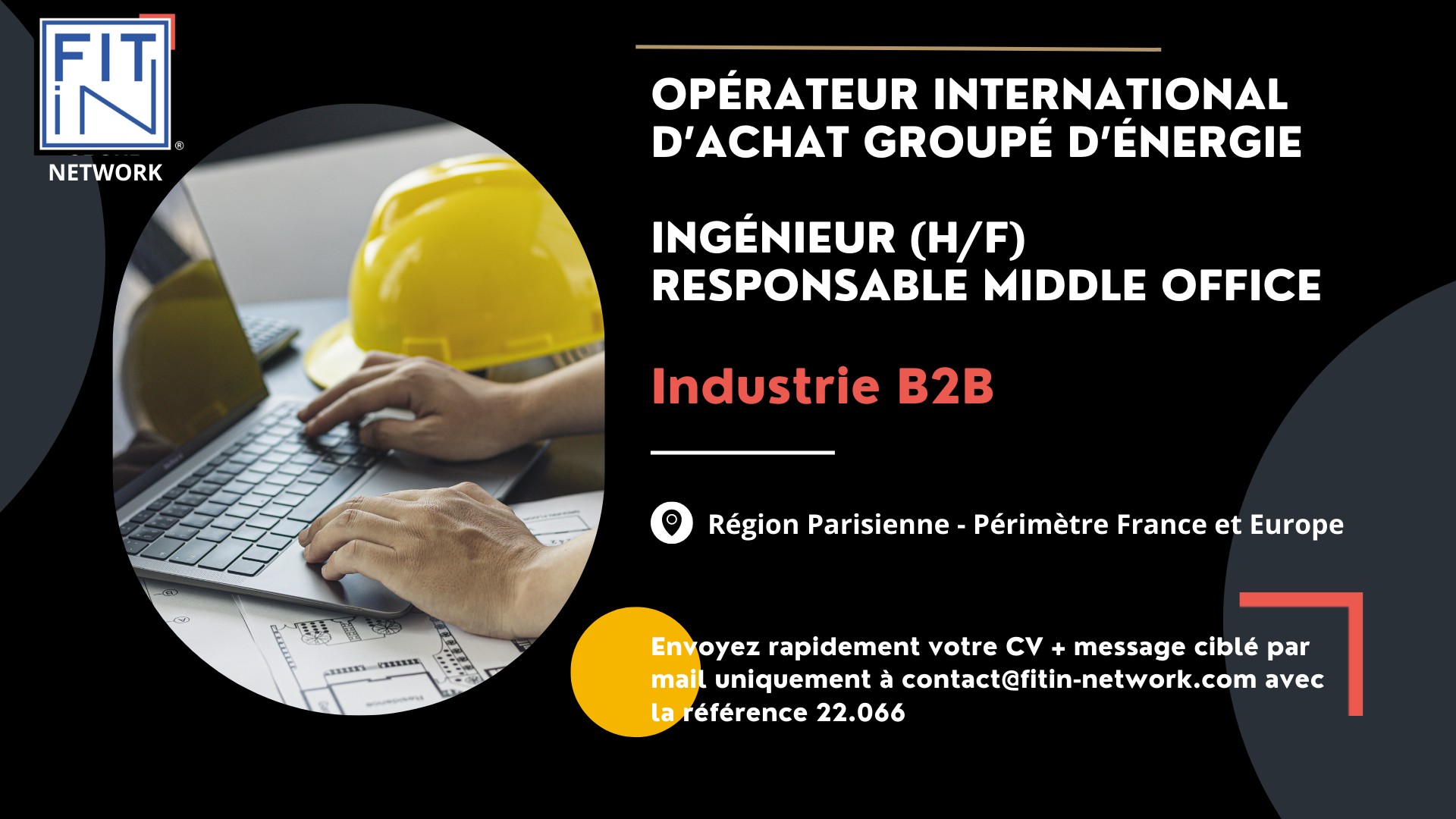 FIT In NETWORK®, Transition Management – Engineer – Middle Office Manager (M/W)
Dear member,
Energy management and its optimization have become essential subjects for a large number of companies, but also for all public and private end-users.
In a context of tensions on the means of production and a significant increase in costs, we are mandated in a confidential & exclusive way for this superb mission of transition management.
Within this international energy operator, we propose this interim management mission for the position of "Middle-Office Manager Engineer" .
As part of a team and within the Energy Department, you will participate in the analysis of market operations, the continuous adaptation of processes and tools.
🎯 Are you available to start at the end of August / beginning of September 2022 at the latest and able to meet these challenges? In that case, there is no time to lose to seize this great opportunity.
On your CVs, get ready, apply!
☑️ The Company for this mission
International group in the energy sector
Within the Energy Purchasing Department
Multi-energy and multi-supplier group purchasing activity.
☑️ The mission to be filled
Middle Office Manager Engineer
Reporting to the Energy Purchasing Department & member of a team of experts, your mission includes the following objectives:
Analyze market transactions: including some swap transactions
Carry out monthly reporting: including the production of a P&L on all activities
Participate in the preparation of tender documents: within the department and produce analysis reports on the responses received
Supervise the establishment of invoicing: automated but requiring a review and validation of swap operations
Produce quarterly activity reports: with forecasts of needs by energy category for the coming year
Adapt the tools: according to the evolving needs of the Group's internal users.
Beyond that, you will be asked to participate in the constructive analysis of existing processes in order to propose improvements.
🏢 Transition Management Mission
Based in the Paris region, France & Europe perimeter.
✈️ Professional mobility: limited
🚩 S tarting end of August / very early September 2022
⚽ Initial duration of 6 months
☑️ Your key skills & profile
Profile
Engineer by training
Specialization in energy and/or electrical engineering
Successful experience in the energy sector
Perfect command of Office tools, including Excel in particular
Analytical mind, sense of teamwork
🎯 You are available immediately
This search is Exclusive & Confidential for our client.
🦸 Your profile "FIT" with this opportunity?
Quickly send your CV + targeted message by email only to contact@fitin-network.com with the reference 22.066
Apply for this job - Operational Management Controller (M/F) "Inflation" Project Manager
You are not yet a member of FIT in NETWORK®?
THE European network of available skills
👉 Create or update your profile on FIT in NETWORK® https://bit.ly/2ABuiFu
👉 Follow our professional page on LinkedIn
👉 Become a Premium Expert and get priority on all our opportunities with many other services https://bit.ly/2XYvOt0
You know a professional who "FIT" with the profile you are looking for?
Don't hesitate to pass on this professional opportunity to him/her 🚀🚀