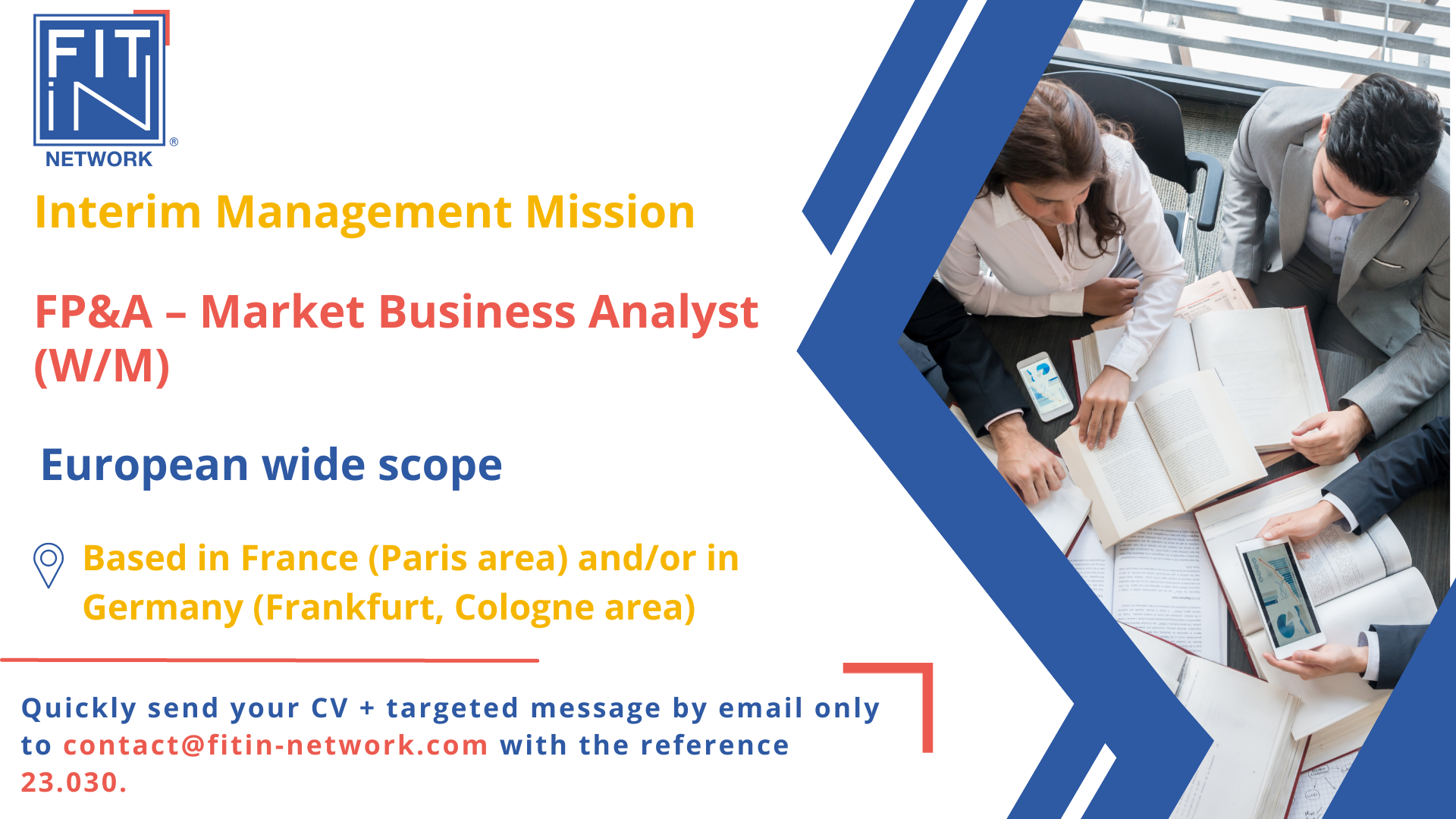 FP&A – Market Business Analyst
We are pleased to propose this new Interim Management mission to one of our clients, active in various European countries in the industrial field.
As the client's organization is currently in charge of various development projects, we are reinforcing its team with this new FP&A - Market Business Analyst assignment.
As part of the group's finance team, you will work directly with a Business Market Director to support him and the sales teams developing the business across Europe. By providing key KPI's on sales and financial performance, you will guide the management team in making the best business decisions.
In this context, we offer you this Interim Management Mission opportunity :
🎯 for a candidate IMMEDIATELY AVAILABLE;
🎯 with proven experience in FP&A and/or Business Analyst responsibilities.
Are you available and able to take on this challenge for our client?
👉 In that case, send us quickly in English your CV and your motivation message to contact@fitin-network.com with ref. 23.030.
☑️ The company for this opportunity


Industrial company, present in several EU countries.
BtoB activities exclusively.
Production and distribution of technical equipment.
Current scope of activity or M€ 150 of turnover and 10 countries.
☑️ The Transition Management Mission

FP&A - Market Business Analyst
Reporting to the Business Director.
Reporting function to the Group Financial Controller.
Your main objectives are to provide a commercial link between the sales teams and the business teams of the company.
To be successful in this role, you will provide the following duties and responsibilities:
- Coordinate financial reporting, including budgeting and regular forecast updates;
- Support business development projects: in collaboration with key market account managers;
- Conduct market and competitor performance analysis;
- Provide ad hoc analysis to the executive team to support key market decisions;
- Produce and track key business performance indicators (KPIs) for sales, pricing, product mix, backlog and gross margins;
- Participate in regular management meetings and international calls with commercial and financial stakeholders.
In summary, you act as a true business partner supporting the management team by providing reliable market analysis, financial KPIs and advice based on your analytical expertise.
🏢 Interim Management Mission:
- Based in France: Paris, Ile de France region
- and/or based in Germany: Frankfurt / Cologne region, Rhineland-Palatinate region
✈️ Professional mobility : according to necessity on industrial sites, possibility of partial home office.
🚩 S tarting date : ASAP
⚽ Length of assignment: 4-6 months, extendable if needed. Conversion is also an option depending on future "FIT" after the assignment.
☑️ Your key skills and profile

Your profile
Master in business school or financial management.
Approximately 10 to 20 years of experience as a Business Analyst or in FP&A positions.
Knowledge of controlling activities through practical experience.
Sensitive to sales, business strategy and business development activities.
Well organized, time and result oriented.
Key Skills
Proficiency in business English.
German is an asset for this mission.
Proficiency in Excel, possibly QlikView or SAP.
Ability to work in matrix teams and international organizations.
Strong communication skills.
🎯 You are available IMMEDIATELY

This is an express and confidential executive search for our client.
🦸‍♂️🦸‍♀️ Does your profile match this opportunity?

If so, send your CV + a targeted message by email only to contact@fitin-network.com with the reference 23.030.
You are not yet a member of FIT in NETWORK®?
THE European network of available skills
👉 Create or update your profile on FIT in NETWORK® https://bit.ly/2ABuiFu
👉 Follow our professional page on LinkedIn: https://bit.ly/2XRcAWs
👉 Become a Premium Expert and get priority on all our opportunities as well as many other services https://bit.ly/2XYvOt0
You know a professional who matches the profile you are looking for?
Don't hesitate to pass on this professional opportunity to him/her 🚀🚀🚀.
Find out why empathy has become an important skill to have in the professional world.
👉 https://www.fitin-network.com/fr/actualites/lempathie-la-competence-de-leadership-la-plus-importante/