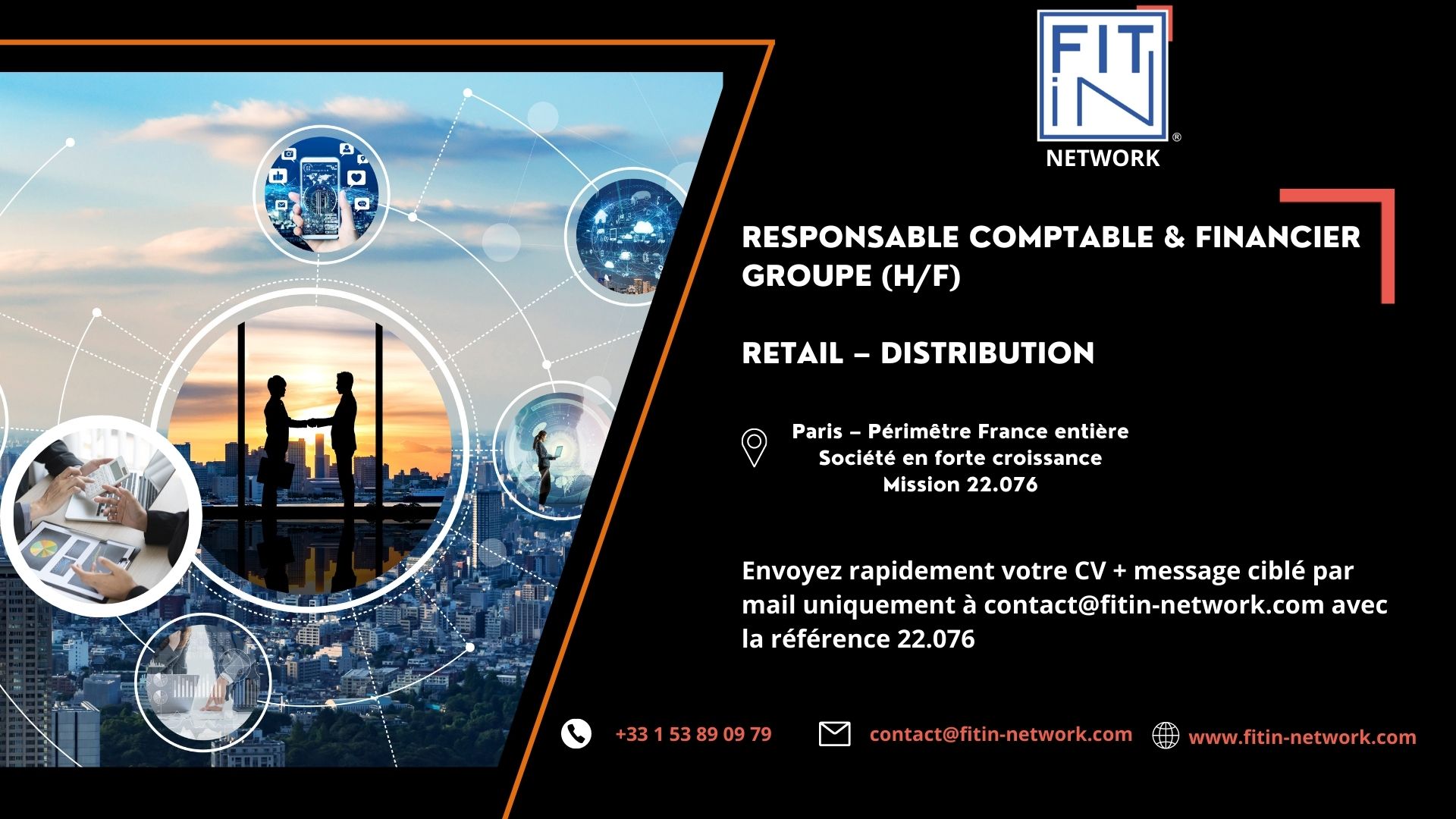 GROUP ACCOUNTING & FINANCE MANAGER – RETAIL DISTRIBUTION M/W
It's already back to school ... and the time has come to talk about professional future, development, new challenges and especially to seize new opportunities.
Here is an exciting one for our client, a fast-growing player in the French retail sector.
We are currently looking for a highly motivated and motivated individual to join our client.
If you are motivated to join this fantastic human adventure, within a multicultural and international Group, no time to lose: get your Resume ready and apply!
☑️ The Company
International player in the retail sector
Growing company with many openings in progress
Deployment of a distribution network throughout France
Culture of growth and transformation
A retail start-up spirit
A company with a mission and strong values
Turnover in excess of €1 billion in France
Several thousand employees, constantly growing
☑️ The position to be filled
Group Accounting & Finance Manager - M/W
You will be a key member of the Finance Department and will contribute to the development of the company's performance through your actions. You will be responsible for the management of internal and external relations and for the improvement of processes. You will also be responsible for the management of internal and external relations and for the improvement of processes.
Your main accounting and tax missions :
Coordinate the monthly closing processes
Ensure the relationship with the Group's Shared Service Center (SSC) based in Europe
Present quarterly, half-yearly and annual financial statements
Manage the conversion of French Gaap accounts to IFRS
Supervise the preparation of French tax returns (VAT, CVAE, CFE, etc.) with the help of a specialised consultant
Ensure compliance with the company's accounting and tax obligations in France
Your main contacts
Internally: the company's CFO, the Management Controllers, the Group's CSP and, as required, the General Management, the Operations Department and the Store Managers
Externally: statutory auditors, tax authorities, suppliers and other service providers
Your contributions to process improvement
You implement and develop internal controls
You participate in risk management to protect the company's assets
You are a true Business Partner of the Management
As the CFO's right-hand man, you will carry out and present performance analyses (balance sheet, results, financial flows)
You participate in discussions with the General Management to propose any improvements in the management and development dynamics of the company
🏢 Permanent position: based in Paris
✈️ Mobility: occasional, limited to France
Teleworking according to company agreements at Group level
🚩 Start date: during September 2022
Or ASAP if short notice to be given
⚽ Career opportunities: eventually within the Group
Positions in Finance or other functions, France & international depending on profile
 Your profile
Education & skills
Higher education in Accounting & Finance, DSCG - DECF or DEC level or equivalent. Minimum 5 years of higher education for this position
Minimum 5 years experience in an equivalent position in the Retail, Distribution and/or Franchisee Networks sector
Experience in an (international) audit firm at the beginning of your career, a real plus
Fluent in English
Knowledge of IFRS standards
Fluent Excel in intensive use
Knowledge of SAP / Hyperion / Blackline is a plus
Skills
Rigorous, pragmatic, autonomous
You know how to take initiative and be a force of proposal
Open-minded with a desire to develop in a growing company
🎯 You are available immediately
This search is Exclusive & Confidential for our client.
🦸♂️ Your profile "FIT" with this opportunity?
Quickly send your CV + targeted message by email only to contact@fitin-network.com with the reference 22.076
You are not yet a member of FIT in NETWORK® ? THE European network of available skills