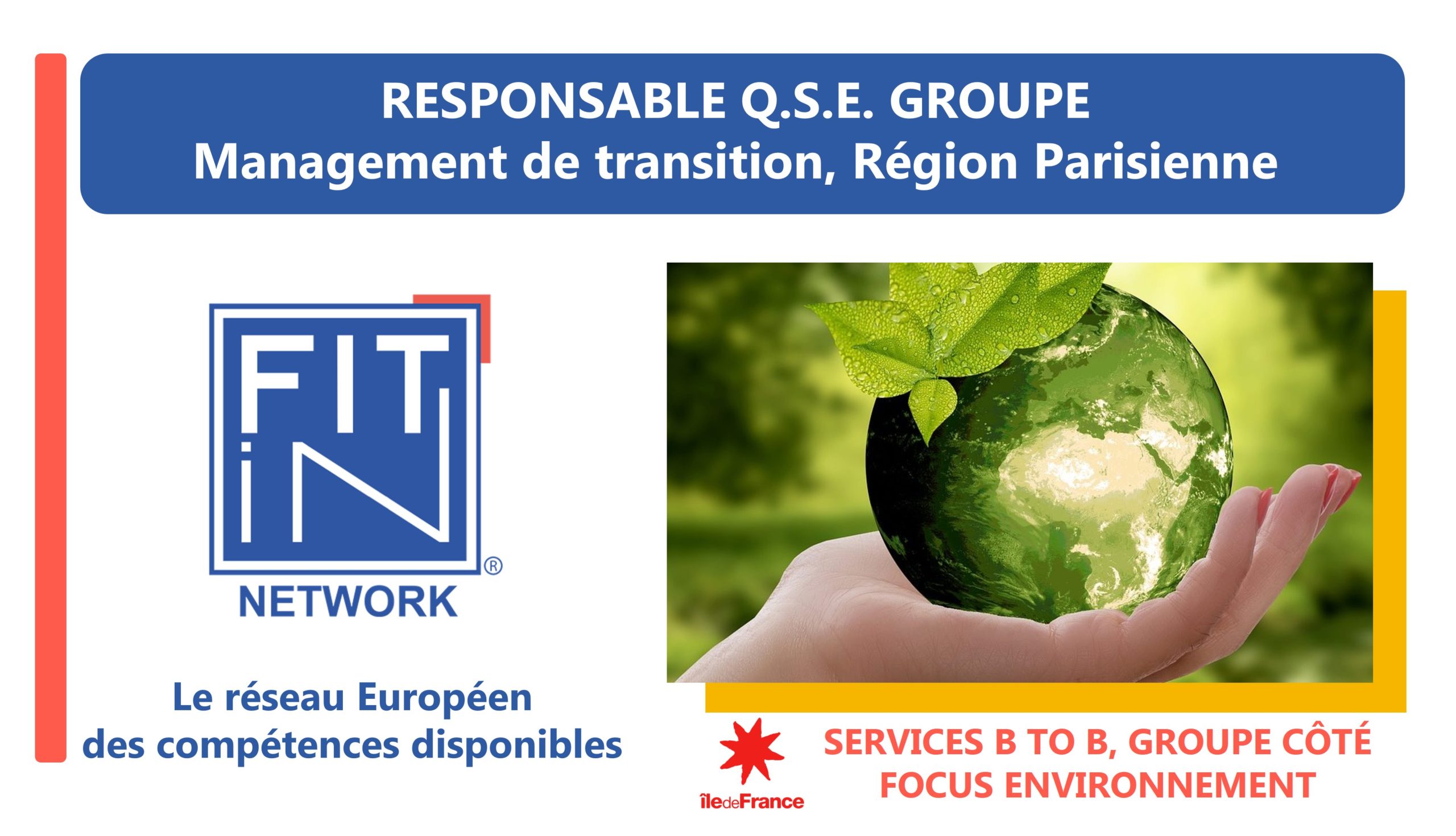 GROUP QSE MANAGER
🚀 Interim management mission 🚀
GROUP QSE MANAGER – FOCUS ENVIRONMENT

Our client, a large international group with its European headquarters based in the Paris region, is looking for a Quality – Safety – Environment (QSE) Manager for the Groupfor an interim management mission.
The priority will be given to the Environmental dimension of the function and to the capacity of the future manager to accompany our client in all the management of the impacts of its activities on its environment.
A global mission with management, an international dimension and exciting for the professional who will be selected for this new opportunity.
Are you available and motivated to start at the end of August 2021? In this case, there is no time to lose to follow up: Get your CV ready and apply!
☑️ Company
International group and listed company
Presence in more than 20 countries in Europe and America
B-to-B services with several hundred business sites
Turnover in billions, several tens of thousands of employees
Businesses in clear recovery during thefirst half of 2021
☑️ The mission
Reporting to the Operations Department
You will manage a team of approximately 20-25 people on a European scale
You will supervise the whole QSE strategy of the Group with :
A Quality Manager: under your direct responsibility;
A safety manager: who also reports to you;
An environmental dimension: which you are responsible for leading and developing
Your mission is to develop and implement a consistent QSE policy within the Group with :
Awareness and training of personnel
Controlling the compliance of activities on the sites
Analysis and management of risks
Identification of improvement solutions
Setting up team management processes
In consultation with the Operations Department, you will define and deploy the means necessary for the quality and safety of activities in compliance with environmental standards.
You will be required to travel regularly in Europe
You will take initiatives, advise the Group and participate in the process of continuous improvement of the services provided to the Group's customers.
You will define, monitor and present the relevant KPIs of your activities
🏢 Mission based in the Paris region
🕗 Initial duration of 4 months, certainly extendable to 6 months
⚽ Evolution in CDI, possible option
✈️ Physical presence at headquarters and on sites
🚩 Start end of August 2021 / very early Sept. 2021

Full time mission
☑️ Profile required
Man or woman with experience in the QSE function
Knowledge of groups is essential
At least 10 years in an equivalent function
Experience in B to B services
Good communication and team motivation skills
Ability to take initiatives, to manage transformations
Fluent in English
🎯 You are available immediately
This search is EXCLUSIVE & confidential to our client
🦸♀️ 🦸♂️ Your profile "FIT" with this opportunity?
Send your application CV + motivation message by email to contact@fitin-network.com with the reference 21.078