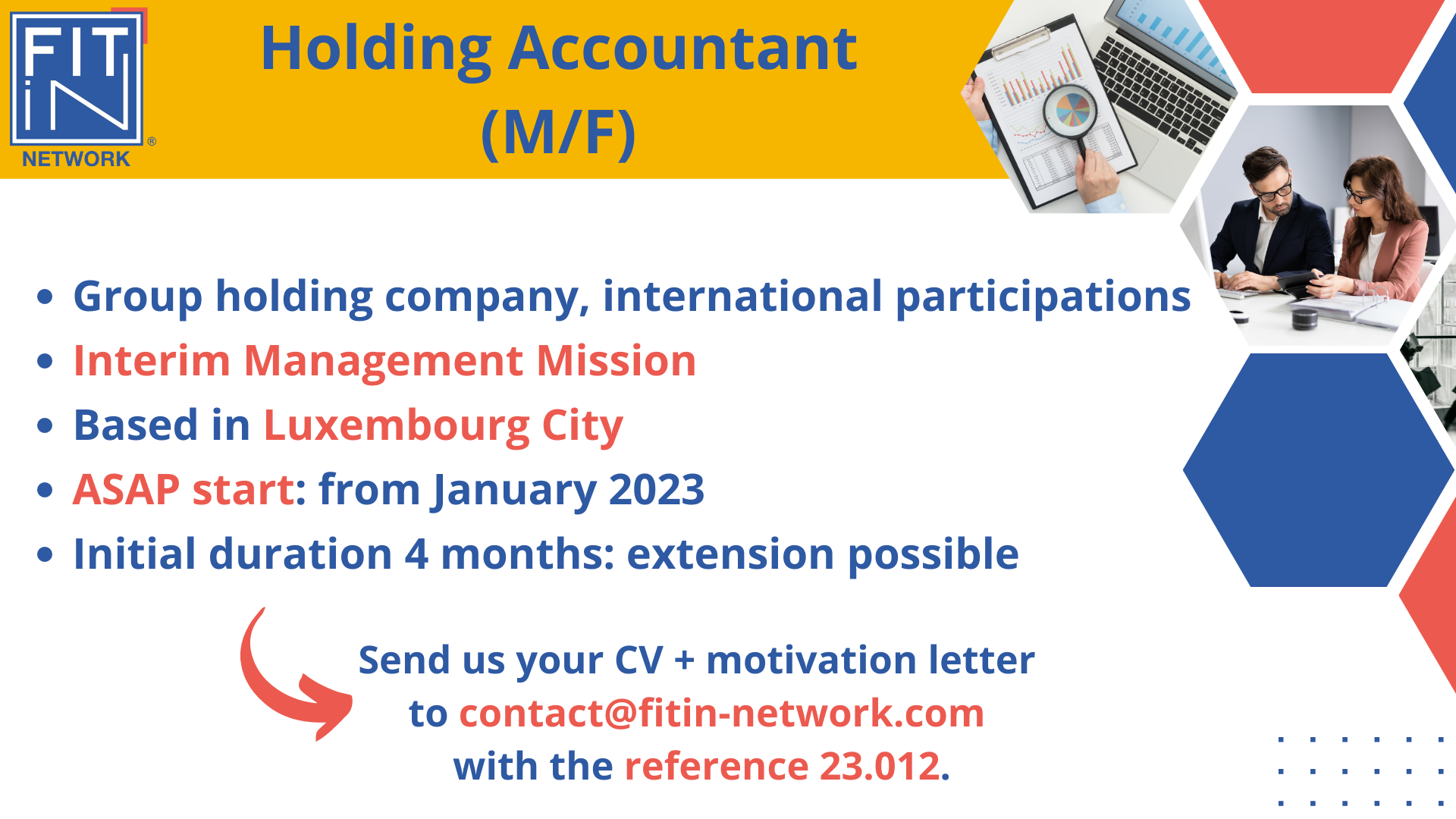 Holding Accountant (M/F)
Our client is a holding company based in Luxembourg City. The company holds several participations in international subsidiaries, active in the industrial sector.
In order to strengthen its organization, in this period of annual closing of the company and consolidated accounts, we propose an express & exclusive mission of Holding Accountant M/F.
Reporting to the company's management, and functionally to the Group's Finance Department, you will be directly involved in bookkeeping, drawing up the annual accounts in Lux Gaap, preparing the Group's consolidation packages and reporting.
This highly operational accounting mission, lasting a minimum of 4 months full-time, may be extended or transformed into a permanent position depending on the "FIT" between the company and the candidate.
🎯 Are you available immediately and have the skills to meet these challenges? In this case, don't waste time to send us your CV with a motivation message to contact@fitin-network.com with the reference 23.012. On your CV, get ready, apply!
☑️ The Company for this mission
Holding company of a Group active in the industrial sector
Holds several international subsidiaries
Provides financing in foreign currencies, some swap operations
Follow-up of internal invoicing, management of current accounts, dividends
☑️ The mission to be carried out
Holding company accountant M/F

Reporting line to the Holding Company management.
Functional attachment to the Group's financial management.
Functional relations with the subsidiaries' accountants.
You will have two main missions:
#1 Carrying out the annual closing of the company & consolidated accounts
Social accounting: in Lux Gaap, passage of accounting entries, monitoring of internal flows, justification of social accounts;
Preparation of consolidation packages: consolidation level in Luxembourg, for integration into the Group accounts;
Relations with the Group: follow-up of information requests;
Relations with the auditors: preparation of the annual review of the accounts.
#2 Monitor day-to-day accounting management
Accounting for financial flows: financing operations of subsidiaries, monitoring of currency swaps, centralized cash flow;
Follow-up of internal invoicing: royalties, management fees, dividends, intra-group services;
Analytical monitoring of results: reporting & performance monitoring.
🏢 Interim Management: full time,
📍 Based in Luxembourg city
✈️ Mobility: limited, little travel planned, face-to-face mission.
🚩A SAP start date: as of January 2023.
⚽ Initial duration 4 months: extension possible.
🚀 Conversion to permanent position possible depending on "FIT" with our client.
☑️ Your key skills & profile
Profile

Accounting degree from higher education.
Minimum 10 years of experience in bookkeeping.
Experience in holding company accounting.
Experience in an accounting or fiduciary firm.
Knowledge of SAP, FI module.
Fluent in English.
Personal skills
Open and easy communication.
Looking for a " friendly " profile according to our client.
Operational immediately, organized.
🎯 You are available immediately
🦸♀️🦸♂️ Your profile "FIT" with this opportunity?
This search is Express & Exclusive for our client.
Send your CV + cover letter quickly by email only to contact@fitin-network.com with reference 23.012.
You are not yet a member of FIT in NETWORK®?
THE European network of available skills
👉 Create or update your profile on FIT in NETWORK® https://bit.ly/2ABuiFu
👉 Follow our professional page on LinkedIn: https://bit.ly/2XRcAWs
👉 Become a Premium Expert and get priority on all our opportunities with many other services https://bit.ly/2XYvOt0
You know a professional who "FIT" the profile you are looking for?
Don't hesitate to pass on this professional opportunity to him/her 🚀🚀
Discover why empathy has become an important skill to have in the professional world.
👉 https://www.fitin-network.com/fr/actualites/lempathie-la-competence-de-leadership-la-plus-importante/