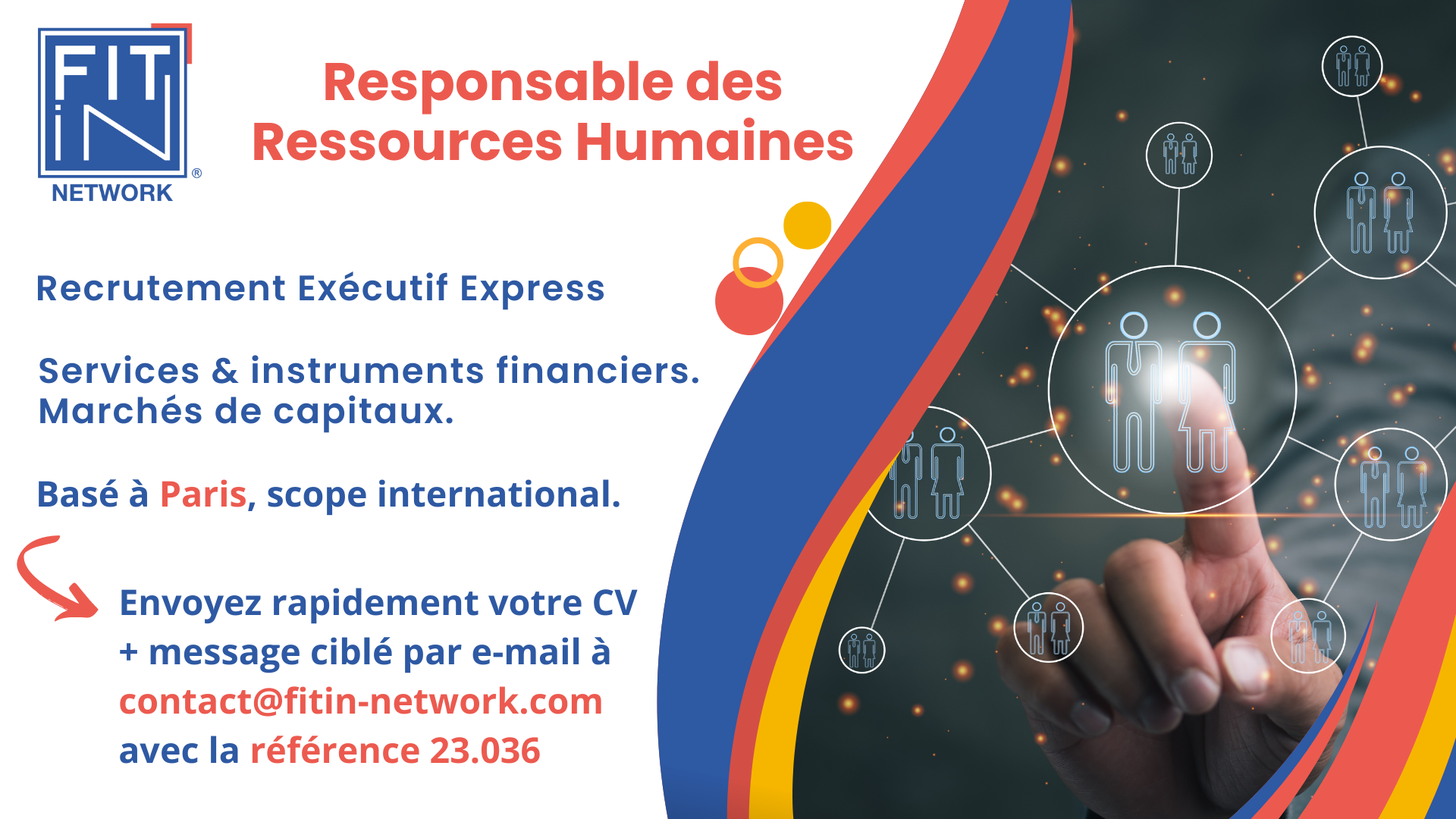 Human Resources Manager
Our client is a mid-sized company, based in Paris and part of an international group.
Its financial services and capital management activities, on behalf of its clients, are carried out in Europe, Asia and the United States. The company is currently in the process of developing and strengthening its central organization.
In order to reinforce its teams to face its growth, our client has mandated us in a confidential & Express way to find quickly its future Human Resources Manager (M/F) for an Executive Recruitment Express in permanent contract.
Reporting directly to the HR Director, you will implement the steering of the HR policy and bring useful skills to the operational teams, in France, Europe and internationally.
🎯 Are you available immediately and want to take on these challenges?
If so, don't waste any time in seizing this great opportunity by sending your CV with a covering message to contact@fitin-network.com with the reference 23.036.
On your CV, get ready, apply!
☑️ The company for this mission
Headquartered in Paris and member of an international group.
Financial services activities: brokerage, asset management, others.
Management of several asset classes: equities, derivatives, financial instruments, cryptocurrencies.
Presence in about ten countries on several continents
Mid-sized company, about 300 people.
☑️ The mission to be filled
Human Resources Manager
You report to the Human Resources Department.
You are in contact with the operational managers and the managers of the support functions.
In functional relation with the HR correspondents based abroad.
Your HR activities include the following actions:
Prepare the social agenda, process files before meetings;
Assist the HRD in the implementation of mandatory measures to be in line with legislation (review the internal regulations);
Follow the working conditions aspects;
Contribute to the development of processes and tools
Prepare new employment contracts and amendments;
Design and implement dashboards with key KPI's;
Respond to routine requests to prepare for decision making.
🏢 E xpress Executive Recruitment: full time, permanent contract.
📍 Base: Paris
✈️ Mobility: limited, occasional travel depending on projects
🚩S tarting date : ASAP, as soon as the selected candidate is validated
☑️ Your key skills & profile
Profile
Professional of the HR function.
Master's degree or equivalent.
At least 5 to 10 years of experience in the HR function.
Knowledge of the financial sector is a real advantage.
Fluent & operational English essential (spoken / written).
Mastery of Excel and social law.
Skills
You are immediately operational.
Sense of organization and management of priorities.
Initiative and versatility.
Able to manage several tasks at the same time.
🎯 You are available immediately.
This search is Confidential & Express for our client.
🦸‍♀️🦸‍♂️ Your profile "FIT" with this opportunity?
Quickly send your CV + targeted message by email only to contact@fitin-network.com with reference 23.036.
You are not yet a member of FIT in NETWORK®?
THE European network of available skills
👉 Create or update your profile on FIT in NETWORK® : https://bit.ly/2ABuiFu
👉 Follow our professional page on LinkedIn: https://bit.ly/2XRcAWs
👉 Become a Premium Expert and get priority on all our opportunities as well as many other services: https://bit.ly/2XYvOt0
You know a professional who matches the profile you are looking for?
Don't hesitate to pass on this professional opportunity to him/her 🚀🚀🚀.
Find out why empathy has become an important skill to have in the professional world.
👉 https://www.fitin-network.com/fr/actualites/lempathie-la-competence-de-leadership-la-plus-importante/