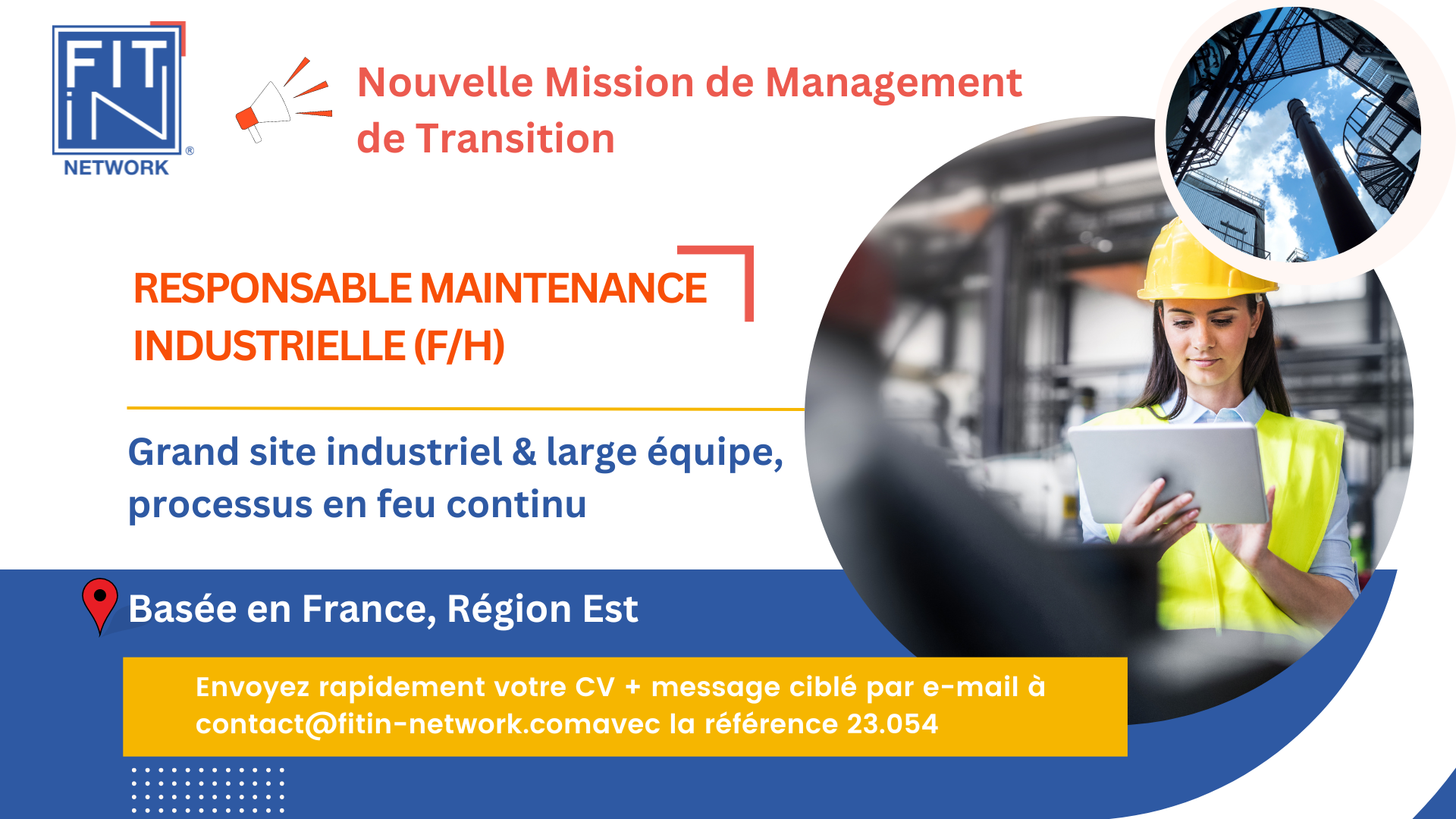 Industrial Maintenance Manager, Ref. 23.054
Our client is a major player in the industrial sector and a member of an international group with various production sites across Europe.
For one of its main industrial and production sites located in the Eastern region of France, we are currently searching for an Industrial Maintenance Manager (W/M) through a Transition Management assignment.
This mission aims to succeed the current professional in the role, who is transitioning to a new key position within the Group.
The ideal candidate possesses previous experience in continuous process industries, either as an incumbent manager or as a transition manager, with a track record in managing significant maintenance teams.
Under our Exclusive and Confidential mandate, we will present the top candidates to our client within the shortest timeframes.
So, even if you're currently at the beach, enjoying the summer sun, or travelling, but are ready to take on these challenges starting from early September 2023 for this excellent opportunity,
In that case, please quickly send us your CV in English along with a motivational message to contact@fitin-network.com, referencing 23.054.
Our FIT in NETWORK® team will get in touch with you and arrange a virtual qualification, regardless of where our top candidates are located.
Company for this Opportunity: Industrial Sector, Research & Development, 24/7 Continuous Production Activities, Globally recognized B to B Distribution sector player, CEVESO classified site with prominent HSE measures.
Transition Management Mission: Industrial Maintenance Manager (M/F) Direct report to the Site Director Key member of the Site's Leadership Team
Your main objectives are:
Lead the maintenance team consisting of around 50 employees across different groups;
Supervise subcontractors responsible for certain maintenance activities on-site, totalling around 50 individuals;
Ensure the quality and timely completion of maintenance activities; Ensure compliance with Health, Safety, and Environmental (HSE) standards;
Analyze and optimize work processes; Develop the maintenance plan in line with Group directives;
Monitor key performance indicators for maintenance activities.
In summary, for this mission, you will act as a true right-hand to the Site Director, ensuring continuous production activities.
Transition Management Mission: Based in the Eastern region of France,
Professional mobility: Limited to the industrial site,
Start date: Early September 2023, upon decision,
Mission duration: Minimum 4 months, extensible if necessary,
Transition: Depending on the fit between our client and the selected candidate, a permanent contract transition is possible.
Your Key Skills and Profile:
Profile Strong technical skills;
Engineering degree, preferably in mechanics or another technical field;
Experience in continuous process industries: Chemicals, Glass, Minerals, Steel, Cement, for example;
Experience with ERP systems, such as SAP with the PM module (a plus);
A hands-on approach, working closely with teams.
Key Competencies: Fluency in English, both spoken and written; Participative management, leadership in team management; Open-mindedness and approachability.
You are AVAILABLE IMMEDIATELY?
This is an Exclusive and Confidential search for our client.
Does your profile match this opportunity? If so, please send your CV + targeted message exclusively via email to contact@fitin-network.com, referencing 23.054.
Not yet a member of FIT in NETWORK®?
THE European network of available skills
👉 Create or update your profile on FIT in NETWORK® https://bit.ly/2ABuiFu
👉 Follow our professional page on LinkedIn https://bit.ly/2XRcAWs
👉 Become a Premium Expert and benefit from priority access to all our opportunities and many other services https://bit.ly/2XYvOt0
Do you know a professional who matches the profile you're looking for?
Don't hesitate to pass on this professional opportunity 🚀🚀🚀.
Find out why empathy has become an important skill in the professional world.
👉 https://www.fitin-network.com/fr/actualites/lempathie-la-competence-de-leadership-la-plus-importante/