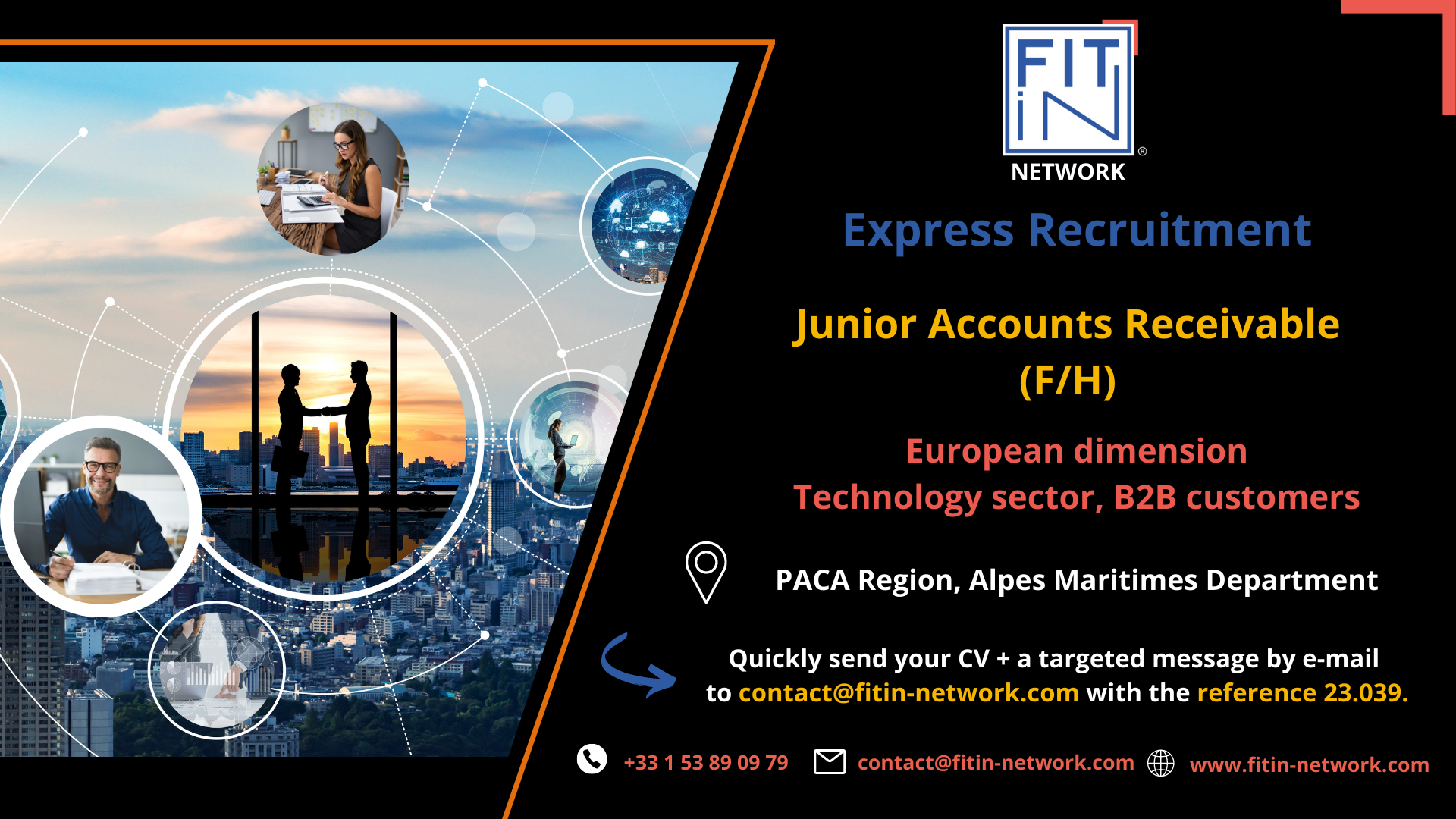 Junior Accounts Receivable (M/H)
We are pleased to present this new and superb job opportunity, on an express & confidential basis, for one of our European clients based in France.
Our client is constantly growing and is currently strengthening its financial teams and creating this new Junior Accounts Receivable position (F/H) based in the very attractive Alpes Maritimes department.
In addition, you will have the opportunity to participate in a transformation and growth project within a dynamic and enthusiastic management team.
🎯 A re you ready to seize this opportunity to meet these challenges? In that case, don't waste any time and send us your CV and motivation message in English quickly by email to contact@fitin-network.com with reference 23.039.
☑️ The company for this opportunity
Holding company of a medium-sized group, European presence.
Sales mainly in BtoB.
Leading international brand in its sector.
ETI size with a turnover of about 100 million euros.
Member of a major private equity group.
Currently developing and structuring its European activities.
☑️ The position available
Junior Accountant - European dimension
Reporting directly to the EMEA Credit Manager
Your main tasks :
Process direct debits from customer accounts;
Reconciliation of accounts receivable: in order to analyze the balances to be paid and to target the necessary reminders;
Update the bank details of the customers and the SEPA;
Management of a customer portfolio: on a European perimeter.
Evolving and highly formative position, with a potential for development within the company
🚀 Express recruitment : for a permanent position
📍 PACA region: Alpes Maritimes department
✈️ Professional mobility : limited, if needed in European countries
🚩S tarting date : ASAP, from May 2023
☑️ Profile & key skills
Your profile
Experience in accounts receivable management.
At least 1 to 5 years in this role (including work-study).
Ability to work in a dynamic and constantly changing environment.
Knowledge of the international environment.
English required, another European language such as Italian, Spanish, German, Dutch is a plus.
Your key skills
Positive attitude & communication skills.
Organized, team player, accurate and result oriented.
Knowledge of ERP JDE or SAP is a plus, but not essential.
Proficiency in Excel.
🎯 You are available on short notice.
This is an Express hire for our client.
🦸‍♀️🦸‍♂️ Your profile "FIT" with this opportunity?
In this case, no time to lose to send us your CV, preferably in English, by mail tocontact@fitin-network.com with the reference 23.039.
Not yet a member of FIT in NETWORK®?
THE European network of available skills
👉 Create or update your profile on FIT in NETWORK® https://bit.ly/2ABuiFu
👉 Follow our professional page on LinkedIn https://bit.ly/2XRcAWs
👉 Become a Premium Expert and get priority on all our opportunities and many other services https://bit.ly/2XYvOt0
Do you know a professional who "fits" the profile you are looking for?
Feel free to pass on this professional opportunity 🚀🚀🚀.
Find out why empathy has become an important skill in the professional world.
👉 https://www.fitin-network.com/fr/actualites/lempathie-la-competence-de-leadership-la-plus-importante/