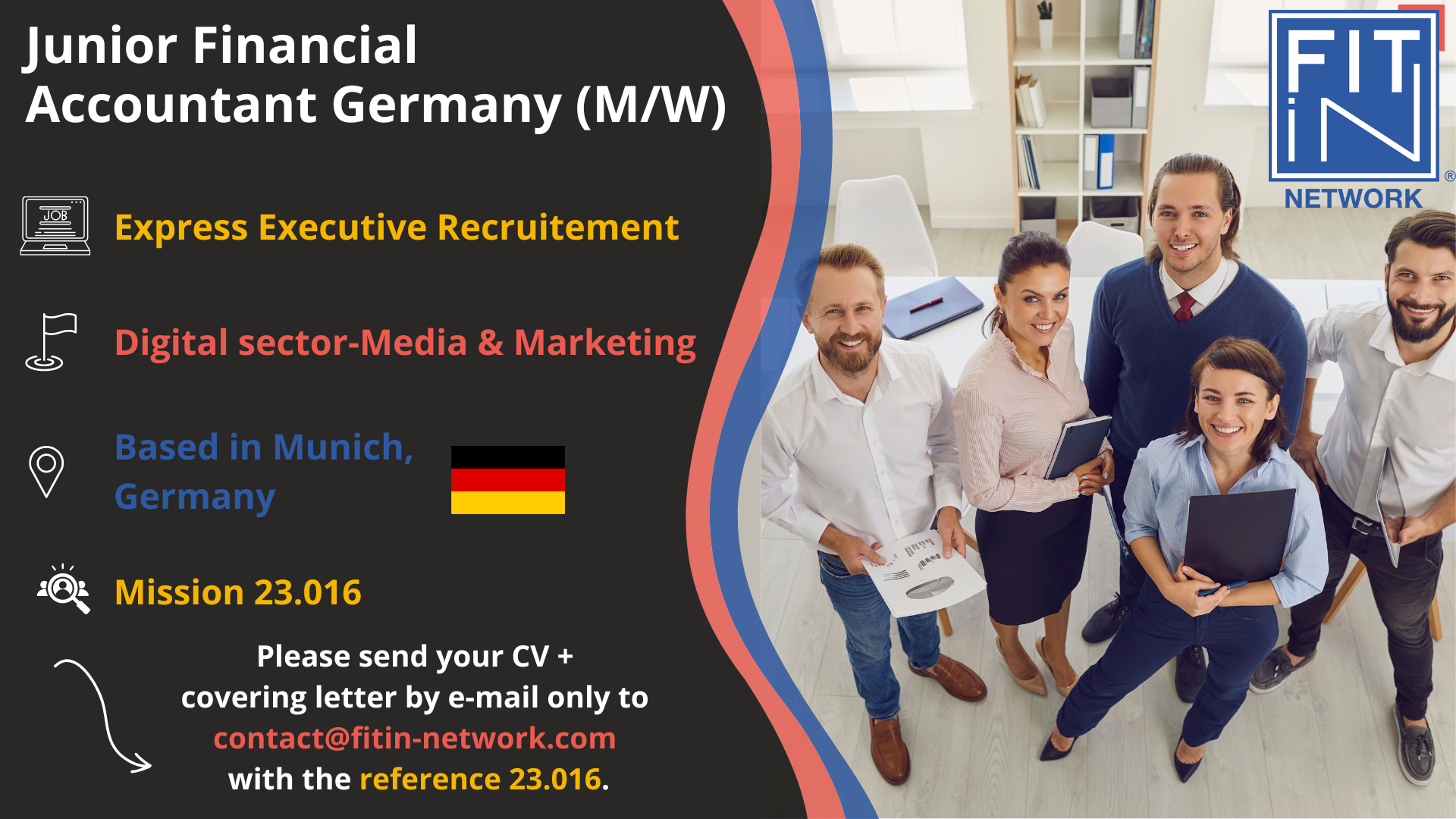 Junior Financial Accountant Germany
Our client is a fast-growing organization in the digital sector based in Germany, Munich area.

This start-up has been created by experienced and hyper-talented senior professionals who have developed their proprietary technology. The company provides digital services such as marketing, communication, and targeted advertising solutions.

Currently expanding its internal organization, our client has decided to create a Junior Financial Accountant (M/W) position in Munich – Germany.

We are appointed on an Express & Confidential base to present the best-in-class candidates able to joint this dynamic team and to take over this great position, on a permanent contract basis.

🎯 Are you rapidly available and willing to be join this adventure ?
Then, there is no time to lose in rapidly sending your CV in German or in English with motivation message to contact@fitin-network.com with ref. 23.016.
☑️ The company for this opportunity
Technological company with online digital services, BtoB and BtoC sector.
Human size and fast-growing organization.
Founded by experienced professionals from the largest media groups.
Already servicing A-Ranking class clients in various EU industries.
Clients from premium automotive, luxury retailers, digital giants, others.
German origins with already a multi-country European wide scope.
☑️ The permanent position
Junior Financial Accountant Germany (M/W).
Reporting to the Head of Finance management team.
Being the main entry point for all accounting & reporting matters.
In charge providing financial support and advice.
Main responsibilities includes:
Preparing the P&L and Balance Sheet monthly & quarterly reporting;
Following the company costs, advising on their trends;
Invoicing the various company revenue streams;
Internalization and mastering the accounting activities.
Facilitate the international developments:
Supporting the various countries for their accounting matters;
Participating to the various external audits;
Develop financial & accounting processes to support the Group.
🏢 Permanent position

📍Based in Germany - Munich

✈️ Business mobility: upon necessary within some key EU countries
🚩 Starting date : ASAP once the decision has been reached
⚽ Working status: great start-up type offices with partial home office possible, events & regular company's events
☑️ Your key skills & profile
Profile
Junior profile with existing accounting experience.
Good knowledge in German tax matters.
Strong Accounting or Financial management degree.
Has already hold a full accounting position in Germany.
Tools knowledge: Datex, MS Office, Excel.
Key skills
German language native.
Fully fluent in English.
Open minded, positive attitude, team spirit.
Good communication skills, friendly colleague.
🎯 You are rapidly available
This search is Express & Confidential for our client.
🦸‍♀️ Your profile "FITs" with this opportunity ?
If so, then send your German or English CV + targeted message by email only to contact@fitin-network.com with reference 23.016.
Not yet a member of FIT in NETWORK®?
THE European network of available skills
👉 Create or update your profile on FIT in NETWORK® https://bit.ly/2ABuiFu
👉 Follow our professional page on LinkedIn: https://bit.ly/2XRcAWs
👉 Become a Premium Expert and get priority on all our opportunities with many other services https://bit.ly/2XYvOt0
Do you know a professional who "FITS" the profile you are looking for?
Do not hesitate to pass on this professional opportunity 🚀🚀
Find out why empathy has become an important skill to have in the professional world.
👉 https://www.fitin-network.com/fr/actualites/lempathie-la-competence-de-leadership-la-plus-importante/