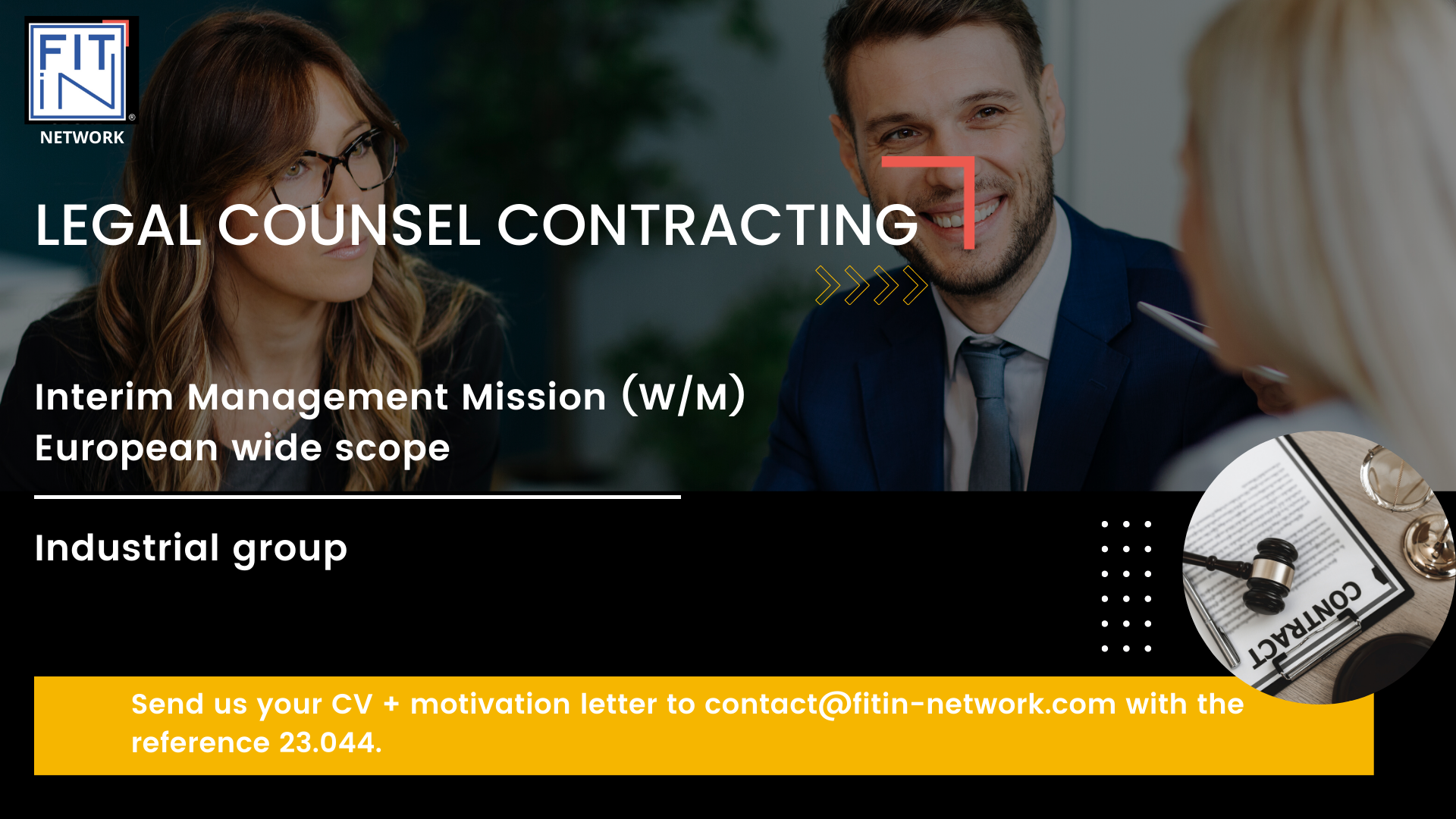 Legal Counsel Contracting
For one of our international customers, we are currently offering an interim assignment as Legal Counsel Contracting.
As a member of the EMEA legal team, you will strengthen the company's organization and act as a true legal partner with a primarily European scope.
You will support the various business managers in their contractual activities by producing accurate and timely legal advice. As part of the team, you will advise senior managers on maintaining the highest standards of contractual legal compliance.
This assignment will start 2nd fortnight of June 2023 for an initial period of 4 to 6 months and will welcome an experienced professional, having previously held a similar position in the BtoB sector.
🎯 If you are immediately available and able to take on this challenging assignment, then 👉 send us your CV and covering message in English as soon as possible to contact@fitin-network.com with ref. 23.044.
☑️ The company for this opportunity
International Group
BtoB customers
Industrial sector with customers in Europe, the Middle East and Africa
Leader in its business sectors
☑️ The Interim Management assignment
Contracts Legal Counsel (M/F)
Direct report to the Group's VP Legal Counsel
Dotted-line business relations with Group functions and General Management
The main objectives of your assignment are as follows:
- Ensure that the company complies with laws and regulations in its activities and operations ;
- Advise management and business functions on the various laws and contractual regulations;
- Identify and mitigate legal risks associated with the company's major contracts and projects.
To ensure the success of this mission, you will be involved in various tasks and responsibilities such as:
- Provide legal support to management on a wide variety of projects;
- Ensuring legal compliance with Group processes and internal controls;
- Advising management on their contractual documentation;
- Draft legal documents such as purchase agreements, partnership agreements, contracts with service providers ;
- Execute trademark and industrial design protection procedures;
- Handle litigation if necessary;
- Monitor changes in laws and regulations applicable to business sectors.
🎯 In summary, the Legal Counsel Contracting will be the key legal partner for the Group's management teams and functions within its European scope.
🏢 Interim management assignment: based in the Paris region.
✈️ Professional mobility: limited, home office partially possible.
🚩 Starting date: 2nd half of June 2023.
⚽ Length of assignment: 4-6 months on the first phase, extendable if necessary.
☑️ Your key skills and profile
ProfileProvenprofessionalexperienceas a legal advisor for 10-20 years
In-depth knowledge of the BtoB business environment
International group, BtoB sectors. Knowledge of the industrial sector is a plus.
Fluency in English, another EU language is an asset: Italian, German, Dutch.
Key skills
Excellent organizational and time management skills
High degree of professional ethics and integrity
Ability to judge and analyze situations
Ability to work in parallel on different projects
Autonomy
🎯 You are available IMMEDIATELY
This is an express and confidential executive search for our client.
🦸‍♂️🦸‍♀️ Does your profile match this opportunity?
If so, send your CV + a targeted message by email only to contact@fitin-network.com with reference 23.044.
Not yet a member of FIT in NETWORK®?
THE European network of available skills
👉 Create or update your profile on FIT in NETWORK® https://bit.ly/2ABuiFu
👉 Follow our professional page on LinkedIn https://bit.ly/2XRcAWs
👉 Become a Premium Expert and benefit from priority access to all our opportunities and many other services https://bit.ly/2XYvOt0
Do you know a professional who "fits" the profile you're looking for?
Don't hesitate to pass on this professional opportunity 🚀🚀🚀.
Find out why empathy has become an important skill in the professional world.
👉 https://www.fitin-network.com/fr/actualites/lempathie-la-competence-de-leadership-la-plus-importante/