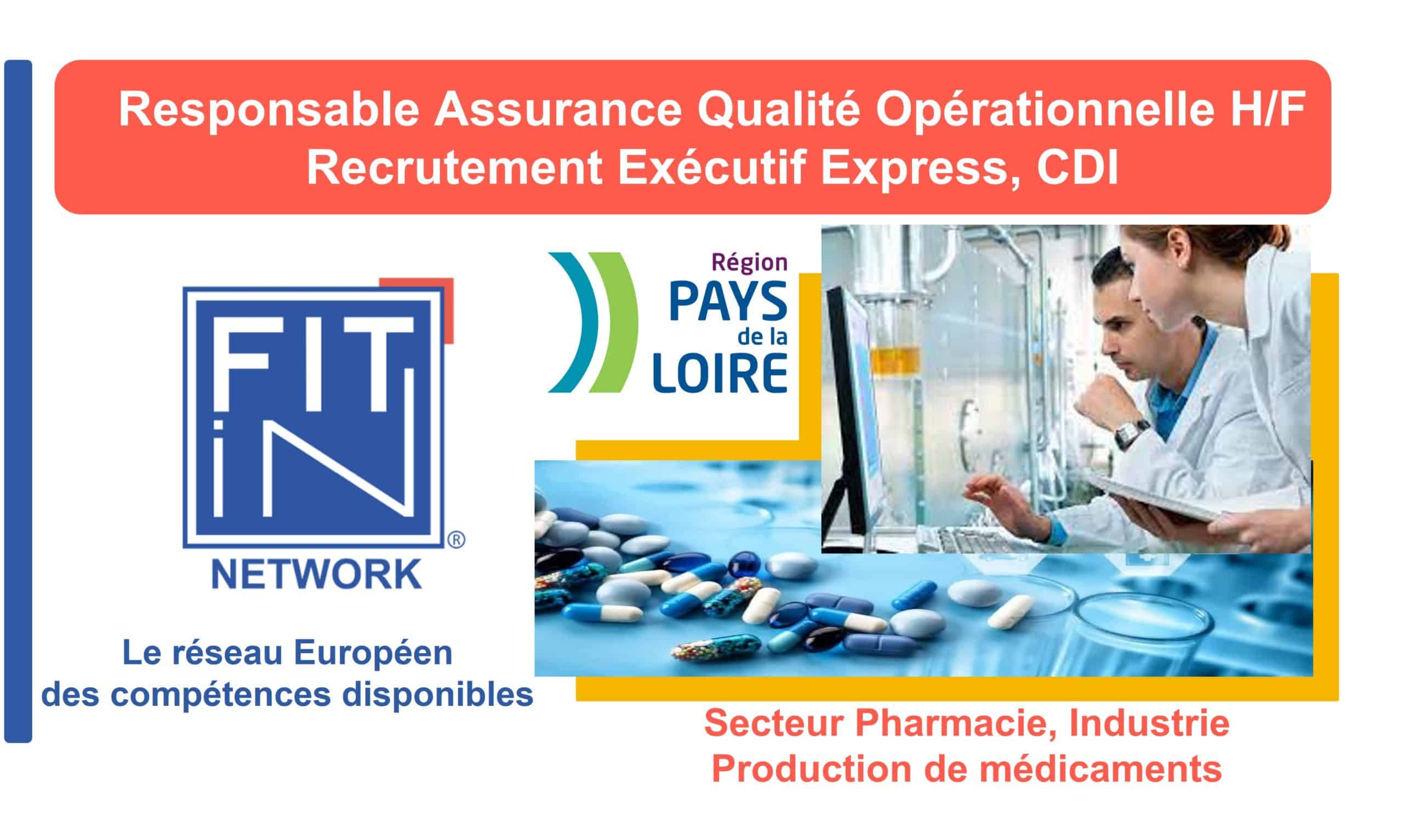 OPERATIONAL QUALITY ASSURANCE MANAGER (M/F)
🚀 Express Executive Recruitment 🚀
OPERATIONAL QUALITY ASSURANCE MANAGER (M/F)
HEALTH, PHARMACY
CDI, PAYS DE LA LOIRE
Our client is a leading industrial operator working for the largest groups in the health sector and the "Life Sciences" industry.
Our client is a leading industrial operator working for some of the world's largest groups in the healthcare and life sciences industries. They are a very active and fast-growing company, and have asked us to recruit their future Operational Quality Manager for one of their industrial sites on a permanent basis.
Both the Head Pharmacist (PR) of the site and the manager of a large team, the professional who will be able to take up these challenges will have authority over the entire production of the site concerned.
Would you like to combine a quality of life in the provinces with professional development in a fine group?
Are you a qualified pharmacist and available to take up these challenges quickly?
If so, there is no time to lose in seizing this superb opportunity.
On your CV, get ready, apply!
☑️ The Company
Industrial company, member of an international group
Autonomous operation, in SME & SMI mode
International clientele spread over all continents
Recognized expert in its development and production activities
Regulated environment: health & pharmaceutical sector
☑️ The position to be filled
Operational Quality Assurance Manager (M/F)
As a Responsible Pharmacist, you are the guarantor of compliance with the Public Health Code (CSP) within the company and the safety of the drug.
Your main missions include:
The organization of the pharmaceutical release of batches of finished products.
● Experimental and commercial batches
● Review of certification & confirmation files
Taking charge of the missions of the Quality Assurance of the products
● Follow-up of complaints, deviations and Corrective & Preventive Actions (CAPA) of products
● Annual reviews of the product portfolio: planning and preparation of reviews
● Management of "Change control": in coordination with other departments ;
● Monitoring of new product development: with the team dedicated to R&D activities ;
● Management of risk analysis
● Implementation of training plans.
Steering of quality indicators for the whole site.
● Proposal of indicators;
● Monitoring of quality and implementation of necessary actions
Additional missions
● Carries out customer & supplier audits, supervises inspections
● Participates in Quality missions coordinated by the company and by the Group.
Management of a team of about 20 employees
Reports to the Quality Director
🏢 Position based in the Pays de la Loire region.
✈️ Carried out face to face for the most part, telecommuting possible in part
🚩 Starting 1st quarter 2022
⚽ As soon as the final candidate is chosen
☑️ Your Profile
You are a Pharmacist graduated in France or in a recognized country
Experience of at least 6 years in quality control or pharmacovigilance
Confirmed manager having already held a comparable position
Knowledge of the industrial world, ideally of subcontracting
Perfect command of French
You wish to join a dynamic company and invest in the long term
🎯 You are available quickly
This search is Exclusive & Express for our client
🦸♀️ 🦸♂️ Your profile "FIT" with this opportunity?
Quickly send your CV + targeted message by email only to contact@fitin-network.com with the reference 22.010