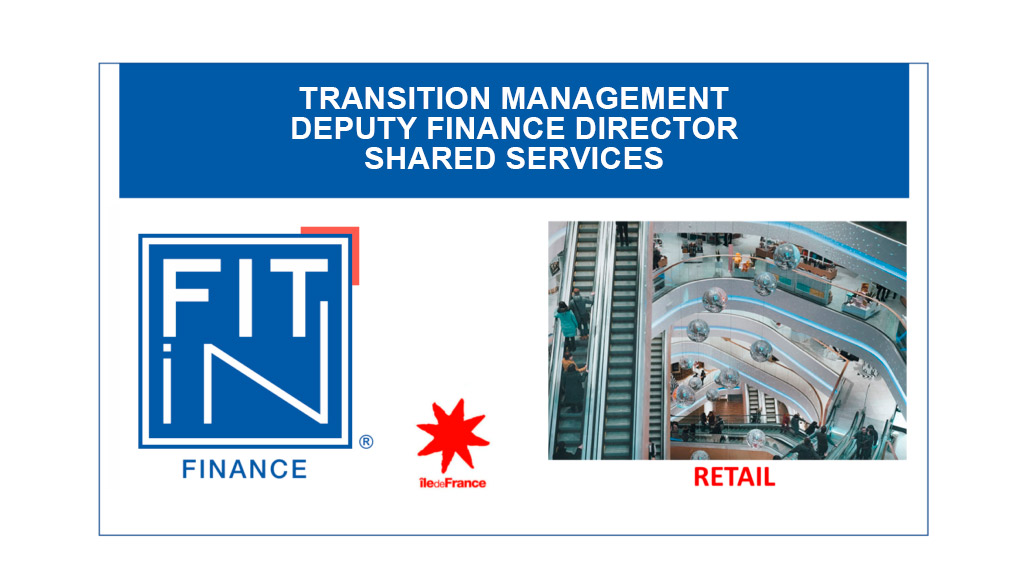 Opportunity to work in the Île-de-France region, Deputy Director of the Shared Services Centre
We are looking for a Deputy Financial Shared-Services Director
The company
International group in the Retail sector in B to C
One of the leaders in its field and with several world-renowned brands
Sales managed in France and Europe of several hundred million euros by several companies of very different sizes (from a few millions to more than one hundred).
The mission
Having grouped its accounting and financial teams by geographical area into Shared Services Centres, the company has a team of around thirty professionals in Ile-de-France, in development.
Currently in the process of installing a new ERP at Group level, the CSP is also developing several projects around the integration of new companies and the harmonization of its processes.
The mission of transition management consists of:
Being the main contact and pilot of the CSP for the implementation of the new ERP: most certainly SAP FI and CO modules ;
Providing practical and technical assistance to teams in the preparation of company accounts and periodic reporting ;
Actively participating in the harmonization of accounting and financial processes.
Mission based in Ile-de-France with few trips planned, except for specific needs in the Group's subsidiaries. Start-up in the first half of December 2019, for an initial period of 6 months, which will evolve according to the progress of the numerous projects.
The profile
Have worked for at least 5 years in an audit and/or accounting firm.
Be of superior accounting and financial training, of the DESCF / MTSCF type or equivalent. Having the DEC being a must and a definite asset for this mission.
Have had team management responsibilities in Group environments.
At least 15 years of experience, be communicative and motivated to take up many challenges in a growing Group with a strong international reputation.
Do you fit this profile and are you interested?
Send your application quickly with a motivation focused on your relevant experience in relation to this mission to contact@fitin-network.com with the ref. 19.088