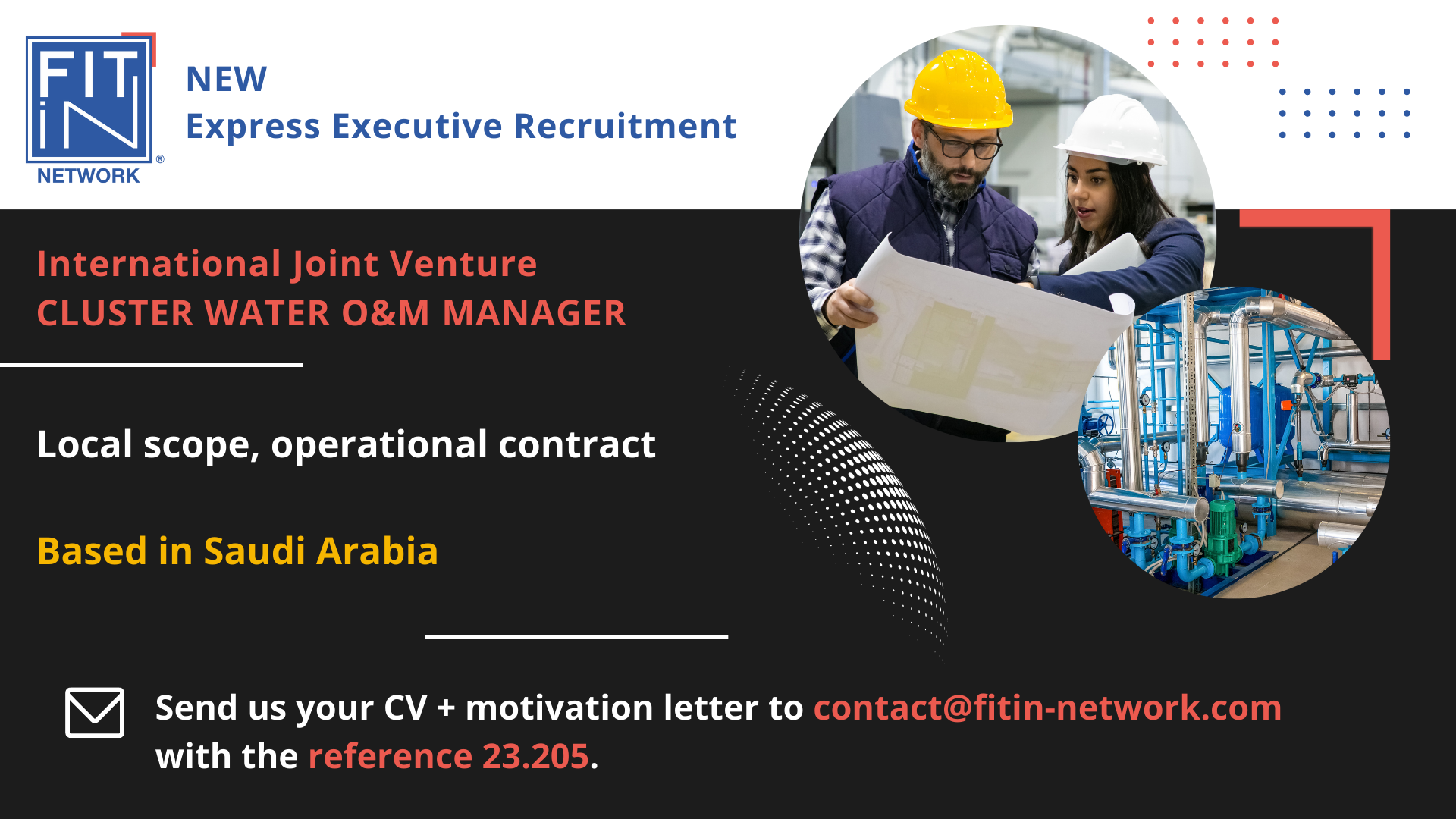 Express Executive Recruitment – CLUSTER WATER O&M MANAGER, Ref. 23.205
Our customer is an international joint venture, made up of the most reputable companies in their field, currently under contract to the National Water Company for a water management contract in Saudi Arabia.
As part of this long-term contract, our customer is committed to improving overall operational performance and strengthening the expertise of the operational team. In this context, we have been mandated, on an exclusive and confidential basis, to rapidly find a cluster management team member.
We are therefore offering our client a position for a Water Operations and Maintenance (O&M) Manager, based in Saudi Arabia. The successful candidate will join this project as a member of the operational team and will have the number 2 in the cluster management team.
As part of the Saudi national vision 2030, we are looking for an experienced professional with qualified experience in water contract management, both for drinking water and wastewater activities.
In this position in Saudi Arabia, the successful candidate will lead a medium-sized team of around 150 employees, overseeing all water management activities for the entire cluster.
☑️ The company for this opportunity
International joint venture company.
Composed of key international players in their respective fields: water management, civil engineering, contract management.
Based in Saoudi, Saudi Arabia, in a medium-sized city.
Key contractual objectives
- Manage water distribution activities;
- Supervise wastewater collection and treatment;
- Transfer management knowledge and experience.
Cluster size of around 150 employees.
Company in charge of various water production and treatment plants in the cluster.
☑️ The position
Cluster Water Operations and Management Manager
Reports directly to the cluster manager.
Member of the cluster management team.
Your main responsibilities are to
- Supervise water production and distribution activities;
- Monitor wastewater treatment services;
Working closely with the Cluster Manager, you will manage a team of medium-sized employees to provide the various water O&M services.
As part of your mission, you will manage the following activities:
- Monitor O&M services for drinking water and wastewater;
- Ensure proper training of your operational teams;
- Organize on-call services for teams;
- Analyze water networks and implement operational improvements;
- Develop practices in terms of health, safety and environmental standards.
🏢 Employment: based in Saudi Arabia, +/- 2 hours' drive from key city.
✈️ Job mobility: based in key city
🚸 Family situation: no international school in cluster city
🚩 Start date: ASAP, position currently open ready to be filled.
⚽ Working conditions: operational presence is a key success factor.
🏆 Package: includes accommodation, travel and installation allowances, tax-free package.
☑️ Your key skills and profile
Your profile
International profile with operational expertise.
Experience in water services management, for drinking water and wastewater activities.
Minimum 15 years' experience.
Technical background in engineering.
Global water manager with experience in operations and management activities.
Non-technical skills
Fluency in English.
Knowledge of Arabic will be an asset.
Multicultural profile, ability to take initiative.
Hands-on approach.
🎯 You are MOBILE & QUICKLY available
This is an exclusive and confidential executive search for our client, time is of the essence and your rapid availability to take on this position will be a definite advantage.
🦸‍♂️🦸‍♀️ Does your profile match this opportunity?
If so, send your CV + a targeted message by e-mail only to contact@fitin-network.com with reference 23.205.
Not yet a member of FIT in NETWORK®?
THE European network of available skills
👉 Create or update your profile on FIT in NETWORK® https://bit.ly/2ABuiFu
👉 Follow our professional page on LinkedIn https://bit.ly/2XRcAWs
👉 Become a Premium Expert and benefit from priority access to all our opportunities and many other services https://bit.ly/2XYvOt0
Do you know a professional who matches the profile you're looking for?
Don't hesitate to pass on this professional opportunity 🚀🚀🚀.
Find out why empathy has become an important skill in the professional world.
👉 https://www.fitin-network.com/fr/actualites/lempathie-la-competence-de-leadership-la-plus-importante/