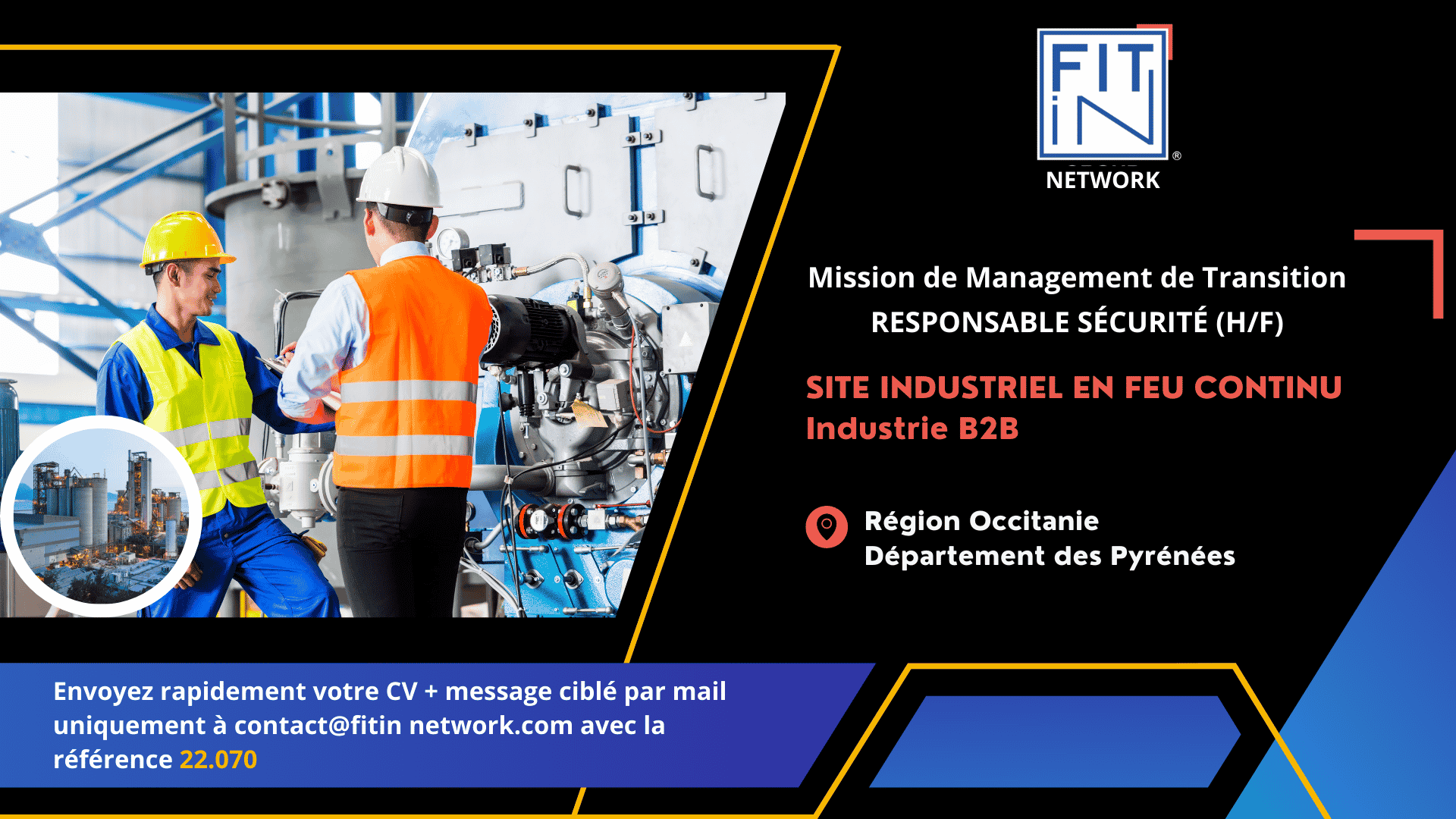 Transition Management – Safety Manager – Industrial Site
Dear Member,
During the summer of 2022, the activity of our clients continues and even accelerates in order to be ready and have an aligned organisation for the return to work.
This is the case for our client who has mandated us, in Express & Confidential mode, to quickly find their future Safety Manager (M/W) for one of their industrial sites based in the Occitanie region.
This new and exciting interim management assignment will enable the successful professional (M/W) to deploy all of his/her safety skills on this fast-paced production site.
Operating autonomously, with an SME culture, while being part of a Group, this beautiful company will bring you the best of both worlds!
🎯 Are you available from September 2022 and would you like to participate in this great project?
In this case, no time to lose to seize this great opportunity.
On your CV, get ready, apply!
☑️ The Company for this mission
Industrial site member of a Group
Operational functioning in an autonomous way
SME culture of the site with a recognised worldwide know-how
Sector of materials for industry
Continuous fire activity in 5×8
☑️ The mission to be filled
Safety Manager for the industrial site
Reports directly to the Site Director
Functional relationship with the Group HSE Manager
Your main missions, which are non-exclusive and evolve over time:
To be the guarantor of the safety policy for employees and installations;
Reinforce the site's safety culture;
Develop employee awareness and training;
Leading safety improvement and investment projects.
In short, you will be the site's Safety Advisor and will share your expertise with the management and all operational teams.
Your day-to-day activities, with a view to fulfilling your missions, including
Your contribution to the site's operational excellence;
Your active participation in the deployment of the 5S project;
Participation in safety audits;
The establishment of action plans to improve safety;
Updating and deploying procedures and monitoring tools;
Risk management and implementation of preventive actions.
🏢 Interim Management Mission
Based in the Occitanie Region, in a Department of the Pyrenees
✈️ Professional mobility
Limited to the site and the visit of key partners on the projects
🚩 Start ASAP
Beginning of September 2022 at the latest
⚽ Initial duration of 6 months
Scalable over time depending on future projects
☑️ Your key skills & profile
Profile
Real operational expert in Security
Field experience with a practical approach to the subjects
Proven experience in industry with strong production constraints
Technical training in the security field
Personal skills
Good communication skills
Spirit of initiative and ability to take ownership of safety issues
Ability to work in a team, positive attitude
Ability to work in a team, positive attitude
🎯 You are available quickly & mobile on site
🦸Your profile "FIT" with this opportunity?
This search is Confidential & Express for our client.
Send your CV + targeted message by email only to contact@fitin-network.com with reference 22.070