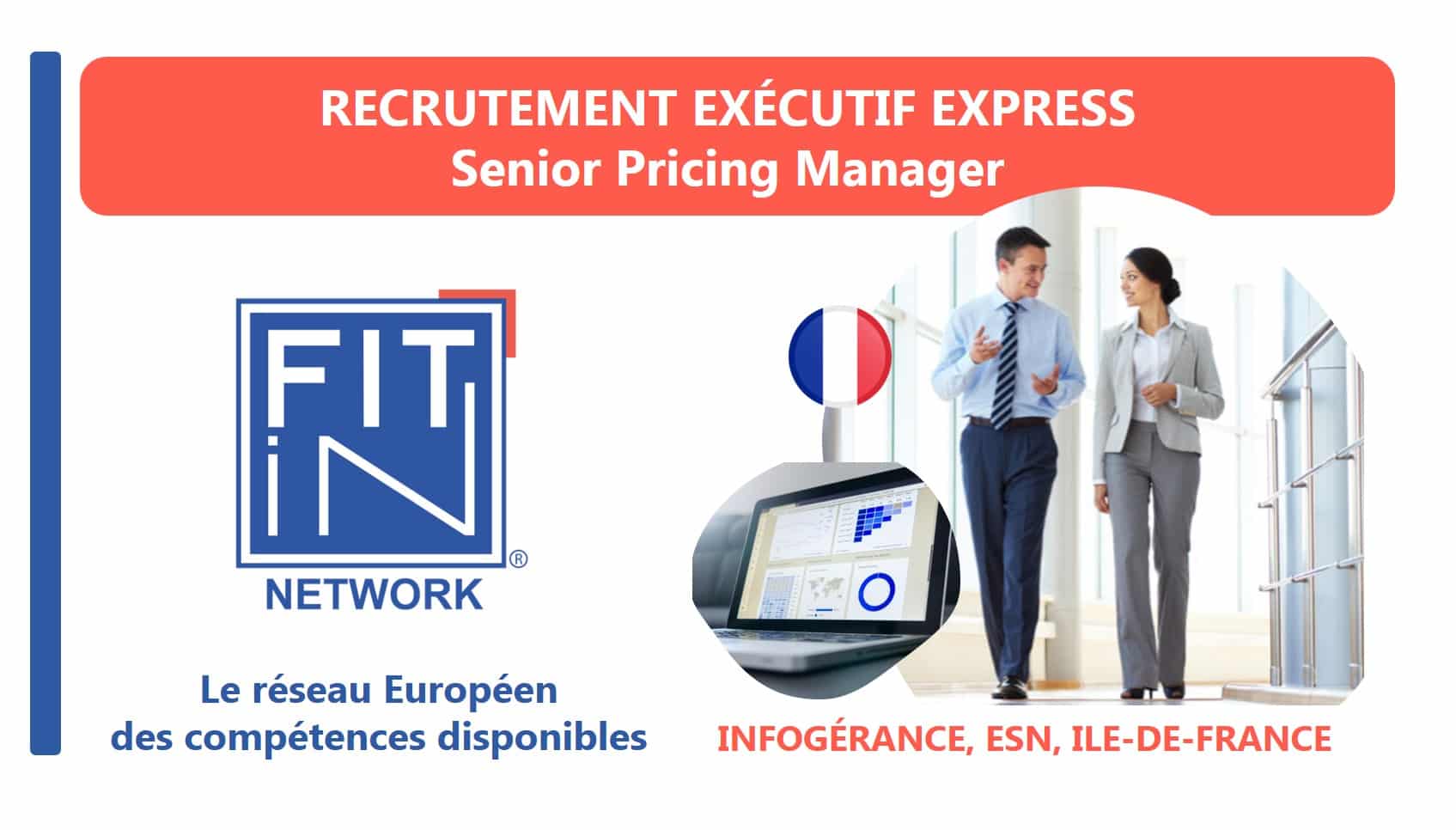 SENIOR PRICING MANAGER – ANALYSTE REVENUE MANAGER
Our client is developing its organization and strengthening its teams to meet the growth of the market. In this context, they are recruiting as soon as possible their future Senior Pricing Manager – Revenue Manager.
A new and very nice professional opportunity, maybe for you or for one of your contacts!
☑️ Company
Digital Service Company (DSC), in continuous growth

Develops outsourcing services for its customers: industrialists & service companies

Provides outsourcing solutions for digital services and project management

Develops and implements cybersecurity systems for its clients

Average unit projects between 10 and 50 € millions, and well beyond for some

B to B services
☑️ Position to be filled
Member of a multidisciplinary team responding to calls for tenders: business manager, technical manager, marketing manager

Active participation in the financial engineering of the business
Collection and analysis of project data, establishment of a pricing strategy, preparation of business cases and P&L

Design of pricing models and pricing grids for clients

Interact with sales, marketing, finance and technical teams within the company

Contact with prospects to validate data & assumptions, defend pricing strategy and promote solutions

Presentation and defence of offers to the Internal Commitment Committee

Once the deals are closed, transmission of the projects to the Program Managers for implementation

Position based in the Paris region
Occasional mobility in France, partial telecommuting possible

Possible to start in July 2021, after the final choice by the Client
☑️ Profile sought
Minimum 10 years of experience in the function

Experienced in Finance – Management Control – Audit

Knowledge of the outsourcing sector and ESNs is essential

Track record on projects of comparable size

Mastery of IT tools, data analysis and financial KPIs

Targeted education: Engineer, Business School, Master Marketing – Finance – Economics

Ability to analyze, synthesize and make decisions

Interest and experience in marketing and business development

French & English fluency essential

🎯A vailable quickly for a permanent contract
Express, confidential and exclusivesearch
🦸♀️🦸♂️ Your profile "FIT" with this opportunity?
Quickly send your application CV + motivation message by mail to contact@fitin-network.com with the reference 21.058