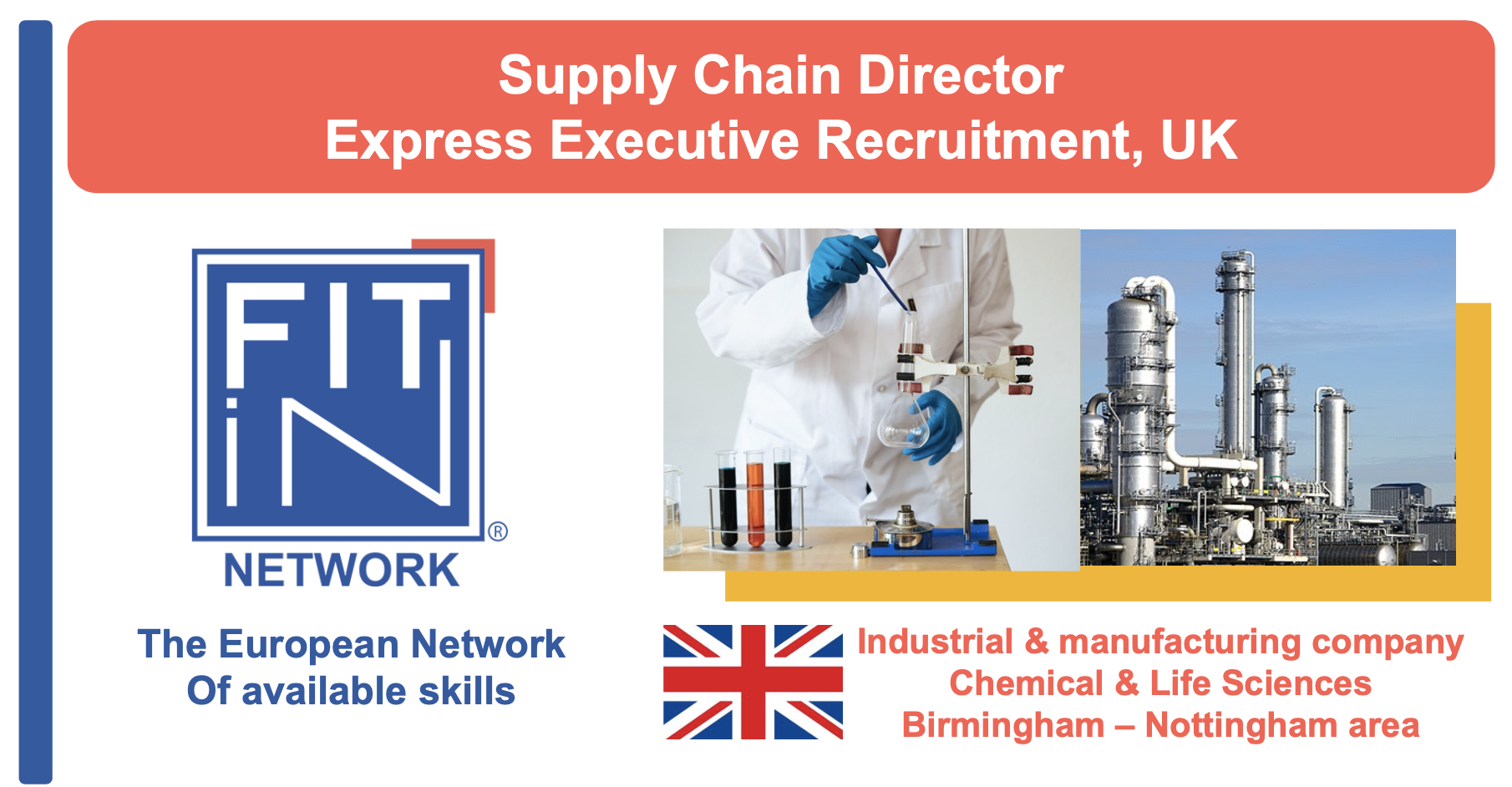 Supply Chain Director
Our client is a large industrial manufacturer of various and highly chemical products for various industries.
Within his international expansion strategy, our client is proposing a new Supply-Chain Director position within his major production site located in the Birmingham – Nottingham area.
This currently open position will be fulfilled as soon as we find the best professional meeting the job's criteria.
If you are immediately available, located in the nearby area or mobile to move in on short notice, then there is no time to lose !
☑️ The company
Industrial & manufacturing company producing chemical products.
Important R&D activities, highly technological products.
Manufactures in large quantities its production and sales on B to B.
☑️ The position
As Supply-Chain Director, you are in charge of the main following activities :
Purchasing & Inventory of raw materials
Planning & production scheduling
Logistics & delivery management
Forecasting & sales management
You manage a large team with various senior direct reports.
You are part of the Company Senior Management Board.
Within your mission, you will be responsible for:
Define & implement the supply-chain strategy
Ensure the permanent resources to meet production requirements
Lead & implement Sales & Operation Planning Program (S&OP)
Ensure capacity & capability plans for staffing levels
Guide the Warehouse Management System (WMS)
Align integration between planning, logistics & operations
Develop efficient working processes and internal controls
Perform the company business in accordance with external regulations & company procedures
Ensure quality & sustainability in all supply chain activities
Develop the team, supervise the trainings & anticipate the needs
🏢 Mission located in Birmingham – Nottingham areas, UK
🕗 Immediately available 
✈️ Physical presence on site, some home-office possible
🚩 Start as soon as possible, December 2021 : Full time & permanent position
☑️ The profile
Experienced Supply-Chain professional.
Strong working knowledge of Supply chain principles : ERP, WMS, Lean knowledge.
Understands market dynamics as well as highly regulatory landscape.
APICS CPIM Certified Supply-Chain professional.
Industrial background within Make To Order industries.
Management capacities of large teams.
Strong analytical skills & excellent judgement capacities.
Analytical skills with P&L and ROI experience.
🎯 Immediately available
This is an Express & Executive search for our client
🦸‍♀️ 🦸‍♂️ Your profile "FITs" with this great job opportunity ?
Then, send as soon as possible your CV and application letter by email to contact@fitin-network.com with reference 21.102