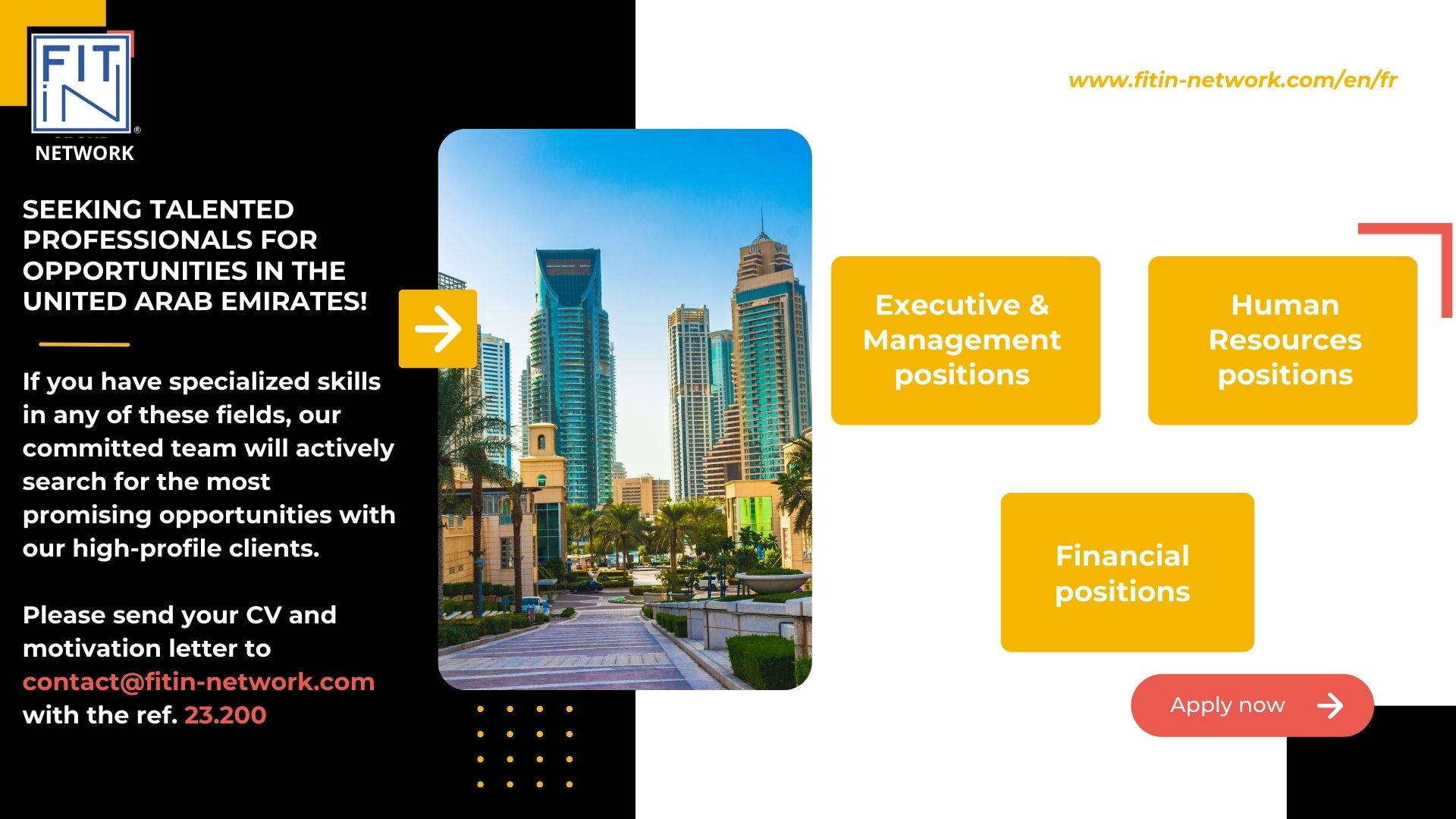 Various job opportunities in Dubai and in Abu Dhabi
For various Premium clients active in the high end and luxury Hospitality sector in The United Arab Emirates (UAE), we are currently proposing numerous key permanent positions opportunities. 
 Our clients are either developing their activities, opening new premises, and strengthening their management organizations. Therefore, we have numerous Job openings in different key positions located in both Dubai and in Abu Dhabi at this stage. 
Such positions include, without being exhaustive: 
 Executive & Management positions 
Hotel Operations Director

 

Food & Beverage Director

 

Director VIP Services 

 

Restaurant Director

 

Hospitality Marketing Director

 

Sales Director

 

Facilities Manager 

 
Human Resources positions 
Human Resources Manager 

 

Talent Acquisition Manager

 
 Financial positions 
Chief Financial Officer (CFO)

 

Financial Planning & Analysis (FP&A)

 
🎯 If you have a qualified experience in one of these positions and willing to develop your career in The United Arab Emirates, 
Then, there is no time to lose in sending us your English CV with a motivational message to contact@fitin-network.com with ref. 23.200. 
☑️ The companies for these opportunities 
 We specialize in serving the Hospitality sector 
We have various clients relying on us for these key positions 
Our clients belong to the high end and top-tier brands in this dynamic sector 
We have various working addresses in the UAE, mainly in Dubai and in Abu Dhabi 
 ☑️ The permanent positions
Team management is an integral aspect of all positions. 
All positions are within a multicultural organization. 
The primary objective of all positions is to provide exceptional service to international guests, adhering to the highest industry standards. 
All positions need to ensure full compliance with Health, Safety, Hygiene and relevant legislative obligations  
All positions shall meet the clients process & procedures  
Delivering the expected return on investment (ROI) for our clients, while surpassing guests' needs and expectations, is an essential responsibility for all positions. 
All positions entail assuming responsibility for delivering the highest level of service and ensuring an exceptional guest experience. 
🏢 Permanent positions: based in The UAE, mainly Dubai & Abu Dhabi 
✈️ Business mobility: limited 
🚩 Starting date: ASAP, all positions are currently opened  
​​⚽​ Member of the Comex: most positions are part the client's Comex 
 ☑️ Your key skills & profile
 
Profile 
Relevant and qualified experience in the Hospitality sector

 

Recognized Degree and education in the relevant position

 

Experience with international guests

 

Business practice in large size and high-end hospitality resorts

 
Key skills 
Fully fluent in English, mastering another guest's language is a plus

 

High level of motivation and of integrity 

 

Leadership skills

 
🎯 You are rapidly available
This Express Executive Recruitment search is Confidential for our clients. 
🦸‍​♂​​️​🦸‍​♀​​️ ​Your profile "FITs" with these opportunities?
If so, then send your English CV + targeted message + current package by email only to contact@fitin-network.com with reference 23.200 
Accordingly, our HR Talent team will reach out to you to schedule an interview or provide additional information regarding the next steps towards securing your desired position! 
Not yet a member of FIT in NETWORK®?
THE European network of available skills
👉 Create or update your profile on FIT in NETWORK® https://bit.ly/2ABuiFu
👉 Follow our professional page on LinkedIn https://bit.ly/2XRcAWs
👉 Become a Premium Expert and benefit from priority access to all our opportunities and many other services https://bit.ly/2XYvOt0
Do you know a professional who "fits" the profile you're looking for?
Don't hesitate to pass on this professional opportunity 🚀🚀🚀.
Find out why empathy has become an important skill in the professional world.
👉 https://www.fitin-network.com/fr/actualites/lempathie-la-competence-de-leadership-la-plus-importante/