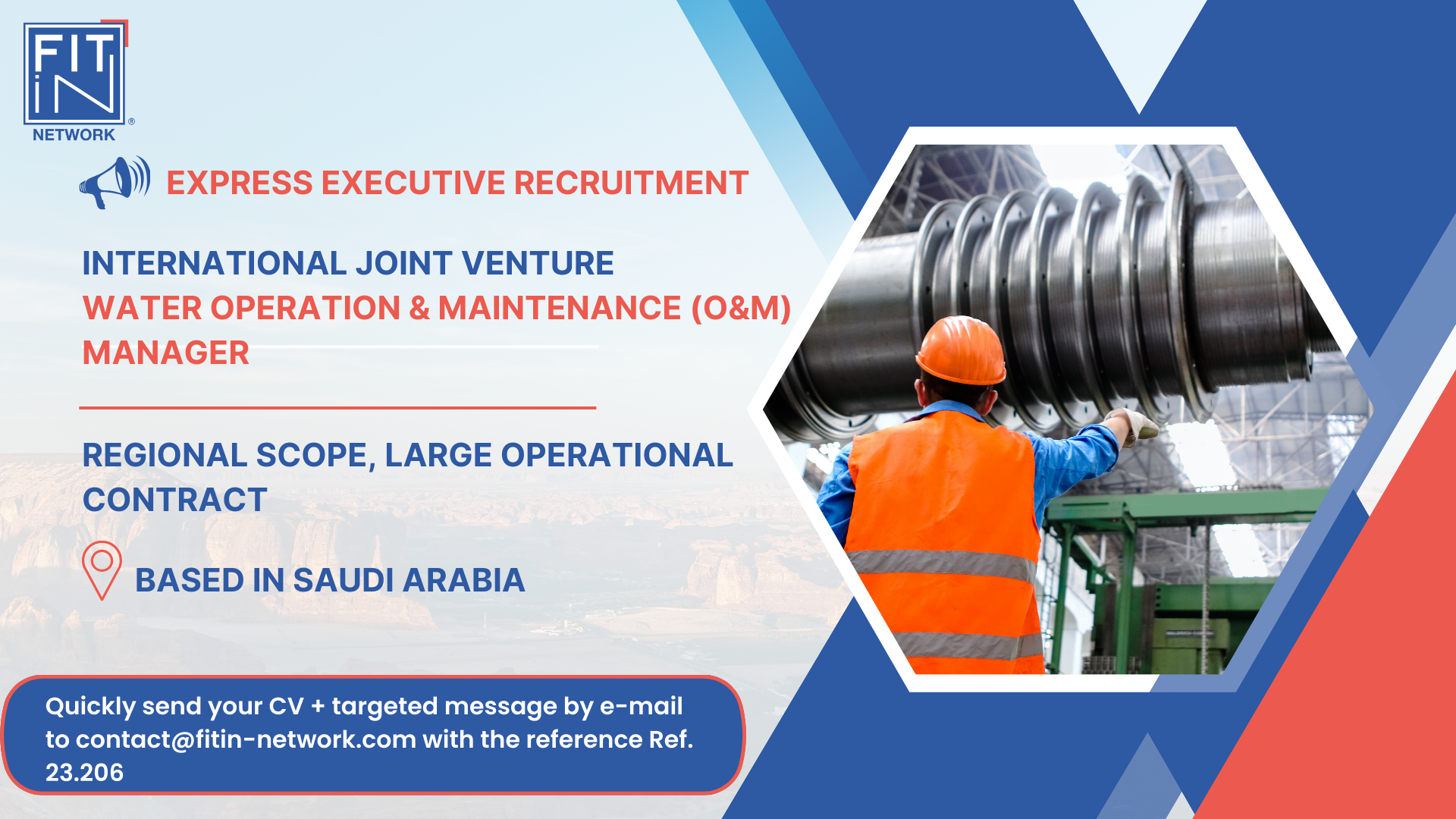 WATER OPERATION & MAINTENANCE (O&M) MANAGER, International Joint Venture, Ref. 23.206
Our client is an international joint venture company, with the most highly reputable companies in their field, currently engaged into a major water management contract in Saudi Arabia.
Within this long-term contract, our client is committed to upgrade the whole operational performance and to scale up the management team expertise. In this context, we have been mandated, on an Exclusive & Confidential basis, in rapidly finding a key member of the management team.
We are therefore proposing an employment position as Water O&M Manager for this J.V., based in a major Saudi Arabian city. The selected candidate will then join this project as a key management team member and be in capacity to further develop its own expertise.
Being a major contract with strategical objectives, both the client and for the 2030 Saudis national vision, we are looking for the best qualified professional with a senior experience in large water management contracts.
Within this position in Saudi Arabia, the selected candidate will manage a large team, together with his experienced direct reports, and be in charge of water management activities for a few million' inhabitants within the country.
Once appointed, you will join a truly international team, including more than 15 different nationalities, and be involved in a transformation project for the company and for the country in his whole.
🎯 If you have the relevant experience, and ready to take over this challenge soon
👉 Then send us rapidly in English your Resume and motivation pitch to contact@fitin-network.com with ref. 23.206.
☑️ The company for this opportunity
International Joint Venture company
Composed with key international players within their own field: water management, civil engineering, contract management
Based in Saudi Arabia, within a major city
Key contractual objectives
Improve potable water quality
Upgrade drinking water service continuity and security
Optimize new client's drinking water access
Perform knowledge and senior experience transfers
Transform the water management processes to reach the best standards
Company with various thousands of employees
Company in charge of millions of households for drinking water activities
☑️ The employment position
Water Operation & Maintenance (O&M) Manager
Directly reporting the Company Managing Director
Member of the Executive Management team
Your primary responsibilities are:
To have a leading role for all the water distribution activities
To be in charge and to monitor all the water services within your scope
To strengthen the transformation of the operational processes and working methods
You will manage a large team of a few hundred employees with the support of your directs reports.
Within your scope, you will lead and supervise the following responsibilities:
Optimize the time lead for new clients' connections
Ensure proper training of your operational teams
Manage water O&M costs and improve the operational efficiency
Supervise contractor's works included on your scope
Implement new projects to improve working conditions
Develop best practices in Heath, Safety and Environmental standards
🏢 Employment position : based Saudi Arabia
✈️ Business mobility : mobile within the contractual regional scope
🚩 Starting date : ASAP, position currently opened ready to be filled in
⚽ Working conditions : balance between team management and operational presence
🏆 Package : includes housing, traveling and settling compensations, tax free package
☑️ Your key skills & profile 
Profile
Truly international profile
Seniority in the position with large scale contracts experience
Experience in water management activities (not in water construction activities)
Minium 15 years of experience.
Engineering background with an international recognised degree
Soft skills
English at least proficiency.
Arabic language knowledge will be a plus for the position
Multicultural profile, capacity to adapt and to share knowledge
teammate willing to join a dynamic & highly professional team
🎯 You are MOBILE & RAPIDLY available
This is an Exclusive & Confidential executive search for our client, time is of essence and your rapid availability to take over this position will be a clear advantage.
🦸‍♂️🦸‍♀️ Your profile "FITs" with this great opportunity?
If so, then send your Resume + targeted message by email only to contact@fitin-network.com with reference 23.206.
Not yet a member of FIT in NETWORK®?
THE European network of available skills
👉 Create or update your profile on FIT in NETWORK® https://bit.ly/2ABuiFu
👉 Follow our professional page on LinkedIn https://bit.ly/2XRcAWs
👉 Become a Premium Expert and benefit from priority access to all our opportunities and many other services https://bit.ly/2XYvOt0
Do you know a professional who matches the profile you're looking for?
Don't hesitate to pass on this professional opportunity 🚀🚀🚀.
Find out why empathy has become an important skill in the professional world.
👉 https://www.fitin-network.com/fr/actualites/lempathie-la-competence-de-leadership-la-plus-importante/