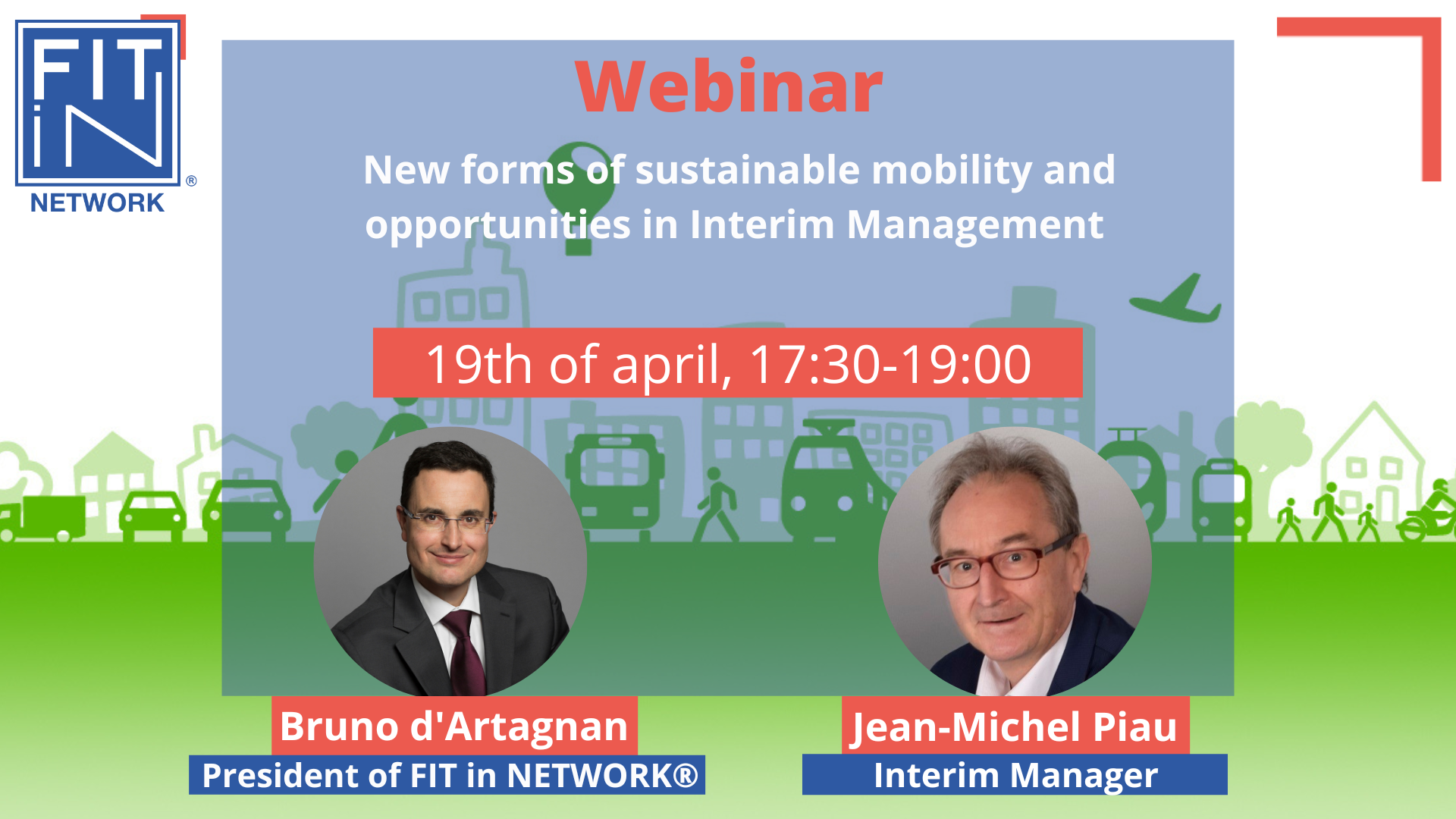 Webinar: New forms of sustainable mobility and opportunities in Transition Management
As a member of the FIT in NETWORK® network, we invite you to participate in this webinar which will take place on 19 April 2022, from 5.30 pm to 7 pm. The theme of this webinar will be "New forms of sustainable mobility and opportunities in Transition Management".
Bruno d'Artagnan, President of FIT in NETWORK® will present the state of the market and the professional opportunities on which the entire FIT in NETWORK® team continues to work.
We will have the pleasure of welcoming Jean-Michel Piau, Director of JMF Partners and Transition Manager at FIT in NETWORK®. Through his experience, Jean-Michel PIAU will explain to us in a pragmatic and operational way the advantages and optimal conditions of use of an electric vehicle. He will explain the disadvantages of its misuse which can very quickly increase expenses.
We will also take the opportunity to discuss the opportunities of mobility as an aid to carbon neutrality for 2050 and how to integrate it into our societal approaches and CSR policies, with simple objectives and approaches.
During this webinar, you will have the opportunity to meet and exchange with experts from the FIT in NETWORK® network in small groups during a networking moment.
❗️Please note that there are only 100 places available❗️
----
Speaker:
Jean-Michel Piau, Operational Transition Manager, as Managing Director / CEO, Operations Director / COO, Commercial Director / CSO. He is the Director of JMF Partners which is a business services and consulting company.
After a successful first part of his career in retail and sales, he intervenes on positions with a strong social vocation for your development, organization, transformation, turnaround, complex situation or crisis management issues.
Operational and pragmatic, he accompanies managers and their teams in their daily environment to improve performance and motivation by transmitting energy. All this in a CSR approach with sustainable, profitable and easily measurable processes.
----
Reserve your agenda for the next FIT in NETWORK® webinar:
- Tuesday May 24, 2022 from 5:30 pm to 7:00 pm
Don't wait any longer and register for the webinar!
----
Watch the replay of the last webinar with Bruno d'Artagnan and Nicolas Bontron
👉 https://www.fitin-network.com/fr/actualites/webinaire-letat-actuel-de-la-transformation-professionnelle/
Do you want to know if you are made for Interim Management?
Then take the quiz 👉 https://www.fitin-network.com/fr/actualites/quizz-manager-de-transition-un-metier-pour-vous/
👨🎓👩🎓 Want to get into Transition Management?
👉 In this case, contact us by mail contact@fitin-network.com and allow you to access our European network of skills, more than 𝟮𝟵 𝟳𝟬𝟬 𝗰𝗼𝗻𝘁𝗮𝗰𝘁𝘀 to date.