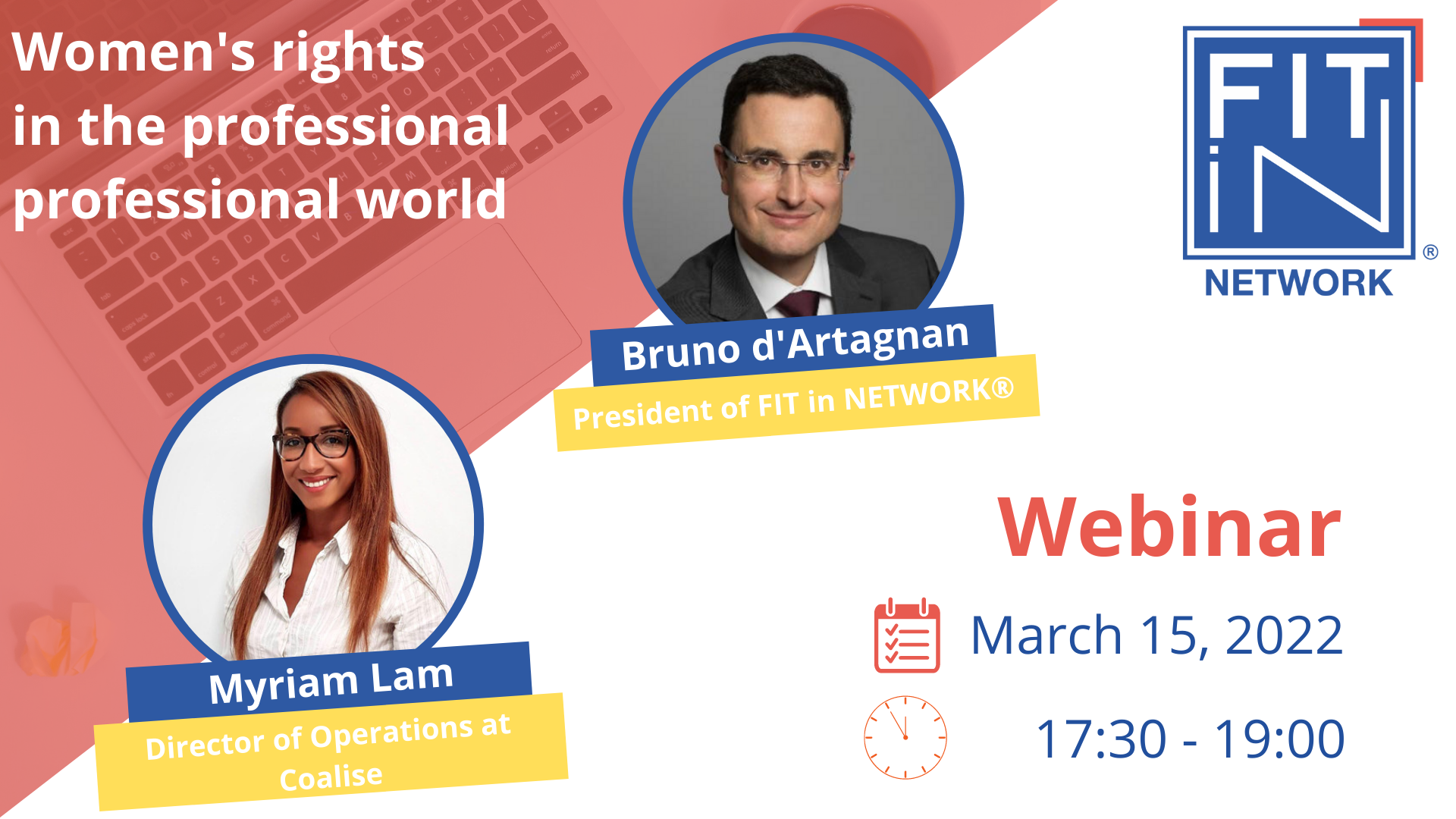 Webinar: Women's Rights in the Professional World
As a member of the FIT in NETWORK® network, we invite you to participate in our first webinar of the year 2022 and which will take place on March 15, 2022 from 5:30 to 7:00 pm. This webinar will be dedicated to women's rights in the professional world.
Bruno d'Artagnan, President of FIT in NETWORK® will present the state of the market, and the professional opportunities on which the entire FIT in NETWORK® team continues to advance.
We will also be pleased to welcome Myriam Lam, Director of Operations at Coalise, who will be our key speaker during this webinar. She will speak to us about women's rights in the professional world.
❗️Please note there are only 100 seats available. First come, first served.❗️
----
Myriam Lam is the President and Chief Operating Officer at Coalise. She founded the company with Richard Caron in 2012.
Coalise is one of the FIT in NETWORK® partners exclusively dedicated to the business of freelance administration.
The managers wanted to bring a new vision of this status by adopting a strategy resolutely turned towards the human.
They support more than 200 consultants who mainly carry out their missions in the fields of IT and project management. The company now has 50 people in freelance administration and about twenty client references.
----
Reserve your agenda for the next FIT in NETWORK® webinars:
- Tuesday April 19, 2022 from 5:30 pm to 7:00 pm
- Tuesday, May 24, 20 22 from 5:30 pm to 7:00 pm
Don't wait any longer and register for the webinar!
----
Watch the replay of the last webinar with Bruno d'Artagnan and Nicolas Bontron
👉 https://www.fitin-network.com/fr/actualites/webinaire-letat-actuel-de-la-transformation-professionnelle/
Do you want to know if you are made for Transition Management?
Then take the quiz 👉 https://www.fitin-network.com/fr/actualites/quizz-manager-de-transition-un-metier-pour-vous/
👨🎓👩🎓 Want to get into Transition Management?
👉 In this case, contact us by mail contact@fitin-network.com and allow you to access our European network of skills, more than 𝟮𝟵 𝟳𝟬𝟬 𝗰𝗼𝗻𝘁𝗮𝗰𝘁𝘀 to date.