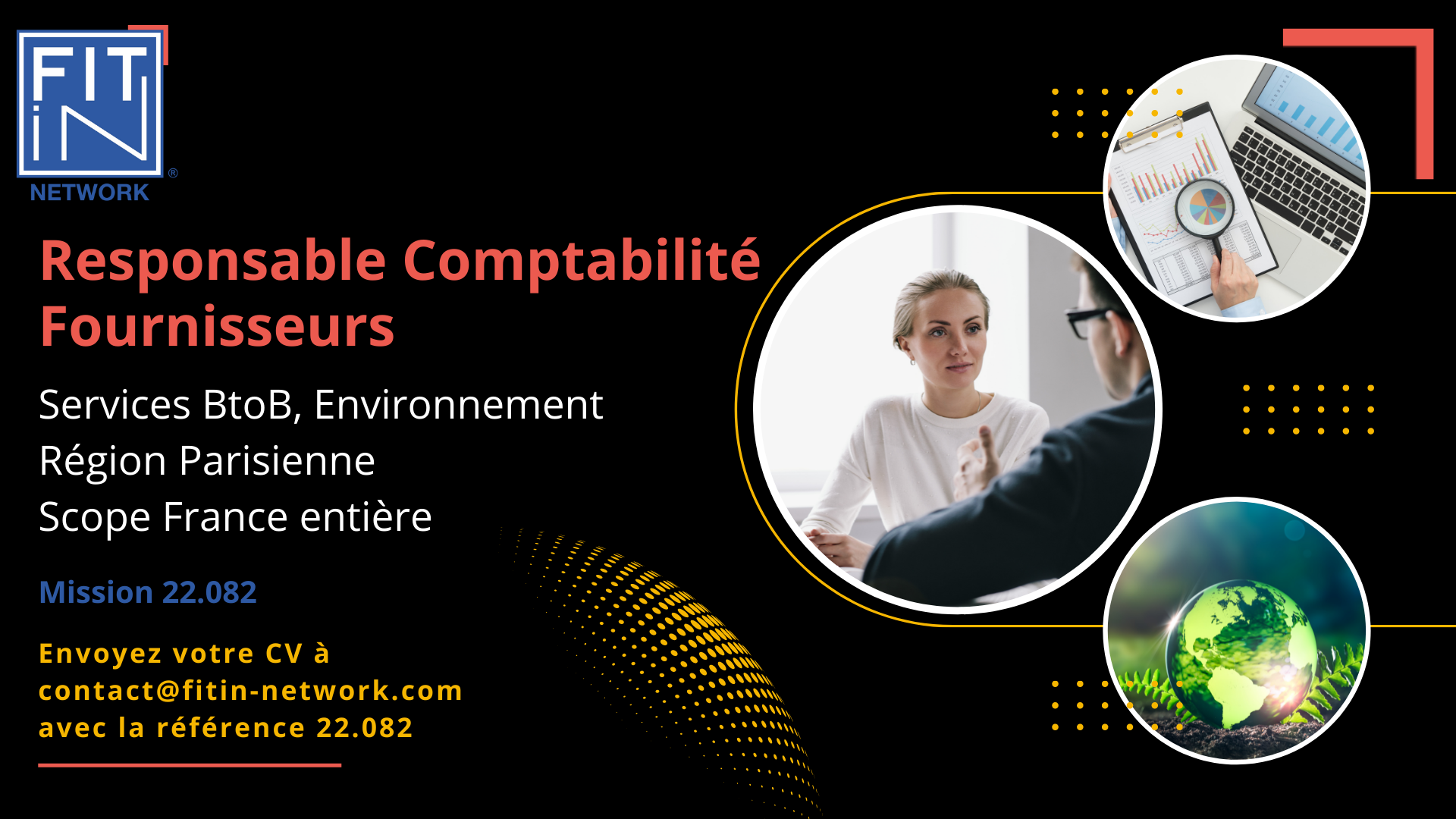 Accounts Payable Manager (M/F)
We are delighted to present you this new and very nice mission of Interim Management, in exclusivity, for one of our clients in France.
Currently in a phase of growth and strengthening of its financial organization, our client offers this mission of Accounts Payable Manager (M/F ) based in the Paris area.
As a member of the Finance & Accounting Department, you will be involved in a double mission: to ensure the day-to-day management and to pilot a new S2P (Sales To Pay) tool project.
Are you available immediately and motivated to carry out this mission?
In this case, please send us your application by mail to contact@fitin-network.com ref. 22.082.
Ready, set, apply!
☑️ The Company for this mission
Member of an international Group in the environmental sector
Activities all over France, divided by regions
Private industrial clients and public sector
Growing with performance improvement objectives
Transformation in progress
Turnover in hundreds of millions of euros
Employees: several thousand throughout France
☑️ The mission to be filled
Accounts Payable Manager
Within the head office of the company, you report directly to the Group Accounting Director and with a double mission 🎯 ensure the management of current activities and 🎯 pilot the deployment of a new tool.
Ensure the management of current activities
Manage a team of 8-10 people at headquarters, in charge of supplier management
Optimize the processing time of invoices, their correct allocation and guarantee their payment within the agreed deadlines
Validate supplier due date proposals and punctual payments according to needs;
Organize monthly closings and propose the necessary provisions
Maintain relations with other departments concerned: purchasing, management control, operations management and Group
Carry out monthly reporting of business KPI's and cash out forecast
Manage the deployment of a new tool
In relation with the Group's teams, you are the project manager for the deployment of a new Sales-to-Pay (S2P) tool throughout France. As the pilot country of the project, you:
Be the correspondent for the Group and all functions impacted by the project: purchasing, finance, management, IT ;
Participate in the definition, framing and deploymentmeetings of the roadmap;
Set the objectives for your area of responsibility, throughout France, in terms of deadlines and organization of supplier processes;
Implement, in relation with the Management, the new processes
Ensure the training and reinforcement of internal teams to manage the project.
🏢 Transition Management Mission
📍 Based in the Paris region, scope France
✈️ Professional mobility - Regional travel to be expected, partial telecommuting possible
🚩 A SAP start - During September 2022, as soon as the choice of the candidate is validated with our client
⚽ Initial duration of 4 months
Possible transformation, according to the "FIT" with our client or extension
☑️ Your key skills & profile
Profile
Minimum 10 years of experience in an equivalent position
Knowledge of Groups or large ETI with matrix organization
Minimum education of 3 years in Management - Accounting - Finance
Ability to manage and motivate accounting teams
Experience in shared services centers: a plus
Professional English & Microsoft office suite
Skills
Ability to manage and motivate teams
Ability to manage a project and bring together skills
🎯 You are available immediately
🦸♂️ Your profile "FIT" with this opportunity?
This search is Confidential & Express for our client.
Quickly send your CV + targeted message by email only to contact@fitin-network.com with the reference 22.082
You are not yet a member of FIT in NETWORK® ? THE European network of available skills