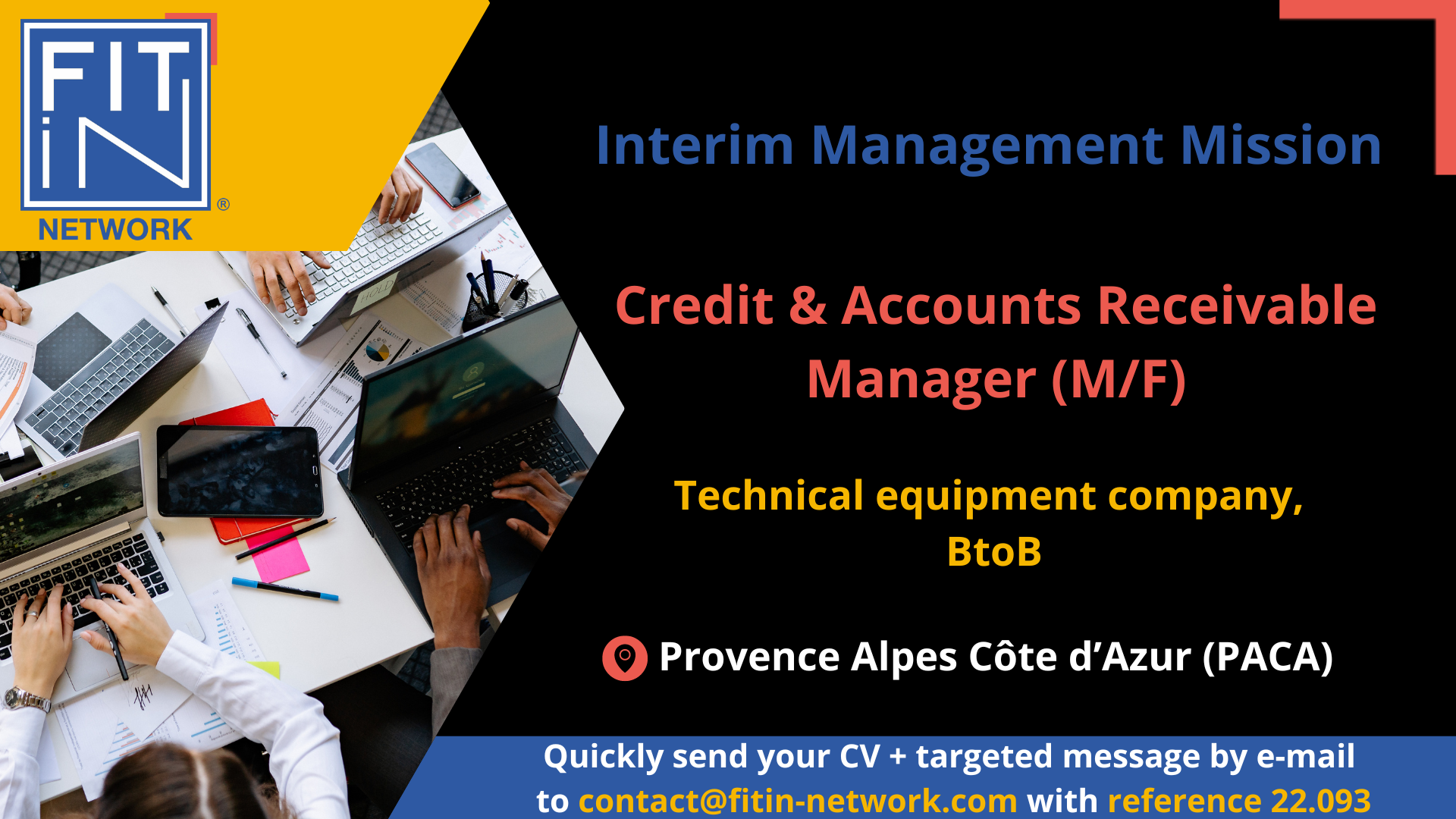 Credit & Accounts Receivable Manager (M/F)
As part of the implementation of its new Group organization, our client is currently strengthening its skills in order to optimize its working capital management and its cash flow.
To this end, they have entrusted us with the exclusive and confidential search for their future Credit & Accounts Receivable Manager (M/F) for an interim management mission.
Based in the PACA region with a European dimension, this mission will allow the development of this function with an operational approach.
🎯 You are available immediately and wish to take up these challenges?
In this case, no time to lose to seize this great opportunity.
On your CV, get ready, apply!
☑️ The Company for this mission
Holding company of an intermediate size Group.
Presence in several European countries.
Marketing in BtoB on a worldwide level.
Premium brand in its sector.
ETI dimension of about 100 m€ of turnover.
☑️ The mission to be filled
Credit & Accounts Receivable Manager (M/F)
You will report directly to the EMEA Credit Manager and will form a real binomial of skills
Your main missions, non-exclusive and evolving:
Management of a client portfolio: on a European perimeter;
Management of outstanding amounts and collections: in close relation with the sales teams;
Reconciliation of customer accounts: in order to be able to analyze outstanding balances and target the necessary reminders;
Improving processes in order to optimize tools and methods for the collection of outstanding receivables.
In addition to these missions, you are the right-hand man of the Credit Manager EMEA and take the necessary initiatives to optimize the management of cash in the company.
Monthly, you will present the results of your initiatives and actions through the main KPI.
🏢 Transition Management Mission
Based in the PACA region, in the Alpes Maritimes department
✈️ Professional mobility - Limited to the main site, partial telecommuting possible
🚩 A SAP start - At the latest beginning of November 2022
⚽ Length of assignment - Initial 4 months with possible 6 month extension
Option to convert also depending on the "FIT" between the candidate and the company
☑️ Your key skills & profile
Profile
Finance / Accounting background.
Experience in an Audit - Accounting firm and in a company.
Minimum 10 years experience in the Client / Credit Management function.
Knowledge of international and BtoB sectors.
Mastery of Excel, practice of JDE is a plus.
ProfessionalEnglish, another European language is a plus.
Know-how
Very operational profile.
Positive communication and ability to work in a team.
Rigorous, precise and focused on results.
You are a facilitator.
You want to bring your experience to improve processes.
🎯 You are available quickly & mobile the company site.
🦸♂️ Your profile "FIT" with this opportunity?
This search is Exclusive & Express for our client.
Quickly send your CV + message by email to contact@fitin-network.com with the reference 22.093
Not yet a member of FIT in NETWORK®?
👉 Create or update your profile on FIT in NETWORK® https://bit.ly/2ABuiFu
👉 Follow our professional page on LinkedIn https://bit.ly/2XRcAWs
👉 Become a Premium Expert and get priority on all our opportunities with many other services https://bit.ly/2XYvOt0
Do you know a professional who matches the profile you are looking for?
Don't hesitate to pass on this professional opportunity to him/her 🚀🚀.
-----------------
Read the article to learn more about recruitment challenges and artificial intelligence :
https://www.fitin-network.com/fr/actualites/face-aux-difficultes-de-recrutement-lintelligence-artificielle-comme-solution/