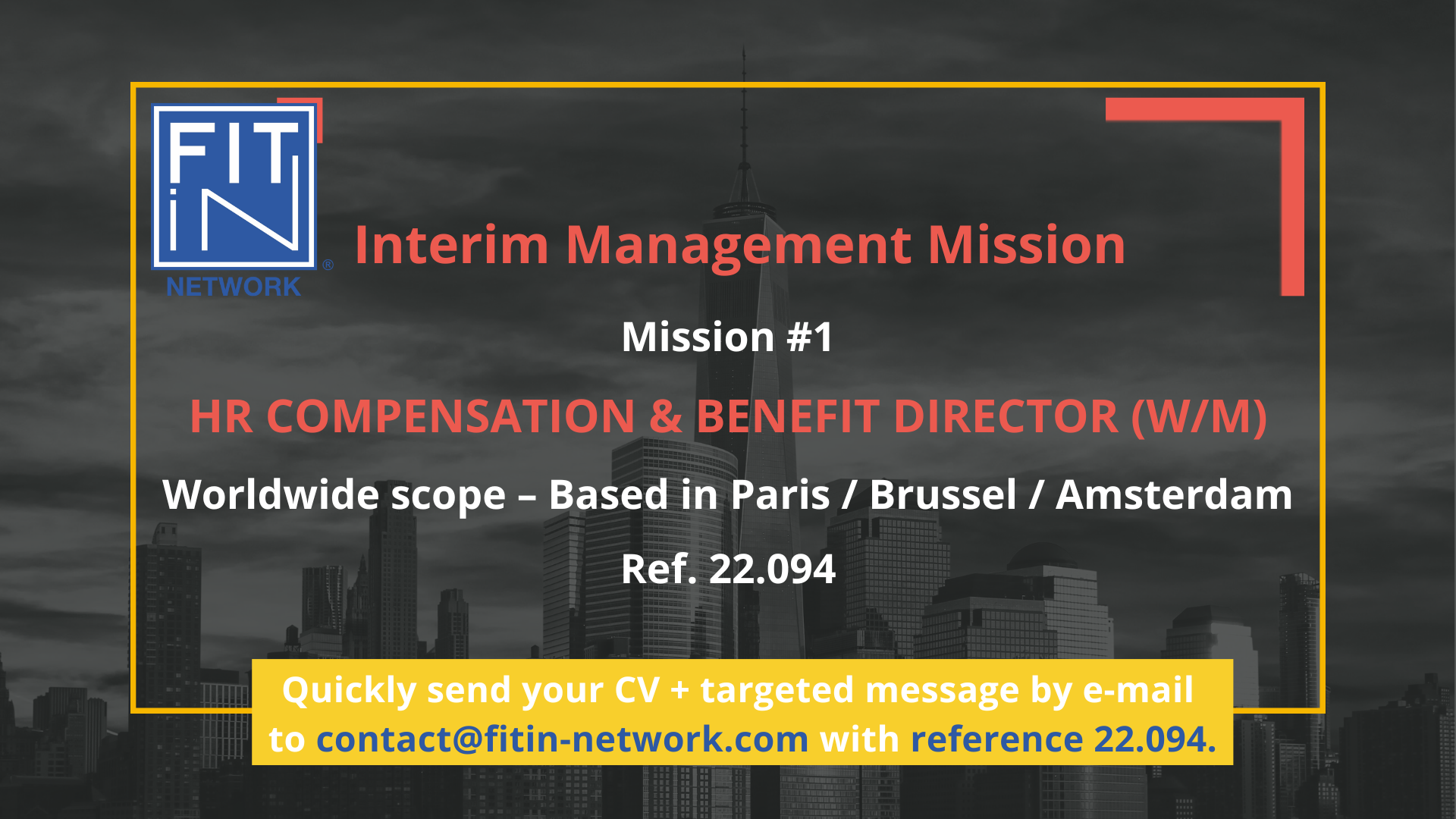 Director of Compensation and Benefits
In summary, our client is an international organization that is currently reorganizing its corporate structure to meet high demand and a new strategic vision.
In order to quickly achieve its objectives, we are mandated on an express and confidential basis to find this key position of Director of Compensation and Benefits (M/F) within the future organization of the Group.
This position will initially be filled on an interim management basis, before being filled on a permanent basis.
We are looking for experienced professionals who have worked in large international matrix organizations and have an operational mindset.
🎯 If you are immediately available and able to take on this major challenge?
👉 Send us your CV and motivation message in English quickly to contact@fitin-network.com with reference 22.094.
☑️ The company for this opportunity
International group.
Industrial activities in various key markets.
Presence in Europe, Asia and North America.
Key player in its markets with a leading technological advantage.
Exclusively B2B customers.
☑️ HR transition management assignment.
HR Compensation and Benefits Manager.
Reporting directly to the group's human resources director.
Main objectives.
- Manage competitive trends and evaluate different scenarios ;
- Develop and recommend C&B programs, bonuses, incentives and special payment plans;
- Conduct various benchmarking surveys;
- Advise regional and local HR managers on salary processing;
- Participate in negotiations with financial institutions on benefits;
- Provide support expertise for union negotiations on benefits issues.
🏢Interim management assignment: Based either in Paris, Brussels or Amsterdam.
✈️ Professional mobility : As needed, home office partially possible.
🚩 Mission start date : ASAP & beginning of November 2022
⚽ Length of assignment: initial 6 month period, extension possible.
A permanent position will be filled at a later stage.
☑️ Your key skills and profile.
Your profile
You have a perfect command of English. French and another EU language are a plus.
At least 10 years in the same function in an international organization.
Communication and negotiation skills, problem solving attitude.
In summary
You are the best HR C&B in your category and you will prove it to us and our client!
🦸♂️🦸♀️ Application process.
CV + email message to contact@fitin-network.com with reference 22.094
Not yet a member of FIT in NETWORK®?
THE European network of available skills
👉 Create or update your profile on FIT in NETWORK® : https://bit.ly/2ABuiFu
👉 Follow our professional page on LinkedIn: https://bit.ly/2XRcAWs
👉 Become a Premium Expert and get priority on all our opportunities with many other services https://bit.ly/2XYvOt0
Do you know a professional who matches the profile you are looking for?
Don't hesitate to pass on this professional opportunity to him/her 🚀🚀.
🦸♂️ Your profile "FIT" with this opportunity?
This search is Exclusive & Express for our client.
Quickly send your CV + message by email to contact@fitin-network.com with the reference 22.094
Not yet a member of FIT in NETWORK®?
👉 Create or update your profile on FIT in NETWORK® https://bit.ly/2ABuiFu
👉 Follow our professional page on LinkedIn https://bit.ly/2XRcAWs
👉 Become a Premium Expert and get priority on all our opportunities with many other services https://bit.ly/2XYvOt0
Do you know a professional who matches the profile you are looking for?
Don't hesitate to pass on this professional opportunity to him/her 🚀🚀.
-----------------
Read the article to learn more about recruitment challenges and artificial intelligence :
https://www.fitin-network.com/fr/actualites/face-aux-difficultes-de-recrutement-lintelligence-artificielle-comme-solution/