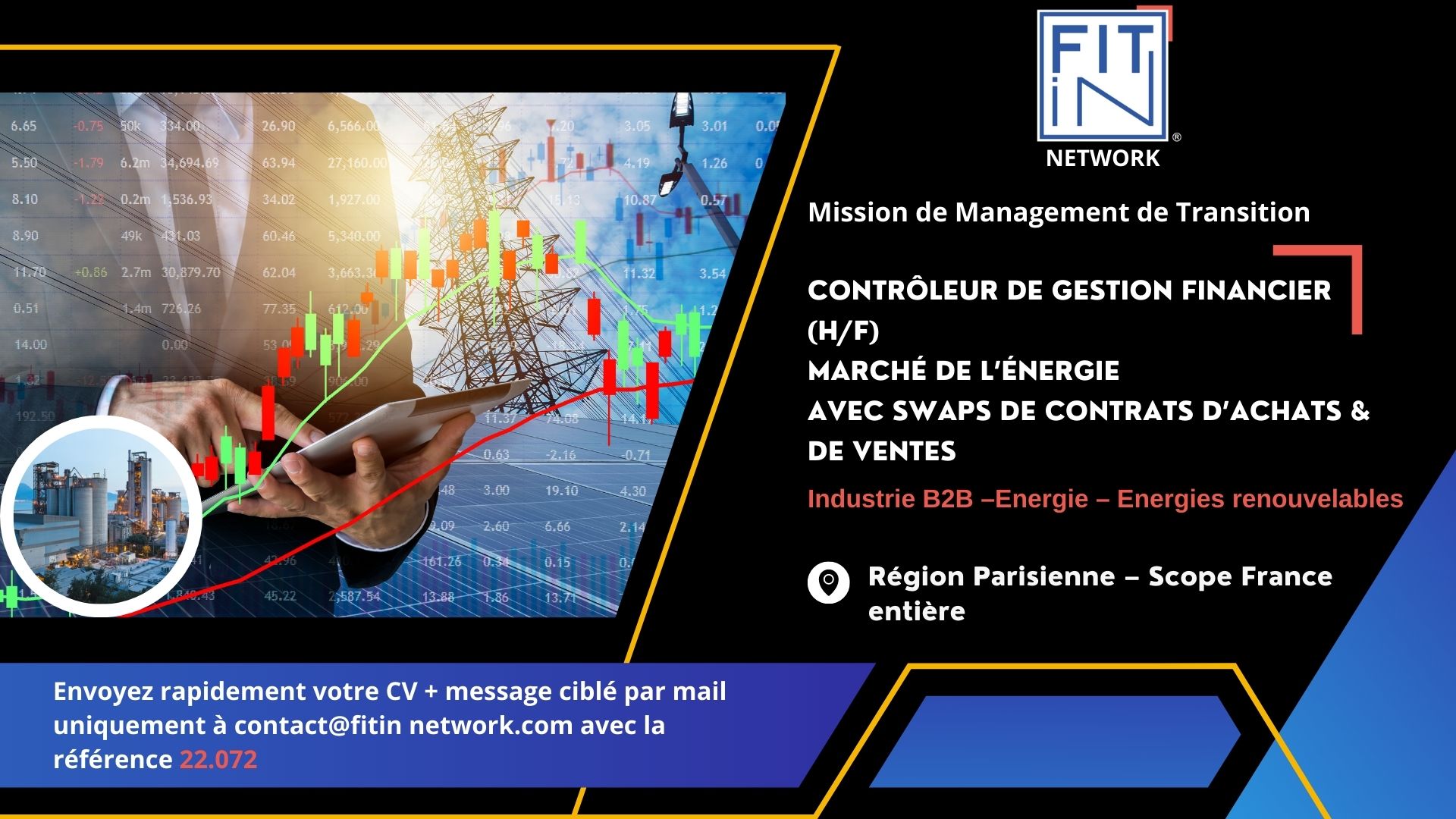 Financial Controller (M/W) Ref. 22.072
Dear member,
Our client, an international operator in the energy sector, is offering you this new and exciting interim management assignment.
You will be responsible for the development of the company's strategy and the implementation of the company's strategy for the next five years. You will also participate in contract swaps and their correct valuation.
You will be responsible for the development and implementation of a new business model for the company. After that, an extension or transformation is possible depending on the fit and the situation at term.
So, are you motivated and competent to participate in this new adventure?
If so, there's no time to lose in sending your CV & motivation message to contact@fitin-network.com ref. 22.072
On your Resume, get ready, apply!
First interviews with our client the week of August 22, 2022: be responsive even under the sun ☀️or on the beach 🏖️ …
☑️ The Company for this mission
An international group with a presence in France
Producer of energy from multiple sources
The major player in renewable energy
Energy purchase and sale activities on the markets
Regular swaps of energy contracts
☑️ The mission to be filled
Financial Management Controller – Energy Industry
You will report directly to the Markets Department
Your internal contacts are: 🌎 the energy buyers 🌍 the market analysts and 🌏 the administrative back-office teams
Your mission is to steer the financial links between the "front" and "back" offices of the company by carrying out the following activities:
Analysis of market operations
Monthly analysis of client contracts and supervision of their correct invoicing
Carrying out quarterly market reviews and participating in Quarterly Business Reviews
Carrying out financial reporting and forecasting
Preparation of monthly reporting
Monitoring of budgets and rolling 12-month forecasts
Support for operational teams
Follow-up of contracts and mandates in relation to the operational teams
Validation of market strategies and contract valuation
Improvement of tools and processes
Continuous adaptation of contract management processes
Assistance in the development of management tools and activity management.
🏢 Transition Management Mission
Based in the Paris region
✈️ Professional mobility
Limited & punctual in France, telecommuting possible
🚩 Start ASAP
Beginning of September 2022, as soon as the profile is validated with our client
⚽ Initial duration of 6 months
Possible extension or transformation depending on the situation at term
☑️ Your profile & skills
Profile
Higher education: University Finance – Management, Business School, Engineer with experience in Finance
Minimum level Master 2 or higher
Experience in the energy and/or renewable energy sector
Knowledge of the mechanisms of swaps of purchase and sale contracts
Full knowledge of Excel – VBA is a plus
Fluent in English, both written and spoken
Skills
Precise, meticulous, leaving nothing to chance
At ease in hierarchical and functional relationships
Respect for deadlines and a sense of responsibility
🎯 You are available quickly
🦸🦸 Your profile "FIT" with this opportunity?
This search is Confidential & Exclusive to our client.
Send your CV + targeted message by email only to contact@fitin-network.com with reference 22.072