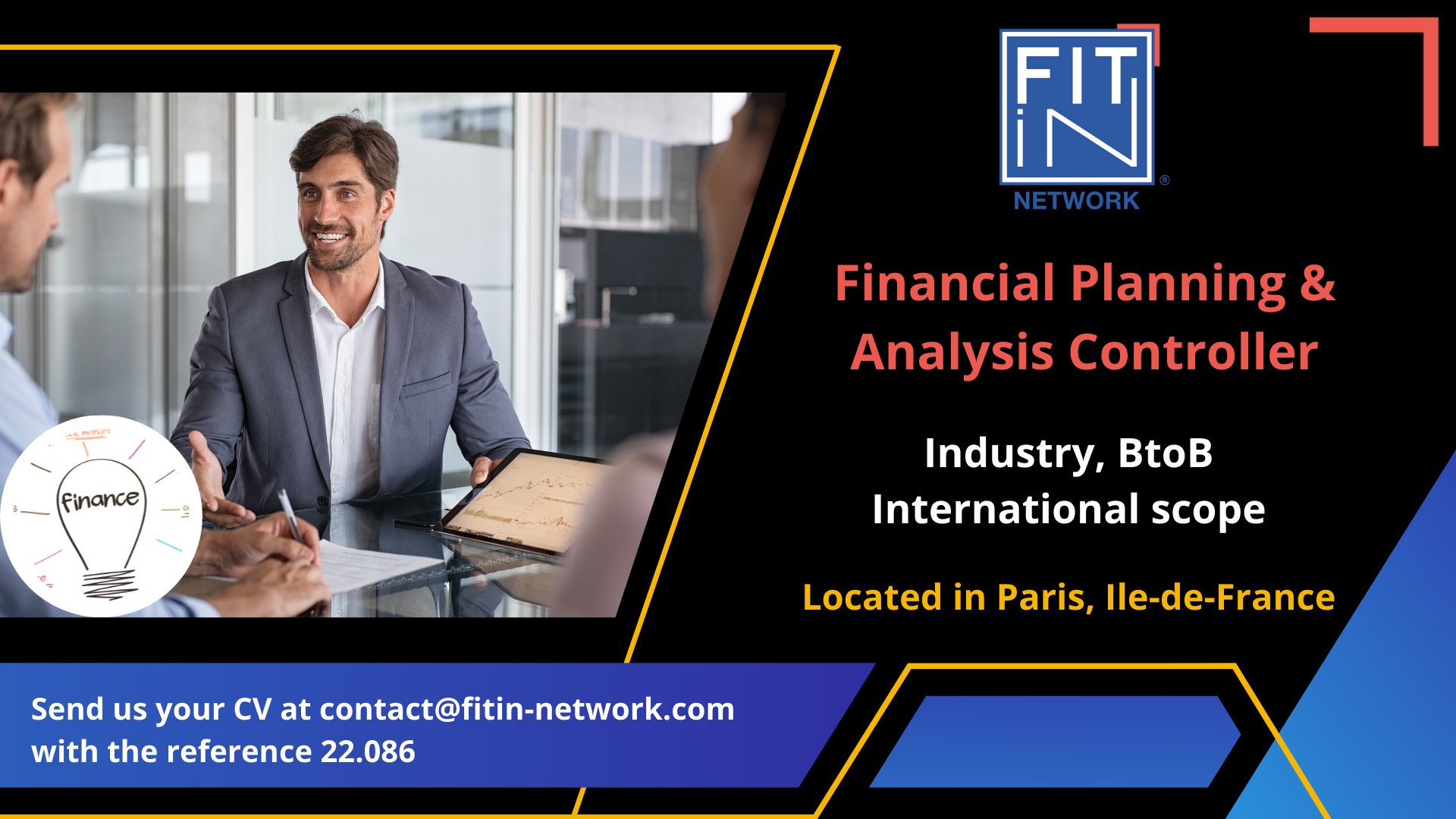 Financial Planning & Analysis Controller
We are pleased to present this new interim management assignment.
Our client is growing rapidly and has decided to strengthen its FP&A team and has mandated us to find, on an exclusive and confidential basis, its future Financial Controller.
Based in Ile de France with a real opening to the international market, you will be able to develop your skills in finance and management control within the framework of this interim management mission.
If you are interested in taking up this challenge and available immediately, then there is no time to lose! Quickly send your CV and your motivation message to contact@fitin-network.com with the reference 22.086.
☑️ The company
- Industrial group with exclusively Bto2 activities.
- More than 1 billion in sales and a presence throughout Europe, America and Asia.
- Growing business with many challenges: inflation, supply-chain, on-time delivery & in quality.
☑️ The mission
You will report directly to the Director of Finance and Administration.
Your primary job responsibilities will include:
- Prepare and present monthly, quarterly & annual reporting ;
- Coordinate the annual budget & periodic revised forecasts;
- Support business decisions;
- Provide KPI's and dashboards to sales and finance teams;
- Overhead Control Manager;
- Identify risks and opportunities on financial results.
You will also actively participate in various business processes such as:
- Perform operational planning analysis to advise on business decisions;
- Develop modeling tools and improve processes to better understand key business performance.
🚀 Interim management assignment.
📍 Based in Paris, Île-de-France, with an international scope.
🏡 Home office partially possible.
📅 S tarting in early October 2022, once our client has made a decision on the most suitable profile.
⏲️ Initial duration of 6 months - Possibility of extension or transformation, depending on the situation at the time.
☑️ Your key skills and profile
Skills:
- Fluent English being the business language;
- Knowledge of SAP, Excel, Google business tools, Magnitude is a plus ;
- Collaborative relationships between different levels of finance and cross-functional ;
- Communication and leadership skills;
- Able to influence business teams and external partners ;
- Analytical and problem solving skills.
Profile:
- Minimum Bachelor's degree in Finance or Accounting;
- Master's degree or MBA is a plus;
- 10 to 15 years of experience;
- Previous position in FP&A in industrial companies, audit experience being a plus.
👨💼👩💼 Does your profile match this opportunity?
This search is confidential and express for our client.
Quickly send your CV + targeted message by email only to contact@fitin-network.com with reference 22.086.
You are not yet a member of FIT in NETWORK® ? THE European network of available skills