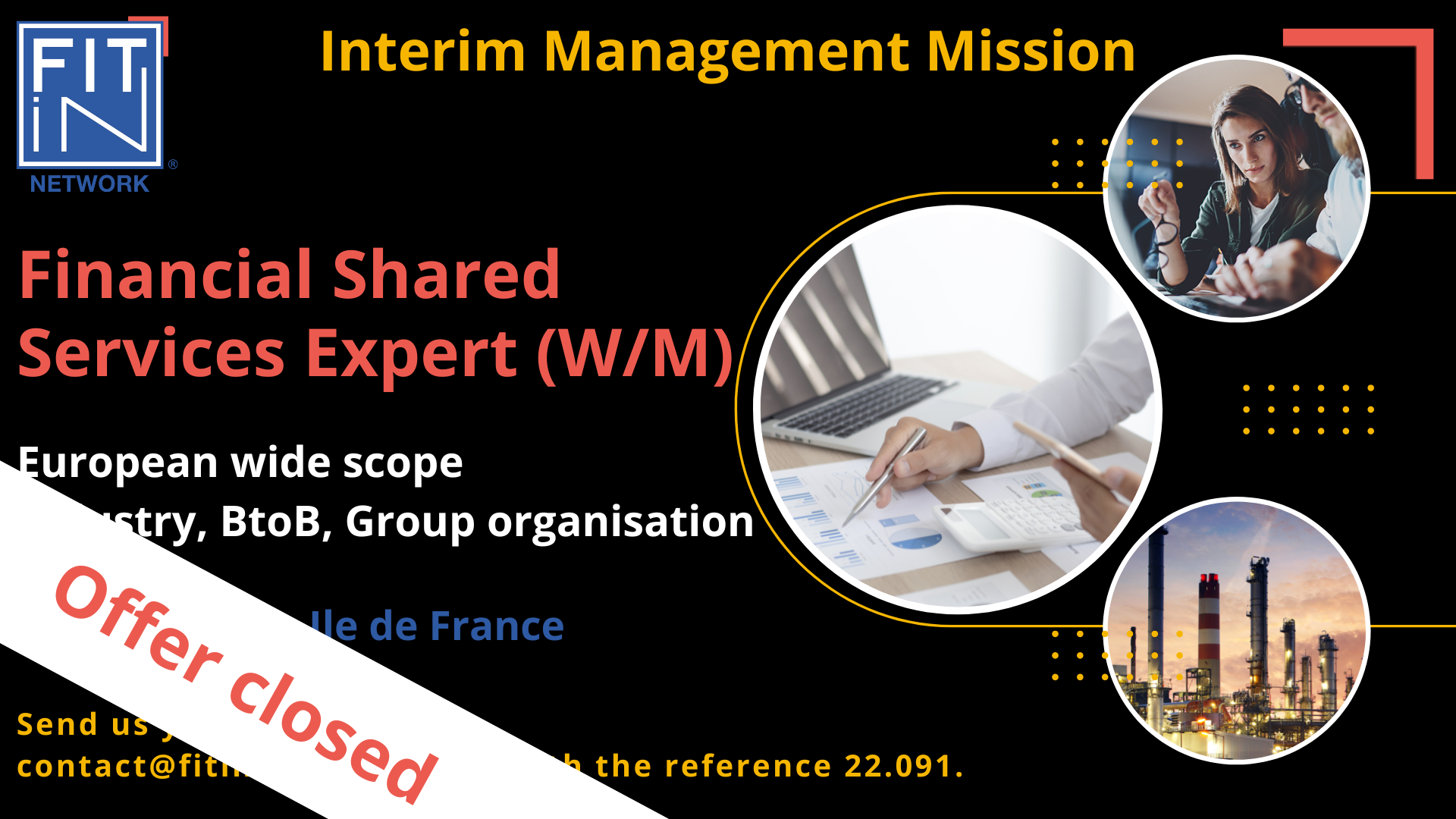 Financial Services Manager
We are proud to offer our FIT in NETWORK® experts this new interim management mission.
At our client, an industrial and listed company, we offer this opportunity as Financial Services Manager .
If you already have a successful experience in the field of financial shared services, and you have in addition experienced the implementation of a new SAP ERP, then this opportunity may be for you!
🎯 A re you immediately available for this challenge?
Then send us your CV and motivation message in English as soon as possible by email with reference 22.091.
☑️ The mission of Interim Management
Expert in shared financial services.
Reporting directly to the Vice President Finance, in charge of shared services.
Interacting with the various functions: supply-chain, customer, sales, sourcing.
Your main objective is to take an active role in the continuous improvement of financial work processes.
As the group's financial interface between the shared services center and the end users on a European scale, you will be in contact with:
- Accounting, Budgeting and Treasury teams;
- Sourcing teams;
- Sales and Customer Management teams;
- Operations and Supply Chain teams.
You will also participate in the ongoing SAP deployment program, ensuring that you:
- Properly prepare go-lives with end users;
- Coordinate schedules with the IT teams dedicated to the deployment;
- Ensure that the deployment is followed by the end users.
Among the key financial processes, you will support the development within the Group of a new Procure to Pay (P2P) process in direct relation with shared services.
🏢 Interim management mission
📍 Based in Paris Ile de France, European scope.
✈️ Professional mobility - Home office possible, travel planned (25%).
🚩 Start date - Immediate start expected, from the beginning of October 2022.
⚽ Length of assignment - Initially 6 months, expandable.
💡 Transformation is an option when there is a "FIT" with our client.
☑️ Your key skills and profile.
Profile
Finance professional, Master level or business school.
Relevant experience in shared services.
Knowledge of SAP and Matrix group type organization.
Knowledge and experience with P2P is a plus.
Key skills
Fluency in English, fluency in French.
Hands-on approach and pragmatic attitude.
Ability to work with different teams and cultures.
Strong communication skills, team player, solution oriented.
🎯 You are available immediately
This express executive search is confidential & exclusive to our client.
🦸🦸Does yourprofile "fit" this opportunity?
If so, then send your CV + targeted message by email only to contact@fitin-network.com with reference 22.091.
You are not yet a member of FIT in NETWORK® ? THE European network of available skills