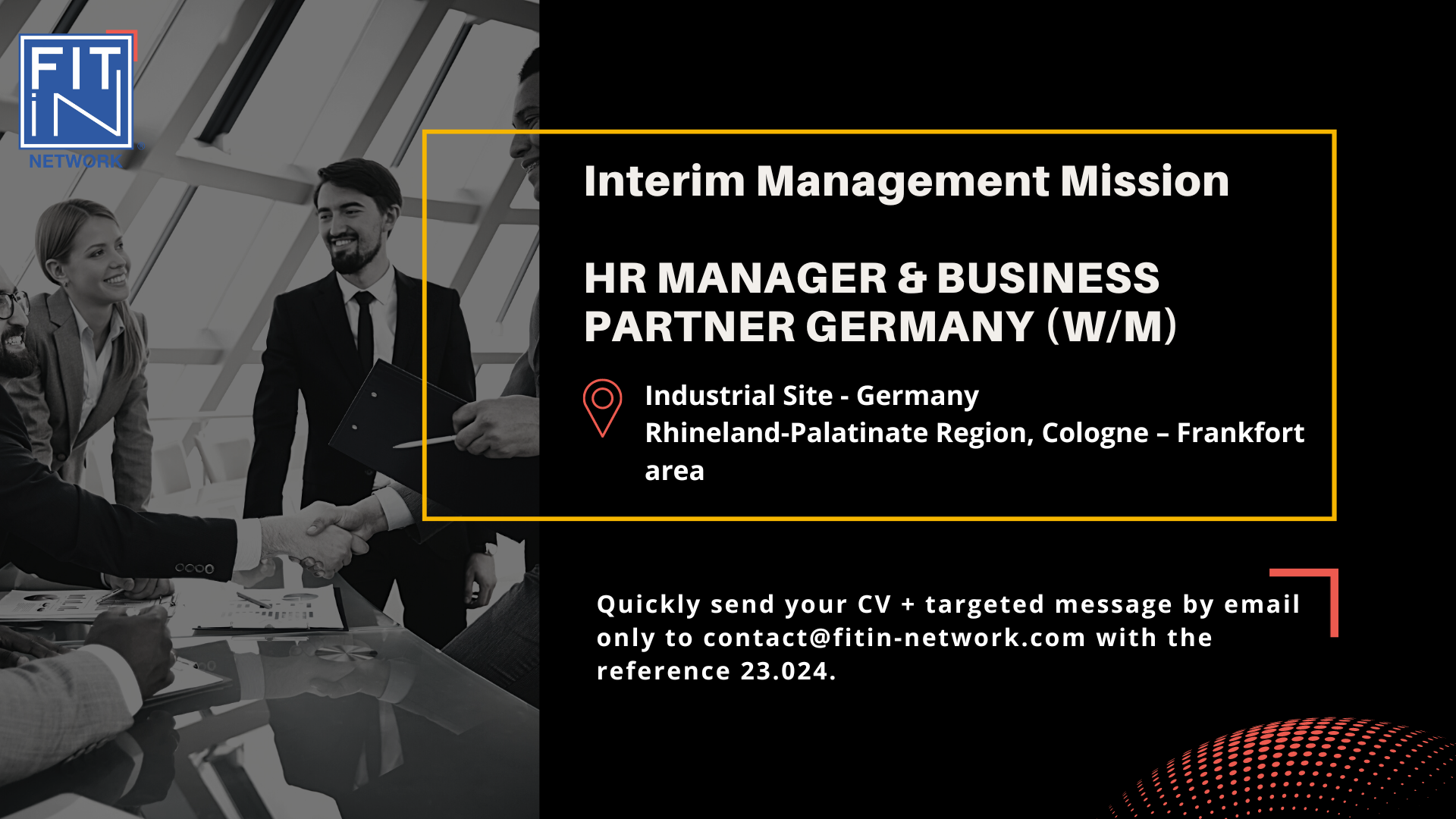 HR Manager and Business Partner Germany (W/M)
Our client is currently strengthening its human resource organisation and engaged into a business transformation program at Group level.
For one of his key production site, located in the German Rhineland-Palatinate Region, in the Cologne – Frankfort area, we are proposing this great HR Management Interim Management Mission with a real Business Partner role.
Within this 6 months mission, you will lead & manage all HR activities and directly report to the site managing director. You will also be contact with the Group HR teams to implement the group policies and initiatives.
Your previous HR experience within a German industrial site, together with your communication skills will allow you to successfully lead and develop all human resources, including the operational and the support positions.
🎯 Are you immediately available and able to be take over this challenge for our client?
👉 Then, send us rapidly in English your CV and motivation message to contact@fitin-network.com with ref. 23.024.
☑️ The company for this opportunity

Industrial site, around 200-250 employees.
Continuous activities with a major warehouse on site.
Delivering its production to other industries, BtoB sector.
Production distribution within all European countries.
☑️ The Interim Management Mission
HR Manager and Business Partner Germany (W/M)
Direct report to Site Managing director
Dotted report to the HR European Director
Your main mission is to oversee all aspects of human resources and to make sure the industrial activities run smoothly with the necessary skills.
The objective of this mission includes HR activities such as recruitment, employees relations, performance management, training and talent management.
This HR Management position is essential for the business success and key to ensure a positive & dynamic working environment for all employees.
Your day-to-day activities will include:
Develop & implement HR initiatives aligned with the business strategy;
Manage the recruitment processes in coordination with Group policies;
Nurture a positive working environment;
Bridge the employee & management relations and expectations;
Report main HR metrics to the management and provide HR advice;
Ensure HR compliance with rules & regulations.
🚀 In summary, you are managing all HR activities and acting as a real Business Partner for the management team and for the Group.
🏢 Interim Management Mission : based in Germany,  Rhineland-Palatinate Region
✈️ Business mobility : limited, mission mainly performed on site
🚩 Starting date : ASAP, latest 2Nd week of march 2023
⚽ Mission length : 6 months, extensible upon necessary
☑️ Your key skills & profile
Profile
Proven 15-20 years working experience as HR manager.
Demonstrate HR practice on an industrial site.
People oriented and result driven.
In depth knowledge of German labour laws.
Experience within an international Group.
Key skills
German native of German fluent, English practice.
Communication and interpersonal skills.
Good organisational & time management.
Active listening, negotiation and leadership.
🎯 You are IMMEDIATELY available
This in an Express & Confidential executive search for our client.
🦸‍♂️🦸‍♀️ Your profile "FITs" with this opportunity?
If so, then send your CV + targeted message by email only to contact@fitin-network.com with reference 23.024.
You are not yet a member of FIT in NETWORK®?
THE European network of available skills
👉 Create or update your profile on FIT in NETWORK® https://bit.ly/2ABuiFu
👉 Follow our professional page on LinkedIn: https://bit.ly/2XRcAWs
👉 Become a Premium Expert and get priority on all our opportunities as well as many other services https://bit.ly/2XYvOt0
You know a professional who matches the profile you are looking for?
Don't hesitate to pass on this professional opportunity to him/her 🚀🚀.
Find out why empathy has become an important skill to have in the professional world.
👉 https://www.fitin-network.com/fr/actualites/lempathie-la-competence-de-leadership-la-plus-importante/