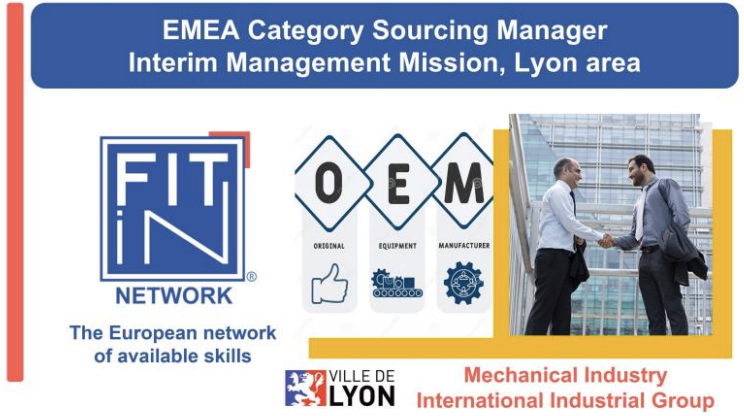 EMEA Category Sourcing Manager
Our client being a major international player within its industry, he is strengthening his EMEA sourcing team and creating specialized category managers.
For the "Industrial Equipment's & Services" category, we have an exclusive mandate to find his future interim EMEA Category sourcing manager.
This interim management mission will start ASAP, and latest end of January 2022 once the best and finale candidate will be selected with our client.
If you are interested to take over this challenge and also immediately available, then no time to loose ! Send rapidly your CV & Motivation message to contact@fitin-network.com with ref. 22.014.
Get your CVs ready and apply!
☑️ The company

Head office of a large mechanical & industrial group
Expanding fast, listed company
Produce and deliver his production worldwide, B to B business
☑️ The Interim Management Mission
Your main mission will be to drive all sourcing activities, within the EMEA Region,
of all CAPEX and OEMs as Group Key Account Purchaser.
Your scope of tasks include the following activities :
• Manage the development of contracting strategy with stakeholders
• Key supplier negotiations
• Sourcing contract development
• Selection and qualification of key sourcing partners
• Implement an EMEA category sourcing culture
• Train the various Group entities
• Provide professional consultation to internal customers in their sourcing &
contracting activities
• Obtain standardized contracts for products and services at the best value
📍 Mission based in Lyon area
🖥 Physical presence, teleworking within current labor laws
✈️ Traveling 20 to 30% of time within Key suppliers & Group sites
📅 Start ASAP and before end of January 2022
⏱ First interim mission of 6 months
🤝Extension possible, depending on work in progress status
☑️ Your profile
Engineering or Technical related education
Proven experience in Engineering, Procurement and Construction Management (EPCM)
Experienced in international, complex & matrix organisation
Senior profile with min 15 years of professional experience
Soft skills
Strong leadership ability.
Excellent verbal, interpersonal and written communication skills
Ability to work in a team environment and to collaborate with a variety of
professionals.
Demonstrate skills in prioritization, problem solving, team building, decision-making,
time management, and strategic planning.
Fluent in English. Fluent in French.
Another European language will be a plus: Spanish, Italian or other.
🎯 Immediately available
You are located Region of Lyon or willing to have your own accommodation
This is an Exclusive & Express search for your client.
🦸‍♂️ Your profile « FIT's" with this great opportunity ?

If so, then send your CV & targeted motivation in English only by email only to contact@fitin-network.com with reference 22.014.
☑︎ For more information, contact us by mail ✉️ contact@fitin-network.com and by phone 📞 +33 1 53 89 09 79