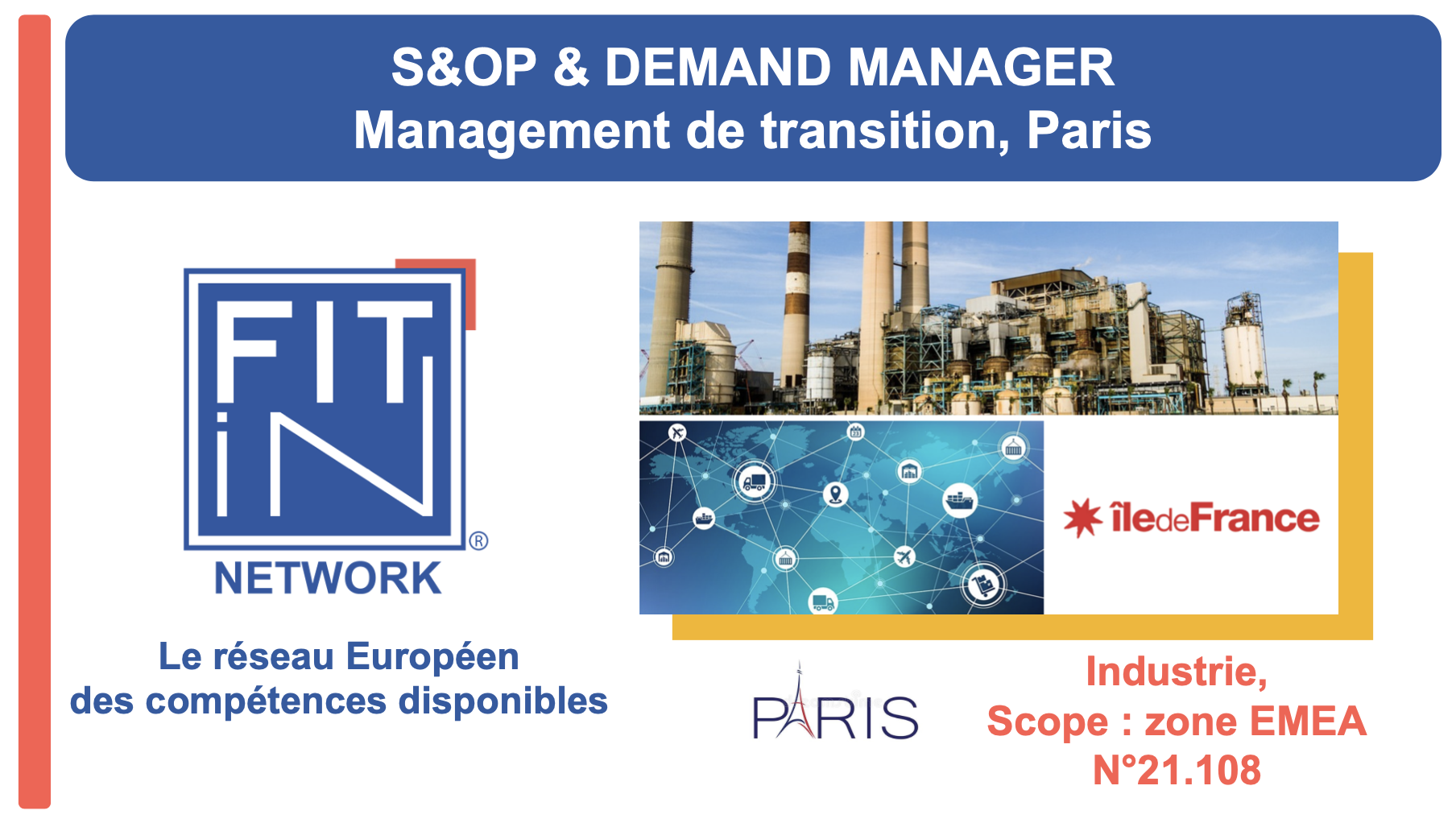 Sales & Operation Planning and Demand Manager
Our client is an industrial group in the materials & raw materials sector. From production sites spread across Europe, Middle-East & Africa (EMEA), it distributes in BtoB on a global scale.
Currently in a strong growth phase, it is reinforcing its operational teams and is offering a very nice interim management mission as S&OP and Demand Manager, based in Paris.
The start is planned asap, end of December 2021 or early January 2022 as soon as the choice of the final candidate is made.
If you are immediately available and motivated to take up these challenges,
Then, no time to lose to send your CV and motivation message
À your CVs, get ready, apply!
☑️ The Company
Company member of an international Group
Presence on all continents
Industry sector, Materials, continuous fire activities
Distribution exclusively in BtoB
☑️ The mission
Interim management mission : S&OP & Demand Planning Manager
Reporting directly to the Supply Chain Director
In close relationship with operational & functional departments
Production, Logistics, Purchasing, Customers, Finance
You will be responsible for the following tasks:
Define & implement S&OP processes at EMEA level
Ensure quality and performance of services to customers
Coordinate demandforecasts on a rolling basis
Define & monitor businessKPI's and performance indicators
Lead the interfaces between the Production and Sales & Marketing functions
Develop partnerships with service providers & key customers
Strengthen processes & raise awareness of the organization
And more generally
Participate operationally in the growth and transformation of the company's operating modes to make them more agile in a fast-moving market context
🏢 Mission based in Paris
✈️ Physical presence, telecommuting possible in the future
Some travel in France & EMEA countries
🚩 Start asap Dec.2021 or early Jan.2022
⚽ Duration 6 months
Possible extension depending on the context
☑️ Your Profile
You know the world of industry
You have already exercised these responsibilities in an international context
You have between 15 and 20 years of professional experience
You have an engineering degree or a Master's degree with a technical / Industrial Engineering background
You master the classic office tools (XLS)
You know SAP, you master the use of databases
English & French fluent. German or another language is a plus
Field experience with an operational approach
Positive spirit, committed and great communication skills
🎯 A vailable immediately
You are or will be based in the Paris area for this mission
This search is EXLCLUSIVE & EXPRESS for our client
🦸♂️ Your profile "FIT" with this opportunity?
Please send your application + targeted motivation message by email only to contact@fitin-network.com with the reference 21.108
☑︎ For more information, contact us by mail ✉️ contact@fitin-network.com and by phone 📞 +33 1 53 89 09 79