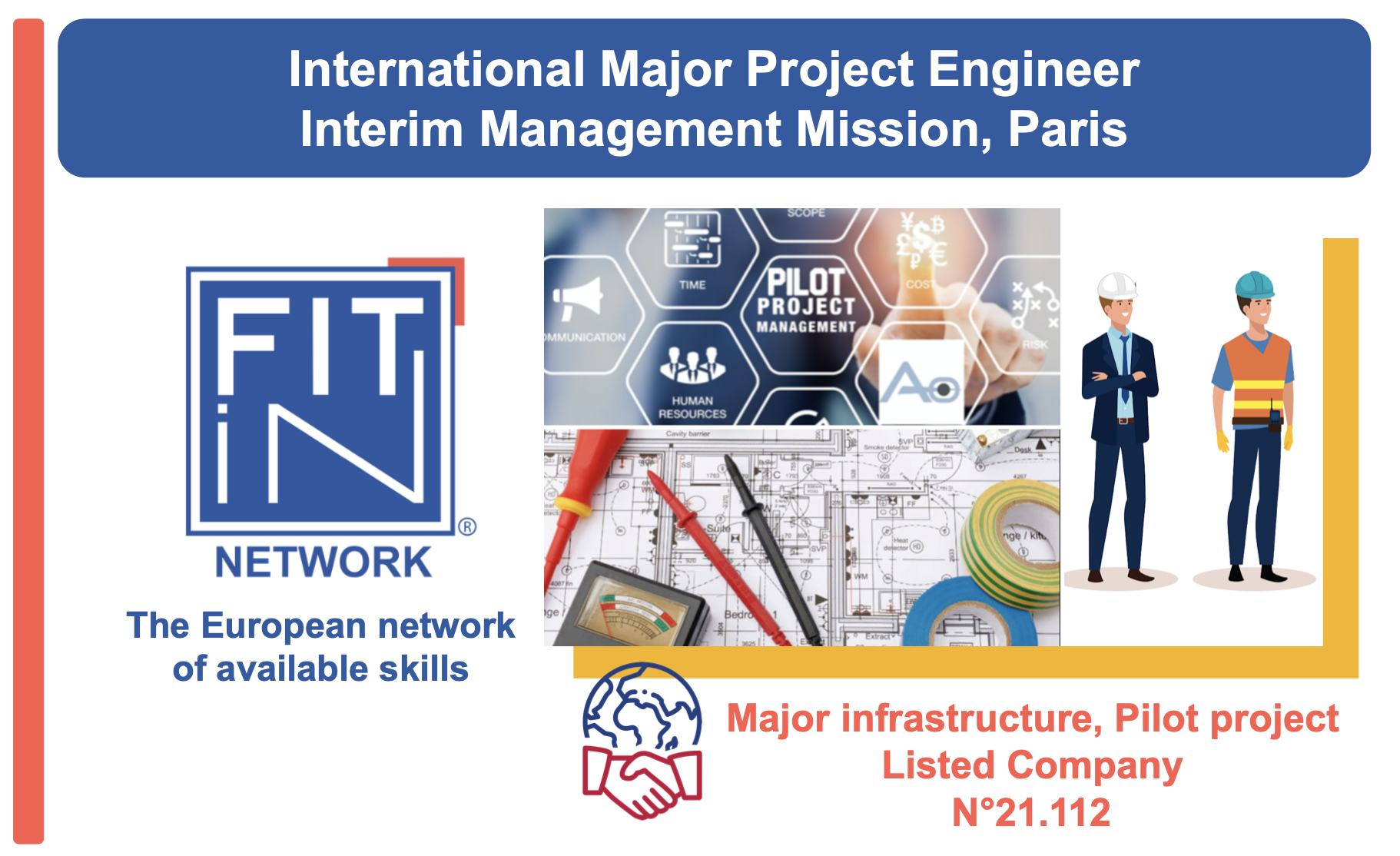 International Major Project Engineer
Our client has mandated us, on an exclusive base, to rapidly find his or her future International Major Project Engineer.
This is a great opportunity to join an international Group through this Interim Management Mission starting early January 2022.
Based in Paris with various international travels, the Interim Manager will participate in this large and strategic infrastructure project from its current design & engineering phase.
If you are immediately available and ready to take over this challenge, then send us rapidly your CV and motivation message in English at contact@fitin-network.com
with reference. 21.112.
Get your CVs ready and apply!
☑️ The company

Major international project within a listed Group
Developing infrastructure projects within joint-venture setups
Currently developing a new project of a few hundred € millions
In communication with external Engineering companies to build a pilot
Developing an innovative process to be demonstrated through piloting activities
☑️ The Interim Management Mission
You are the International Major Project Engineer of this specific project
Your main mission is :
To supervise the development of all the Engineering documentation
To coordinate and ensure the most efficient communication between all internal and external stakeholders
Within this mission, you will actively :
Contribute to the definition of the piloting strategy
Review, challenge and process the engineering documentation issued by the external partners
Be associated to the pilot Basic Design development
Coordinate all the technical design documentation : Process Flow Diagram (PFD), Main Design Criteria, Discipline Documentation, Capex estimates, Equipment Data Sheets, etc.
Prepare the technical documentation for tenders
Supervise the engineering Front-End Loading 1 (FEL-1) and FEL-2 studies
Supervise the construction of the pilot in the range of tens € millions
Within this mission, you will have various reporting and matrix communication lines:
Reporting directly to the VP Group Project Director
In dotted line to the Pilot Project Director
In coordination with the external engineering partners and internal Group functions
🏢 Mission based in Paris Ile de France
✈️ Physical presence & teleworking - Various travelling in Europe & America
🚩Start ASAP and latest early January 2022
⚽ First mission phase of 6 months -Extension possible according to the project context
☑️ Your profile
Engineer graduate in Process, in Mechanics or equivalent
Large experience in complex Project Design and Project Management activities
Experienced in either an Engineering company, an Engineering consultant organization, a large - Project contractor or an international Process industry
Focused on safety issues in the design and process minded
Minimum 15 years of experience in large Groups
Have proven track records in multi-hundred millions infrastructure projects
Autonomous, team spirit, good written and oral communication skills
Have proven its expertise in coordinating large multi-cultural and international teams
Fully fluent or native in English, French language being a plus
🎯 Immediately available
You are already located in the Paris area or have your own accommodation. This is an Exclusive & Express search for your client.
🦸‍♂️ Your profile « FIT's" with this great opportunity ?


If so, then send your CV & targeted motivation in English only by email only to contact@fitin-network.com with reference 21.112.
☑︎ For more information, contact us by mail ✉️ contact@fitin-network.com and by phone 📞 +33 1 53 89 09 79