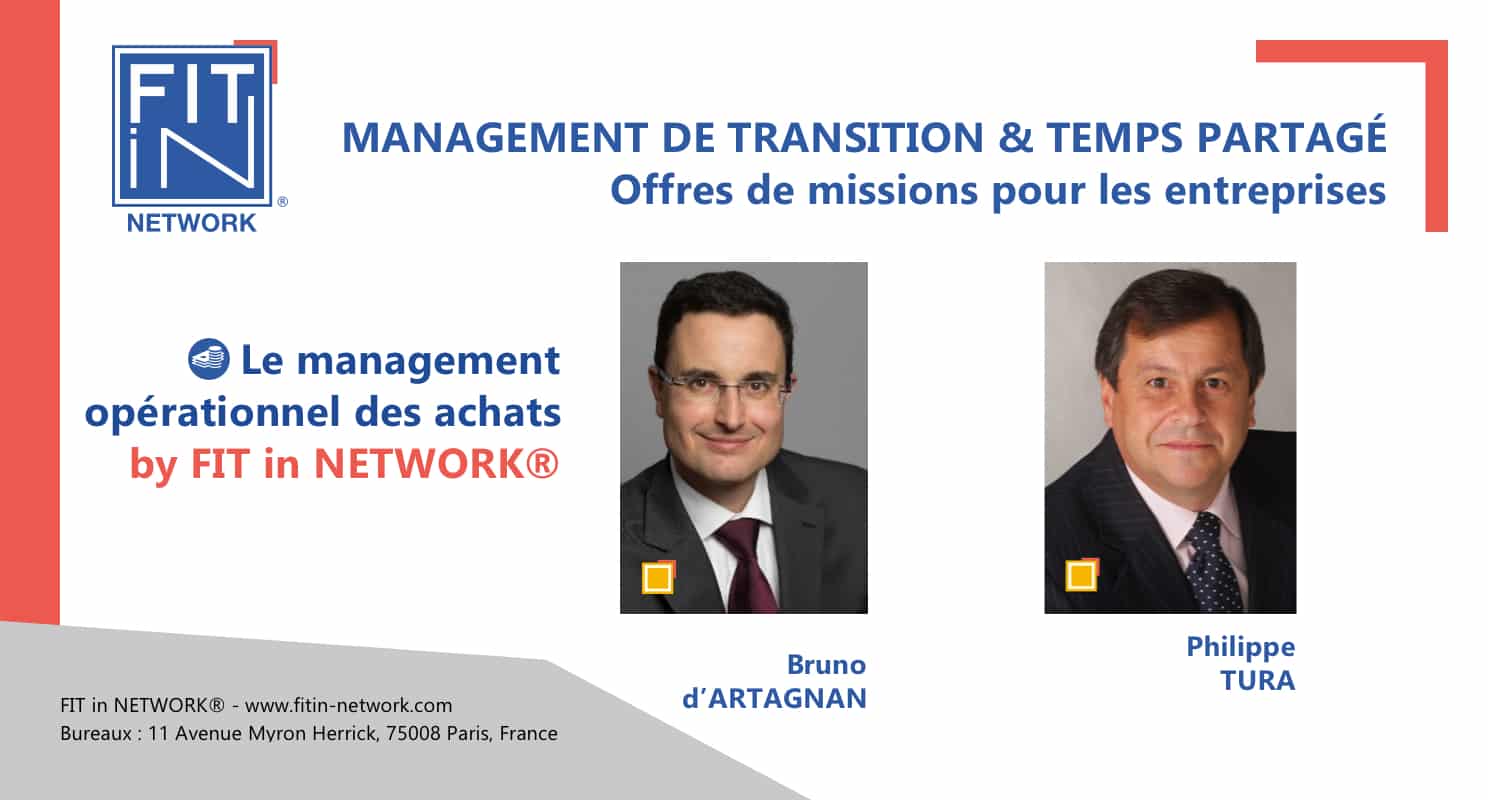 Operational purchasing management by FIT in NETWORK®.
Our findings
Your company is dependent on its suppliers. The amount of your purchases can represent up to 60% of your turnover and these purchases are essential products or services for your business. Any failure of one of your suppliers by disrupting your Supply-Chain will therefore have a direct impact on your results and will durably affect your customer relationship.
Indeed, the Covid-19 has caused an unprecedented crisis by weakening your company, your suppliers and their entire ecosystem. Thus, while you need to focus your internal resources on your priorities (Customers, Products), you are undergoing disruptions and a proven risk from your external resources (your suppliers). These risks significantly compromise the restart of your activities.

Our vision

Your purchasing team must be an essential contributor to your recovery plan by controlling your external resources and making your suppliers a competitive lever for your company.
In the short term: supplier management in crisis situations

Align supplier priorities with those of your company ;
Contribute to your company's cash improvement plan;
Identify supplier risks;
Ensure that suppliers are "capable".
In the medium and long term: managing your suppliers

Deal with supplier risk;
Manage supplier performance;
Manage the supplier relationship.
Our offer of interim management solutions

We offer you support from a purchasing professional, interim manager and expert in the transformation of purchasing organisations and crisis management. This expert is quickly able to analyse the contribution of your purchases to your company's performance, your expectations, share his analysis, transform it into strategy and finally execute this strategy. Your suppliers, your purchases then become a competitive advantage.

The interim manager will therefore manage your purchasing team, who may be teleworking, and provide operational support. He can also replace a resource in default. After a rapid diagnosis, the interim manager aligns priorities with the short-term objectives linked to the crisis situation:
Creation of an operational crisis unit;
Negotiating or renegotiating contractual conditions on production and non-production purchases;
Action on cash;
Coaching of resources.
In a second stage, the interim manager may be asked to propose other areas for improvement, in particular by working on methods and processes:
Mapping of supplier risks;
Definition of a performance plan;
Supplier relationship management;
Sourcing plan;
Creation of a competitive advantage.
Download our offer 👉 FIT in NETWORK® – Operational purchasing management
Would you like to discuss your expectations, your support?

Contact our Premium experts to discuss it and agree on the best solution for your business.
Our business experts can inform you and also direct you to one of our 1200+ experts referenced and visible on our FIT in NETWORK® platform.