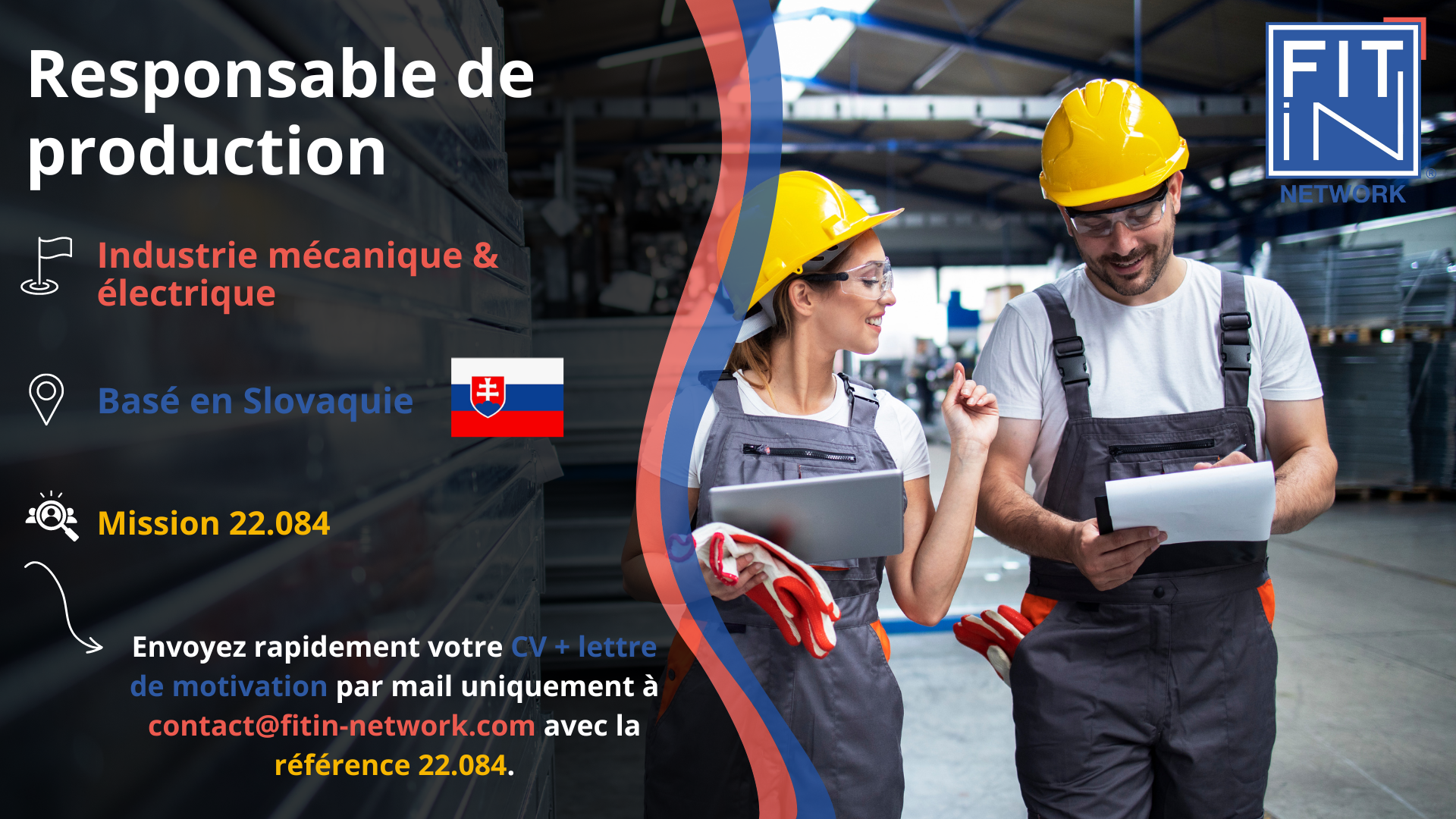 Production manager
This new and very nice interim management mission will allow you to develop your international dimension, in the Eastern European countries, by being based in Slovakia.
For one of our industrial clients, an international group with production activities in several countries in Europe, we are offering you this exclusive mission as Site Production Manager.
Are you available immediately and motivated to take on this mission?
In this case, please send us your CV & motivation message to contact@fitin-network.com ref. 22.084. On your CV, get ready and apply!
☑️ The company
Subsidiary of an international group based in Slovakia
Production site with about 150 employees
Production activity of small series and high precision
Distribution of products throughout Europe
Growing business with capacity constraints
☑️ The mission to be filled
Production Manager
You are the right hand of the local management and co-assume all the operational activities of the company.
Your main missions:
Adjust production plans:
Study the manufacturing files and analyze the production constraints;
Define production plans, necessary resources and processes.
Production Management:
Ensure the continuity of the production flow, from stock procurement to the shipment of finished goods;
Control the application of the workload plans, follow the manufacturing objectives.
Ensure compliance with good manufacturing practices.
Production optimization
Write and update the "roadmap";
Define criticality of facilities, manage incidents and implement prevention plans.
Team management:
Lead and develop teams, organize and coordinate their activities;
Participate in relations with staff representative bodies.
🚀 Transition Management Mission.
📍 Based in Slovakia : Accompaniment for accommodation nearby.
📅 Initial duration of 6 months
⏰ ASAP start: September 2022 as soon as the final choice of the candidate by the client
☑️ Profile & Key Skills.
Minimum 10 years of experience in a similar role
Knowledge of the industry
Experience in Eastern European countries = a plus for this mission
Fluency in English and French
Skills
Management skills
Sense of priorities, practical approach
Very operational posture
🚀 You are available immediately
🦸♂️🦸♂️ Your profile "FIT" with this opportunity?
This search is confidential & exclusive to our client.
Quickly send us your CV + cover letter by email only to contact@fitin-network.com with the reference 22.084.
You are not yet a member of FIT in NETWORK® ? THE European network of available skills