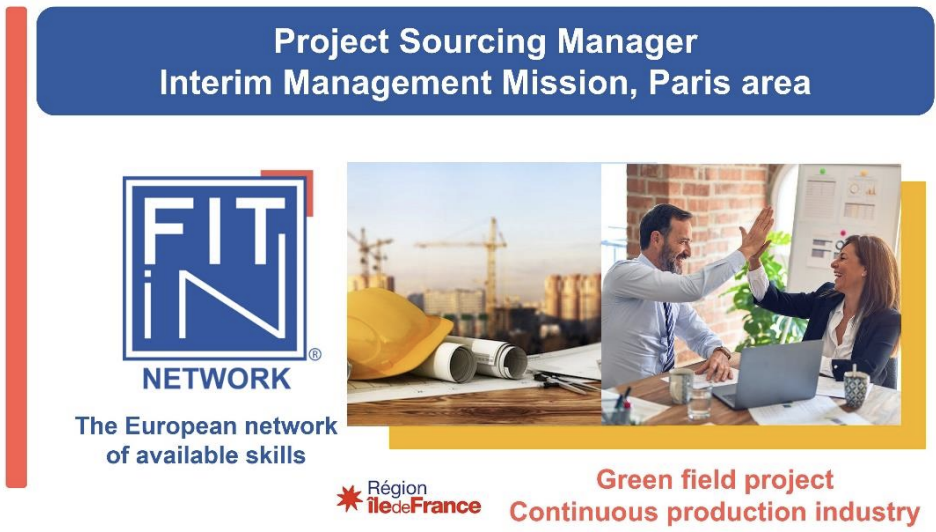 Project Sourcing Manager
Our international client is preparing a major investment into a new production plant, located in France, and currently building his project team. We are appointed to find his or her future Project Sourcing Manager.
This Interim Management Mission will start within January 2022, as soon as we have qualified and presented the best suitable candidates to our client.
If you are immediately available and willing to participate in this great infrastructure project, then send us rapidly your CV & Motivation message in English at contact@fitin-network.com with ref. 22.012.
Get your CVs ready and apply!
☑️ The company


Green field project for the construction of a new plant
Industrial sector with continuous production process
☑️ The Interim Management Mission
Within this mission, you main objective will be responsible for all CAPEX & OPEX
purchases related to this project.
Being in direct relation to the Project Director, you will be in contact with the
various workstreams including : the sourcing strategy, the tenders management,
the purchasing contracts and legal activities in case necessary.
Your scope will include the following responsibilities :
• Building a project purchasing plan
• Setting up a communication matrix with the main project leaders
• Planning & supervising the tendering processes
• Supervising the supplier's project qualification
• Ensuring timing is respected & budgets are met
• Collaborate with the legal team to secure the contractual terms
📍 Mission based in Paris Ile de France
🖥 Physical presence mainly & teleworking as necessary
✈️ Traveling around 25-30% time mainly within France & partially Europe
📅 Start ASAP and latest end 2nd half of January 2022
⏱ First mission phase of 6 months
🤝 Extension mostly possible for this long term project
☑️ Your profile
Engineering, Technical or equivalent background
Specialized in Sourcing Capex & Opex
Experienced within a large industry with international scope
Min 10 years of professional experience in Sourcing management position
Soft skills
Communication expert
Result focused
Developed negotiating skills
Autonomous and able to take initiaves
Fully fluent in English and French, another European language will be a plus
🎯 Immediately available
You are already located in the Paris area or will have your own accommodation
This is an Exclusive & Express search for your client.
🦸‍♂️ Your profile « FIT's" with this great opportunity ?

If so, then send your CV & targeted motivation in English only by email only to contact@fitin-network.com with reference 22.012.
☑︎ For more information, contact us by mail ✉️ contact@fitin-network.com and by phone 📞 +33 1 53 89 09 79
☑︎ Discover our vision of interim management:
here