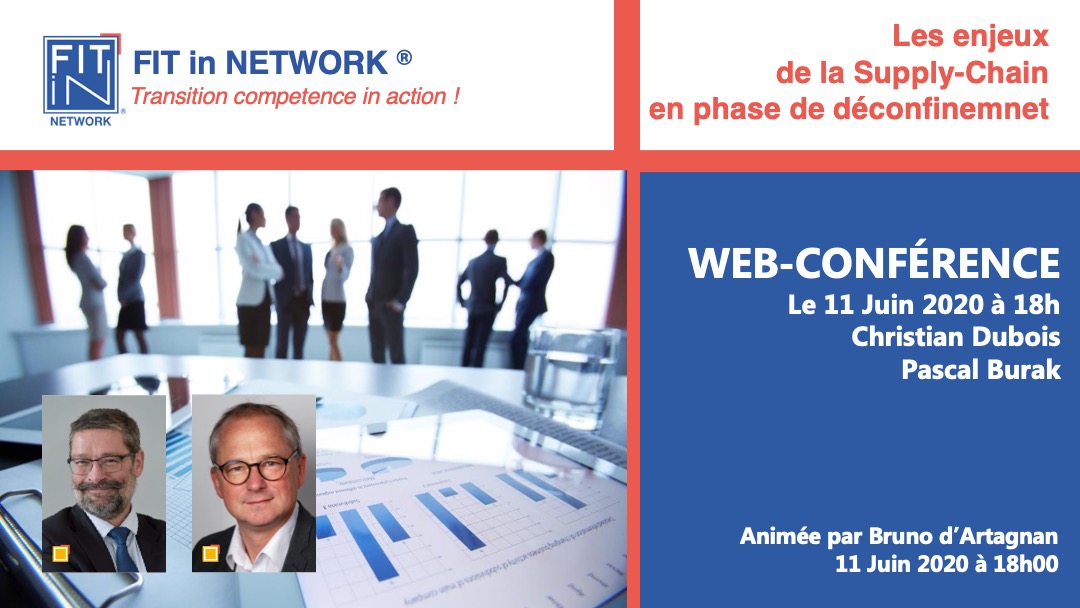 WEB-CONFÉRENCE LE 11 JUIN 2020 à 18h00 : Les enjeux de la Supply-Chain en phase de post-confinement
You are a company manager, in charge of Supply-Chain, Logistics and/or Transport activities?
Like all company managers, you are currently in a phase of de-confinement, you must adapt the operational organization of your flows to the new challenges of your sector to best meet the expectations of your customers.
Within the framework of this web conference, the FIT in NETWORK® team offers you to :
☑️ Benefit from the feedback of our two Premium Experts, specialists in Supply-Chain: Christian and Pascal.
☑️ Ask all your questions and get the answers in relation to your sector and functional priorities.
Replay of the webinar: https://youtu.be/NLdNpwojM2s
PDF presentation in french : FIT in NETWORK WEB SUPPLY CHAIN 11 06 2020 
👉 Find also our previous conferences, contact our network and our Premium Experts on the stakes:
Operations and Project Management https://bit.ly/31DULO0
of Digital Transformation https://youtu.be/u_ZYv9p6q8o
of General Management https://bit.ly/2O4Dy8n
FIT in NETWORK®, an interim management firm, brings together more than 1,200 referenced and visible experts in Management, Finance and Human Resources.

Together, let's make your projects a reality!