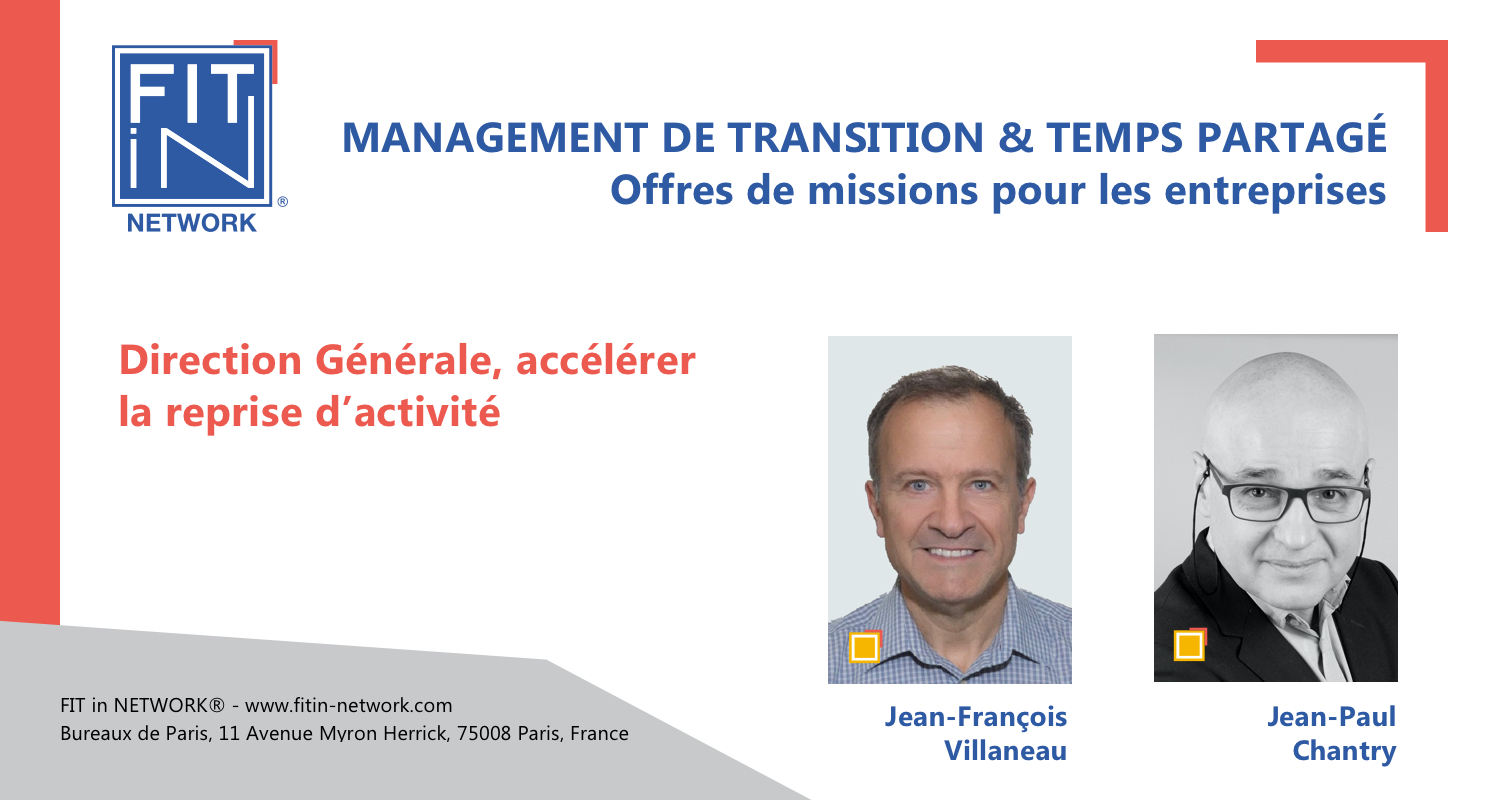 Interim General Management
Our findings
Due to the Covid 19 health crisis and the containment measures taken by many governments around the world, companies are facing unprecedented situations. The brutal nature of the crisis and its severity have confronted companies and teams with unforeseen problems of historic proportions:
Drastic decrease in turnover in many business sectors and a market shaken by the recovery,
Wage bill to be adjusted and tension on the security measures put in place
Weakening of customers (risk of non-payment),
Banks denouncing liquidity facilities,
Risk of supplier default.
Few sectors of activity have been spared and few companies will be able to emerge from the crisis without profoundly questioning their way of operating.
Our vision
In order to address this type of situation, the use of external expertise in crisis management is all the more justified.
Executive interim managers who have successfully navigated through this type of situation can help companies address the various issues encountered and unite teams around a rethought corporate project.
The proposed actions cover :
A short term period: to avoid the default of payment ;
A long term period: to redefine the main axes of performance improvement and the strategic process to ensure the company's sustainability.
Short-term decisions and long-term vision are the result of a single corporate culture that needs to be articulated.
The ROI is immediate thanks to the experience and operational pragmatism of our interim managers in general management in this crisis context.

Our solution proposals in interim management assignments
We offer two interim management services to support the transformation of companies.
In the short term: get through the crisis and emerge in a better position than the competition
We propose to intervene, in an operational way, on the following activities:
Systematically identify actions that have a positive and immediate impact on cash flow by mobilising the active skills of all departments;
Continue to deliver while destocking;
Identify and monitor critical subcontractors and suppliers with fragile balance sheets and heavily impacted by the crisis ;
Ensure wages and pay suppliers on time.
In the long term: redefining the strategy
We propose to intervene to prepare the companies on the long term:
The interim manager: helps the operational teams to improve performance on a long-term basis and to develop the main orientations enabling each department to propose a strategic plan to make the company resilient,
The company's internal teams are also increasing their skills and participating in the evolution of the corporate culture.
Discover our video 👉 https://youtu.be/71Yz-Z1sFy0
Download our offer 👉 General Management by FIT in NETWORK®
Would you like to discuss your expectations, your support?
Contact our Premium experts to discuss it and agree on the best solution for your business. Our two business experts can inform you and also refer you to one of our 1500+ experts referenced and visible on our FIT in NETWORK® platform.