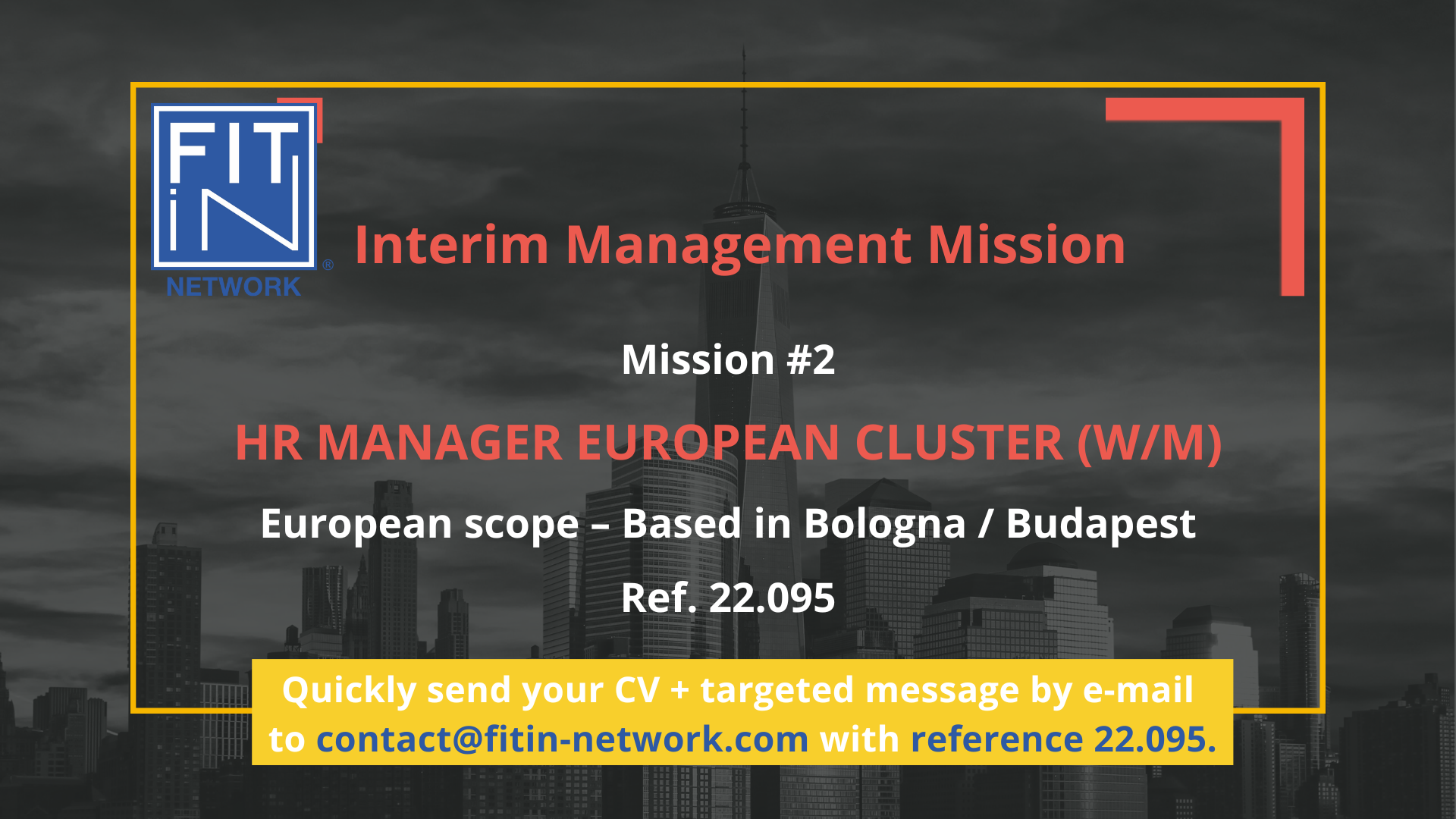 HR Manager European Cluster
In summary, our client is an international organization that is currently reorganizing its corporate structure to meet high demand and a new strategic vision.
In order to achieve its objectives quickly, we are mandated on an express and confidential basis to find this key position of European HR Manager (W/M) within the future organization of the group.
This position will initially be filled on an interim management basis, before being filled on a permanent basis.
We are looking for experienced professionals who have worked in large international matrix organizations and have an operational mindset.
🎯 If you are immediately available and able to take on this major challenge.
👉 Send us your CV and motivation message in English quickly to contact@fitin-network.com with reference 22.095.
☑️ The company for this opportunity
International group
Industrial activities in various key markets
Presence in Europe, Asia and North America
Key player in its markets with a leading technological advantage.
Exclusively B2B customers
☑️ The HR transition management mission
HR Manager European Cluster - Mission 22.095
Reporting directly to the HR Director EMEA
Main objectives
- Be in charge of all HR activities within the different countries of the Cluster.
- Support the management in the implementation of the Group and local HR policies
- Manage recruitment, employee training and performance reviews.
- Oversee payroll and HR administration activities in the cluster countries.
- Work with managers to advise them and find HR solutions.
- Manage, motivate and evaluate performance.
European cluster countries
With production sites: Italy, Hungary
Commercial and business presence: Belgium UK, Poland, Austria Slovakia.
🏢 Interim management mission: based either in Bologna (Italy) or Budapest (Hungary).
✈️ Professional mobility: within the countries of the cluster to meet with company teams.
🚩 Start date: ASAP & beginning November 2022.
⚽ Length of assignment: initial 6 month period, possible extension.
A permanent position will be filled at a later date.
☑️ Your key skills and profile
Your profile
You have a perfect command of English. Another EU language is a plus.
At least 10 years of operational HR role with multi-country scope.
Business partner attitude, strong HR and communication skills, operational approach.
In summary
You are an international & operational HR expert willing to develop your skills!
🦸♂️🦸♀️ Application procedure
CV + email message to contact@fitin-network.com with reference 22.095
🦸♂️ Your profile "FIT" with this opportunity?
This search is Exclusive & Express for our client.
Quickly send your CV + message by email to contact@fitin-network.com with the reference 22.095
Not yet a member of FIT in NETWORK®?
👉 Create or update your profile on FIT in NETWORK® https://bit.ly/2ABuiFu
👉 Follow our professional page on LinkedIn https://bit.ly/2XRcAWs
👉 Become a Premium Expert and get priority on all our opportunities with many other services https://bit.ly/2XYvOt0
Do you know a professional who matches the profile you are looking for?
Don't hesitate to pass on this professional opportunity to him/her 🚀🚀.
-----------------
Read the article to learn more about recruitment challenges and artificial intelligence :
https://www.fitin-network.com/fr/actualites/face-aux-difficultes-de-recrutement-lintelligence-artificielle-comme-solution/