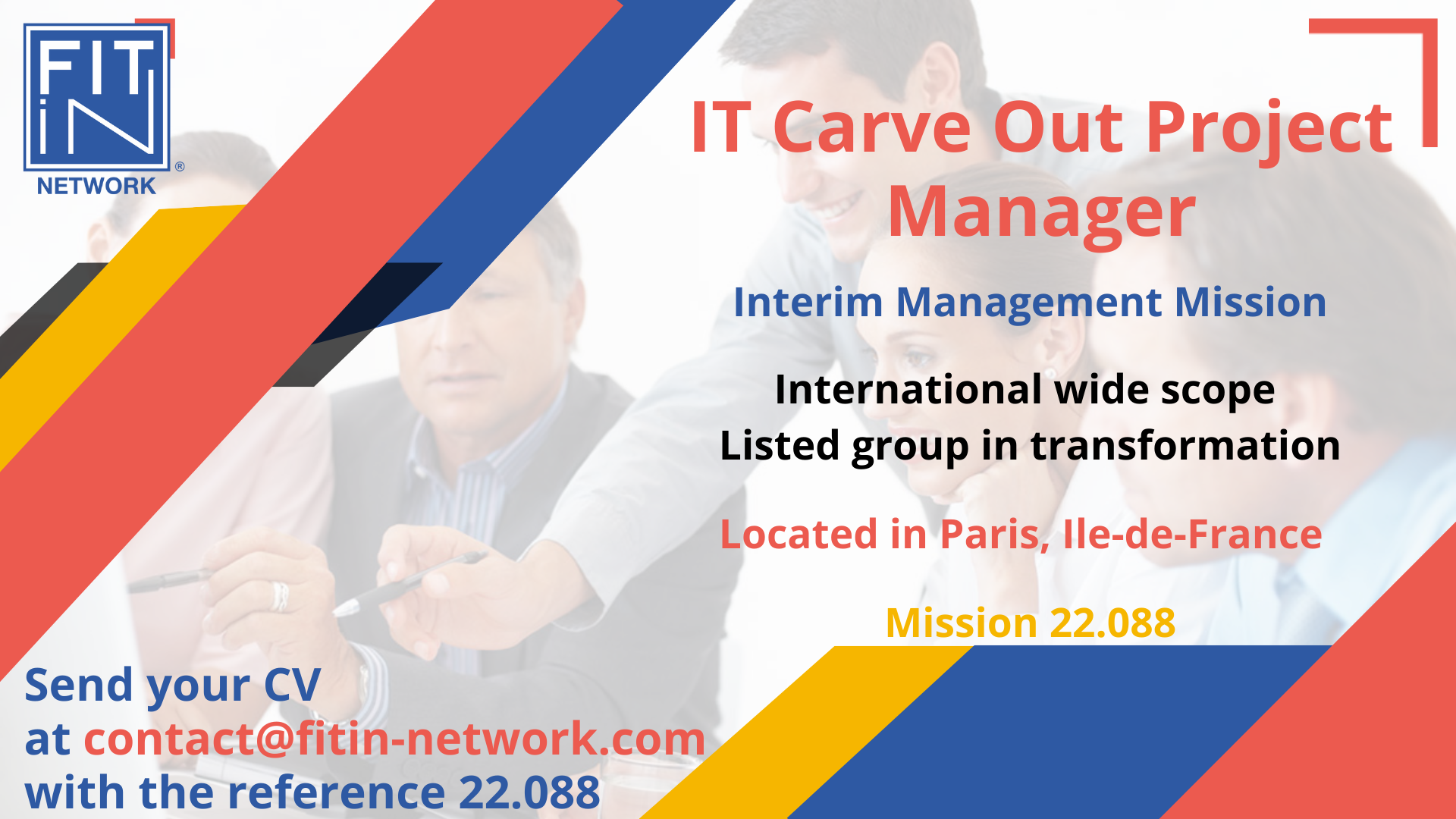 IT Carve Out Project Manager
We are pleased to share with you this latest long-term interim management assignment with one of our international clients.
In this IT Carve Out Project Manager assignment, you will play a leading role in a major ongoing project with the objective of separating an entire division of the company.
As a member of the Corporate IT team, with various workflows to control, this is a true project management role, acting as a true "conductor" of a large team of IT experts.
To be successful in this large assignment, you have already led a large carve-out project and are able to coordinate different IT flows working in parallel on an international scale.
🎯 A re you available immediately and able to take on this challenge? Then quickly send us your CV and motivation message in English by email with reference 22.088.
☑️ The company for this opportunity
International group, present in Europe, America and Asia.
Publicly traded company with different divisions.
B2B customers.
☑️ The interim management assignment.
IT Project Manager Carve out.
Member of the IT Corporate division.
Report directly to the IT program manager.
Coordinate an international team of project managers.
Main objectives
- Lead and guide the entire carve-out project team
- Coordinate IT workflows such as: Infrastructure, Applications, Security, Customer Tools, Business Support, ERP (SAP, BI), others.
- Organize relevant meetings, facilitate necessary committees.
- Define key priorities and address critical issues.
- Ensure cross-functional communication
- Provide reports and key performance indicators to management.
The first 2022 phase of the assignment will be followed, in 2023, by the management of the Transition Service Agreement (TSA) to be agreed with the future shareholders of the division.
In this interim management assignment, you will provide project management activities to plan, coordinate, oversee key actions, organize meetings, report and share key information with the management team.
🏢 Interim management assignment.
📍 Based in Paris Ile de France with an international scope.
✈️ Professional mobility - Limited, home office partially possible.
🚩 Start date - ASAP & no later than early October 2022.
⚽ Length of assignment - Initial 9 month period, extendable to 18 months depending on Carve-out status.
Profile
Experienced IT project manager.
You have already led a large Carve-out project.
You are familiar with project management tools, such as One2Team or others.
Key skills
Perfect command of English.
Strong communication and persuasion skills.
Ability to coordinate various activities, time management.
Ability to take initiatives and propose global solutions.
🦸♂️🦸♀️ Does your profile "fit" this opportunity?
If so, then send your resume + targeted message by email only to contact@fitin-network.com with reference 22.088.
You are not yet a member of FIT in NETWORK® ? THE European network of available skills